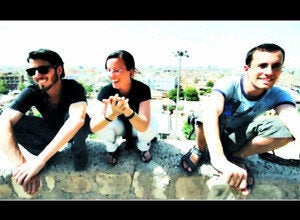 Scroll down to watch the documentary
NEW YORK -- A new documentary about the three American hikers detained by Iran provides new evidence that they were simply tourists and not spies and offers new insights into their lives in prison.
"Free Shane and Josh", produced and directed by Jeff Kaufman, tells the story of Shane Bauer, Sarah Shourd and Josh Fattal, three idealistic Americans who traveled to Kurdistan, the mountainous region of Iraq, in the summer of 2009 to hike and see the sights when they were detained and imprisoned by Iranian soldiers patrolling the border. Iranian authorities accuse them of illegally crossing the border and spying. Shourd was freed on bail in September after nearly 14 months in a Tehran prison but her fiancé, Bauer, and Fattal remain in prison -- their trial was expected to begin on Saturday but it has been postponed.
The trio were visiting Damascus, Syria, when a friend recommended the scenic Kurdistan region as a tourist destination. They traveled there and the film includes footage of the scenic sights they visited, including the Ahmed Awa resort and a waterfall from which they hiked on the trail where they were detained.
Shourd relates the story of their detention, saying that there was no fence or flag or indication of a border of any kind. "We looked up and saw a soldier about 300 meters away from us and holding a big rifle and motioning with his arm for us to go further down the trail and we thought, 'OK, it's just an Iraqi soldier.'
After going down the trail as per the soldier's directions, they were stopped by another Iranian solider. "He said Iran and pointed to the ground where we were standing and he pointed to the trail that we had been on and he said Iraq. So, according to that soldier, we did not enter Iran until he gestured for us to come off the trail into Iran... we wanted to turn around and we tried but he would not let us."
Four days later, they ended up in Tehran, where "even up to the last minute before we came to the doors of Evin prison, they told us we were going to an airport and they were going to put us on a plane and send us back home." Instead, "they blindfolded us and tore us apart and threw us into different cells... that first night I cried and screamed all night long, they had me write pages and pages of what I was doing in Damascus, they would look at it and tear it up... I think it was clear to the people questioning us form the very beginning that we weren't spies."
Another time, Shourd relates, the trio were told that they were being freed and taken to the airport, only to be blindfolded and taken to cells in another part of the prison.
Shourd, who would sometimes pass the time in prison by imagining her fantasy wedding, relates the touching story of how longtime boyfriend Bauer proposed to her in jail. "We were sitting on this blanket, holding hands with our arms around each other and Shane just looked really serious and he said, "Will you marry me?" I was so stunned, and so he said, "Is that a yes? And I said, 'Yes, yes!" So really from that day on, our marriage became a symbol of our future together, and Josh was very much a part of that because Josh will be our best man..."
The documentary, which will be released this week, profiles the trio's humanitarian concerns -- Bauer worked on a documentary about the crisis in Darfur, Shourd worked with indigenous women in the Chiapas region of Mexico and Fattal was the leader of a sustainable living community in Oregon.
WATCH: An excerpt of the film:
Bauer and Fattal's mothers, who visited their sons last spring and will soon decide whether they will go back to Tehran, keep waiting for any word on their sons' fates but they've long lost patience.
"It's really terrible," Laura Fattal tells The Huffington Post. "We don't know any more information than the general public."
Fattal, who has sent countless books to her son, says that she emails letters every day to him, which are transmitted through the State Department to the Swiss foreign ministry and eventually delivered to the prison.
"I am an optimistic person, perpetually hopeful that this will end, end in a good way," says Fattal. "I talked about a protracted detention in August 2009 -- and we're on the 16th month."
Bauer's mother, Cindy Hickey, says her patience is being tested. "The unfairness of this and the inhumanity is starting to take its toll," she says, explaining that she closed the doors to her longtime business, her daughters are both suffering physically and emotionally and Shane's father is working around the clock to keep things up financially.
She hopes that the documentary will have an impact -- "that people all over the world, including Iran, will look at this, it really explains what we've gone through." Hickey, an avid hiker, says that she would have joined the trio if she had been there at the time.
Around this time of year, with Thanksgiving and the holidays approaching, she often thinks of Shane. "I was walking through my property thinking, this is the second fall and my son is not home... People ask me, 'What are you doing for Thanksgiving?' I'm hoping to have my son home around my table with my family. I've got wild cranberries in my freezer waiting for the special event."
Popular in the Community