The Challenge: It's no secret that online shoppers don't like to pay for shipping. With carrier rates on the rise, e-commerce businesses are fully aware that there is no such thing as "free shipping", it is an expense that has to be factored into pricing one way or another.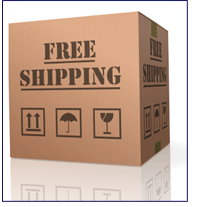 Many successful ecommerce marketers offer free shipping, and even free return shipping, as part of a "no hassle returns" policy. Zappos is famous for offering free shipping and free 365 day returns as part of their efforts to deliver a "wow" experience. The reward and ROI Zappos receives in exchange for this policy; 75% repeat buyers, even though their products are priced higher than competitors in order to cover the costs associated with delivering that excellent customer experience.
Studies on the Benefits of Offering Free Shipping
Compete.com shows a comparison between two similar retailers and the difference between Patagonia, offering everyday low shipping and The North Face, offering free shipping for holidays.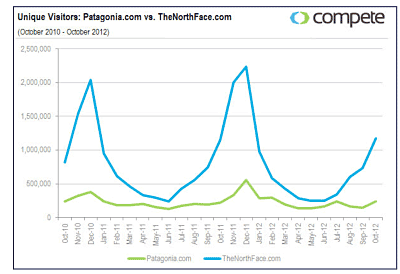 The numbers also indicate that offering free shipping increases search traffic as well as conversions for The North Face.
The Find is an online shopping comparison site where retailers can list products and offers, including free shipping. Their Quick Promotion tool showed 23% traffic increase for retailers running Free Shipping promotions.
81% of shoppers are less likely to make additional purchases on websites that charge for return shipping
Consumers who paid for return shipping at a given retailer decreased their purchases 75% to 100% within a two-year period.
Evaluate Costs Involved in Offering Free Shipping: The question for your business is whether or not shipping costs can be factored into your margins, or if it means raising the price. Free shipping does not always have to mean a reduction in your bottom line. Consider these 10 Ways to Offer Free Shipping.
Test Different Offers: A/B testing of different offers will provide insight into how your customers react to different models. Also compare sales and returns over time to see how the conversion rate and the bottom line are affected. A ProImpact7.com survey shows that 72% of website shoppers abandon the checkout process because shipping rate was higher than expected. The word expected is key. In many cases offering a flat rate or lower shipping might achieve the increased conversion rate you are looking for without decreasing your profit margin.
Consider the Increased Lifetime Value of Satisfied Customers: Increased customer satisfaction often leads to repeat customers, so the lifetime value of your customer can be another factor in the equation for free shipping and returns. BusinessNewsDaily reports that companies who offer free shipping on returns can see between a 58% to 357% increase in sales in the next two years.
Ernan Roman is recognized as a Customer Experience innovator and was inducted into the Marketing Hall of Fame for creating three transformational methodologies: Voice of Customer Relationship Research, Integrated Direct Marketing, and Opt-in Marketing.


He was also named by Crain's B to B Magazine as one of the "100 most influential people in Business Marketing".
Ernan is also the author of the widely read blog, "Ernan's Insights on Marketing Best Practices", (www.erdm.com), and author of "Opt-in Marketing" and "Integrated Direct Marketing".
ERDM's Customer Experience strategies achieve consistent double-digit increases in response and revenue for clients, which include IBM, MassMutual, QVC, NBC Universal, Microsoft, Hewlett-Packard, and Symantec.
As a leader in providing Voice of Customer research-based strategies, ERDM has conducted over 10,000 hours of interviews with customers and prospects of these clients to gain an in-depth understanding of their expectations for high value customer relationships.
Popular in the Community