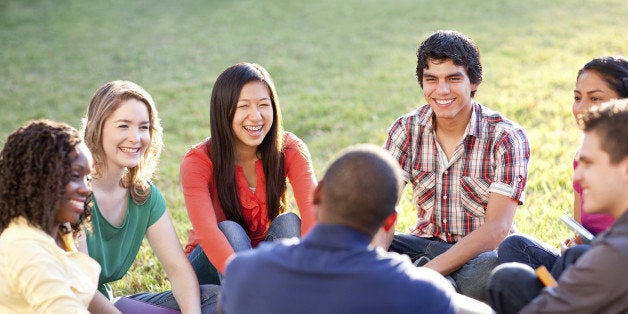 As Donald Trump's presidential campaign continues to draw energy from the perceived phenomena of political correctness run amok, a debate has erupted over the cancellation of a conservative figure's appearance at Williams College. Last month, a student group called Uncomfortable Learning invited anti-feminist writer Suzanne Venker to speak before rescinding the invite after a storm of social media opposition from some Williams students.
While Williams, ranked the top liberal arts college in the country, is no bastion of conservatism, its portrayal as an anti-free speech institution by some in the conservative media runs completely counter to my experiences there over the past decade teaching students and working closely with the administration.
This February, for the ninth year in a row, I will serve as a Distinguished Lecturer in Leadership Studies at Williams, teaching a seminar course called Political Leadership. As a former Republican Governor, my mere presence at Williams should be controversial, at least according to common wisdom. However, not once have I ever felt unwelcome on campus and have found the faculty and administration to be warm, open-minded individuals.
Even more controversial should be my course, which is non-partisan but has brought some high profile conservative political operatives and media to the college, including--gasp!--a prominent Fox News anchor. However, the college has consistently paid not only my salary but also the travel expenses for these conservative personalities to speak their minds to portions of the student body.
In addition to the classroom appearances, these special guests typically spend an evening having dinner with a small group of students and conversing openly on the big political issues of the day. These conversations are often passionate but always respectful, and all of those in attendance learn from the experience.
One of the most highly-rated speakers in anonymous student reviews has been Neil Newhouse, who is generally recognized as among the top GOP operatives in DC. Newhouse is currently working for the Jeb Bush, supporting Right to Rise PAC and was the lead pollster for both of Mitt Romney's presidential campaigns.
Newhouse has made the trek to Williamstown every year I've taught the course and a highlight of his presentation is the pop quiz (with the winner receiving a Public Opinion Strategies t-shirt; college students love free t-shirts) which challenges the students to answer correctly questions like "What percentage of the U.S. population owns a gun?" or "What percentage believes in Darwin's Theory of Evolution?" Each year students are no doubt surprised that, for most of them, their own political reality doesn't jive with the majority of American voters.
This presentation is quite consistent with Williams President Adam Falk's recent comment on this matter: "Whatever our own views may be, we should be active in bringing to campus speakers whose opinions are different from our own."
President Falk, and his predecessor, Morty Schapiro, who now leads Northwestern University, have put resources behind this philosophy with consistent funding and support for my course. President Schapiro even visited the live broadcast by Fox News anchor Greta Van Susteren after she participated in my class. Interestingly, the greatest excitement that evening was not a protest by liberal-leaning students or professors against the presence of a Fox News personality on campus, but someone else exercising his err...right to free expression: a streaker who appeared briefly but never made it on camera.
I do often get students who surreptitiously reveal to me their conservative leanings and their perception that they are in the minority on campus, but students active in Democratic party politics actively lobby to be admitted to the class (which is usually over-subscribed) even though they know that they will hear viewpoints very different from their own.
One other key focus of my class is how to address the impact of media--good and bad--on leadership. This, of course, includes social media, which can have an outsized effect on political discourse. Social media has in some ways democratized the political debate and helps like-minded voters organize and communicate more efficiently than ever. But the loudest political noise on social media does not necessarily represent the majority view of any group or party. After all, the Twitter feeds of the political chattering classes may be stuffed with jokes about Trump's hair or latest outlandish proclamation, but he is still (somehow!) in the lead to win the Republican nomination.
It seems that social media outrage is what pressured student organizers to abruptly cancel Venker's appearance. If my nearly decade of experience is any indication, I believe that had they brought her to campus as planned, they would have heard a robust but civil discussion of issues critically important to our society. One of the most important lessons I seek to convey to my students is that they need to be active and educated participants in public discourse--our country certainly needs their leadership. And you can't be well informed if you don't understand perspectives different from your own.
And I don't think that Williams is different than other liberal arts colleges: I am an active alumna of Trinity College and have worked closely with Middlebury College leadership over the past four years as CEO of Middlebury Interactive Languages. While the more vocal, provocative professors at any school can garner headlines in the digital age, most faculty members and administrators want to provide students with the broadest possible learning experience.
There is no doubt that a majority of the more than 100 Williams students I've had the privilege to teach cast their ballot differently than me in most elections, but I also know they are well informed citizens who've learned to respect a wide variety of political viewpoints. That is, after all, the key responsibility of our institutions of higher education.
Calling all HuffPost superfans!
Sign up for membership to become a founding member and help shape HuffPost's next chapter