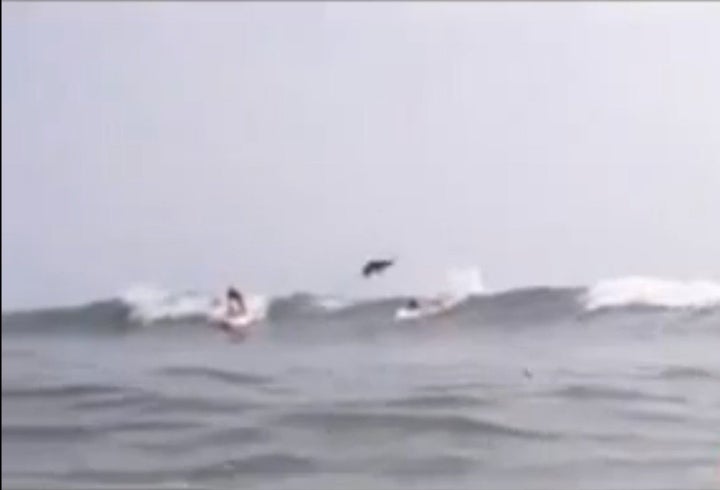 The new sushi promotion for shark attack survivors at a Florida restaurant is the oceanic version of Hammurabi's Code: A bite for a bite.
Anyone who's been nibbled on by a shark can walk into Kaiju Sushi and Rice Balls in New Smyrna Beach and get a free and toothsome mako sushi roll for his or her troubles.
Considering the central Florida beach town has been dubbed the shark attack capital of the world, it seemed like the kind of gimmick that could generate publicity for the business that opened about two months ago.
"The response has been tremendous," said co-owner Dekker Dreyer, who claims he has five acquaintances who've been bitten by sharks. "[Shark attacks] are something we've grown up with."
New Smyrna Beach is part of Volusia County, which has had by far the most confirmed shark attacks in the United States, according to the International Shark Attack File. From 1882 to 2010, there were 235 shark attacks in the county on the Atlantic coast, but no fatalities. (Broward County comes in a distant second, with 101 confirmed attacks.)
The offer debuted last week to intentionally coincided with the Discovery Channel's Shark Week programming. It wasn't long before the first wounded customer -- a local surfer and busboy known as Joey G. -- showed proof of his dangerous encounter in 2008 and claimed the complimentary Jamaican-seasoned mako shark sushi roll this week.
"He had the whole package. He had a scar on his leg and he actually had a video on YouTube of himself on the local news being taken away for first aid," Dreyer told HuffPost.
He became the first inductee to have his picture hang on the restaurant's wall of fame too, Dreyer said.
To date, one other survivor has taken advantage of the deal.
Unlike revenge, sushi is a dish best served at room temperature. The shark attack roll is made from fish marinated overnight and then grilled to make it flaky. Unlike the typical sushi roll, which is cut, this variety is served as one long piece.
"It's kind of like eating a sushi burrito," said Dreyer.
Anyone lucky enough to have avoided unwanted contact with sharks can buy the popular menu item for $8.99.
The infested waters at New Smyrna Beach were the site of a thrilling close call in June when video footage showed a shark leaping over a surfer.
Calling all HuffPost superfans!
Sign up for membership to become a founding member and help shape HuffPost's next chapter