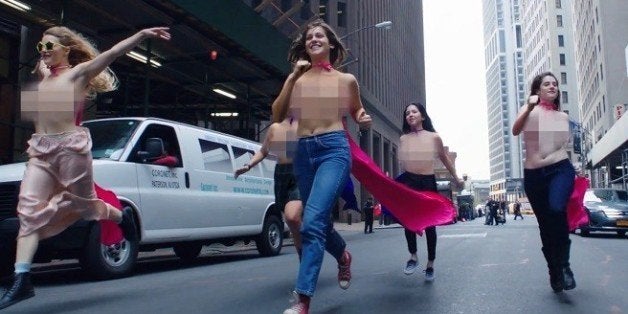 We're bringing you the breast weird content around the world every single week, and we want to hear your thoughts! Don't believe us? Check out this week's episode, where we sit down with "Free The Nipple" director Lina Esco, who reveals why nipples are our future:
Today, in the USA it is ILLEGAL for a woman to be topless in 37 of the 50 states.

In some places that includes breastfeeding. In less tolerant places like Louisiana, a woman exposing her nipples can carry a sentence of up to three years in jail and a $2,500 fine.

In New York City, in 1992 it became LEGAL for women to be topless in public, but the NYPD continued to arrest women, so we took to the streets with cameras and our cast to fight these Puritanical injustices first hand.

By the end the production, Free The Nipple morphed into a "real life" revolution that transcended the bounds of mere entertainment. Famous graffiti artists, mobs of dedicated women, and celebrities from Miley Cyrus to Liv Tyler and Lena Dunham jumped on board and ignited a national media blitz that has transformed into a powerful movement to Free The Nipple in America.
Esco says that freeing the nipple is important because its legalization carries broader implications than just bare boobies in the big city. But don't take it from us, listen to Esco on the new HuffPost Weird News podcast.
Calling all HuffPost superfans!
Sign up for membership to become a founding member and help shape HuffPost's next chapter