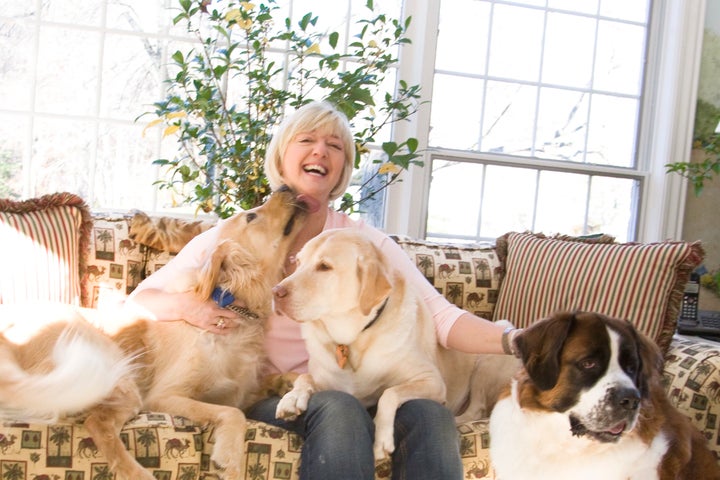 There are thousands of wonderful dogs, cats and pocket pets living in animal shelters throughout the country. Some of them have been abandoned by families who could no longer afford to keep them. Others are older cats and dogs given up by their elderly owners who can't take care of them. Many of these municipal shelters are overcrowded and dependent on overworked animal control officers or volunteers to care for the animals. In the meantime, pet shops are selling dogs from puppy mills to unsuspecting owners who find out too late that the animal is ill. Astronomical vet bills cause them to give up the animals for adoption further complicating the shelter system.
As the owner of five rescue dogs and a member of the board of The Humane Society of the United States, I decided I need to do something. So I started "Free the Shelters," a movement to get people to visit their local shelter and give a deserving animal a forever home without having to pay an adoption fee.
I started with SPCA Tampa Bay on Saturday, May 6th offering to pay for all the adoption fees. A line snaked around the shelter and soon 80 animals were adopted. Research has shown that removing adoption fees increases the number and speed of pet adoptions and reduces euthanasia.
This was an ah-ha moment for me. If fees are a barrier to adoptions, let's get rid of the fees and go across the country from shelter to shelter until they are all empty.
On Saturday, May 27th I am paying the adoption fees for animals in five different shelters – SBK Animals, which serves the communities of Sullivan County, Bluff City and Kingsport in Tennessee; Great Plains SPCA with shelters in Independence, MO and Merriam, KS; and Adopt –A-Dog in Armonk, NY. Taken together they have more than 300 animals looking for a home. I hope by the end of the day on Saturday there will be nothing left but empty kennels and unfilled water dishes.
I can do this because of the success of my company PRAI Beauty. We have always donated a portion of all proceeds to helping animals through our PRAI for Paws initiative. We are certified cruelty-free by Leaping Bunny.
These five shelters are just the beginning …we are starting a movement. Shelter pets can be pedigree or mutts, young or old…they're all perfect and need to find a forever home.
The fact that about 2.4 million healthy, adoptable cats and dogs – about one every 13 seconds – are put down in U.S. shelters each year brings me to tears.
I hope that animal lovers in every city where there are animals languishing in a shelter will join me in clearing them out. "Free the Shelters" will not stop until every shelter is empty.
I can go home to my five rescue dogs and know that others like them in Tennessee, Kansas, Missouri and New York will go home to a warm bed and lots of hugs from their new owners. It is what they deserve.
Related
Popular in the Community