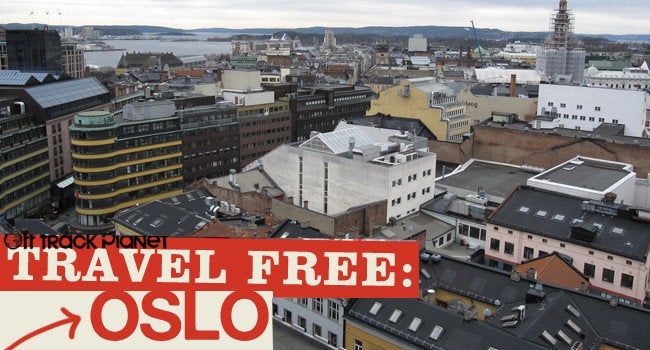 If you're looking to blow some serious cash, Oslo is the most expensive city in the world and will gladly accept all forms of payment. Wait, what? You can't afford to bathe in lamb's tears and eat truffled giraffe tenderloin for breakfast? Put away your measly kroner, OTP won't let you get burned.
Oslo is only expensive for the uninformed and there's always a way to sneak your way to cheap. Whether you're showing off your own crown jewels or stealing the royals', there's no need for your wallet to ever leave your backpack.
Plunder like a viking with our top 10 free things to do in Oslo.
Hike The Hills
Oslo's surrounding hills, islands and fjords provide ample opportunities to search for those elusive gnomes. Head out to the Oslomarka, a quick 15-minute ride north of the city by tram, where the locals go to hike or ski depending on the season. Tired and sweaty trekkers can stay free of charge in the small hytter (cabins) dotted around the area. Make reservations with Den Norske Turistforening and since your hunter-gatherer competition is usually the brown bear, best that you check with them to see what provisions you need to bring.
Top Off Your Tan
Oslo is said to be as frigid as Vladimir Putin's smile but if you're looking to get sun-toasted, there are actually plenty of free beaches. To show off your own mighty fjords, make your way to Bygdoy peninsula's Huk Beach, where Vitamin D is plentiful and clothing optional.
Join The Torch Mob
Every September, one of Oslo's most illuminating traditions happens on the evening of the Autumnal equinox. Thousands of locals linger along the Akerselva River to walk by torchlight among musicians, performers, art installations and cultural displays. When the electric lights are extinguished, Loki, the Norse God of mischief, gets tricky with the crowd.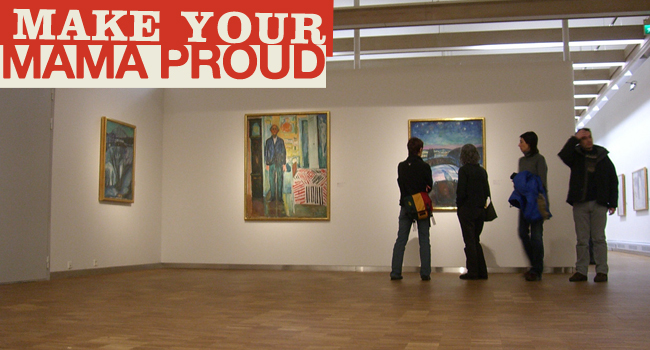 Stories of drug-infused sex-capades generally aren't dinner table discussions with the fam. Gather some high-browed substance at Oslo's museums, which are free from October 1 to March 31. The Munch Museum is dedicated to the works of Edvard Munch, including his famous painting, "The Scream." The Stenerson Museum houses an extensive collection of modern Norwegian art, and the Historical Museum displays artifacts from around the world.
Peace, Prized
Every year on December 10 in Oslo, the Nobel Peace Prize is awarded to some of the world's most extraordinary humans. While the ceremony itself is invitation only, join the torchlight parade afterward for some pomp and pageantry. The following day, catch the Peace Prize Concert in Oslo Spektrum with Norwegian and international artists performing to honor the laureate.
Naked Staring Contest
Staring at nudity is rarely considered polite, but the Vigeland Sculpture Park is one place where voyeuristic tendencies are not only acceptable, but encouraged. Putting the Scanda in Scandanavia (and moving it back and forth rhythmically), this park is dedicated to Gustav Vigeland's hundreds of nude statues, which are scattered around the area. Way more obscene than David's shriveled cul-de-sac, pack a picnic to feed all of your appetites at once.
Get High
No need to eat a special brownie to achieve kite status in Oslo. The Oslo Kiteboarding School gives a free one-hour lesson during some of their sessions. Grab a board, hit the seas and you can be as high as the national debt in no time.

Go for the Gold
Holmenkollen is the steep terrain just outside of the city and has the largest ski jump hill in Oslo. A great way to exorcise your fear of heights, the tower stands over 200 feet off the ground, offers an unparalleled city view and was also the jump site for the 1952 Winter Olympics. Pop some Dramamine and enjoy the vistas.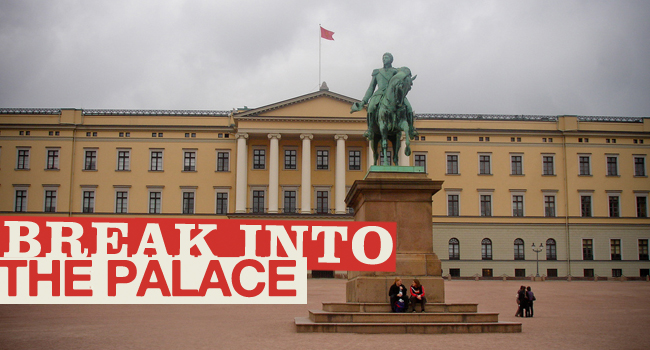 The changing of the guards at the Royal Palace goes down at 1:30 p.m. every day. Either watch this slow-moving spectacle or get your sticky hands on the temporarily unguarded imperial treasure. On May 17, Norway's Constitution Day, the changing of the guards is part of a parade with the Royal Family in procession. With everyone away, grab that opportunity for the ultimate Thomas Crown Affair.
Get Your A-Ha On
Even though Oslo's iconic group has disbanded, there's still kick-ass music to be found. On Sunday nights, the Frank Znort Quartet plays free concerts at Club Blå beginning at 9:30 p.m. During the summer, the quartet (which rarely sticks to just four people) rocks it outdoors starting at 5:30 p.m. before their usual set. We can't guarantee they'll play "Take on Me" but we can guarantee you'll bust an ear drum trying to hit that high note in the middle.