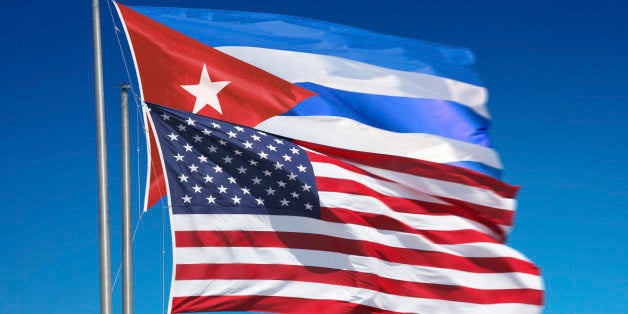 President Barack Obama's rules easing trade and travel restrictions to Cuba following his historic announcement last month to renew relations with the Caribbean island provides an exciting opportunity to grow our economy, share our democratic values, and form new partnerships in fighting various global threats. I am optimistic about ushering in a new era of diplomacy that will allow the U.S. Congress to lift the embargo with Cuba and start exchanging our goods, culture, values, and services.

The new rules build on legislation I first introduced in the U.S. House of Representatives in 1993 to allow free and open trade with Cuba. The president's policies will allow many more Americans to visit the island, enable U.S. and Cuban companies to conduct business together, and lift restrictions on humanitarian assistance to the country. Ending the embargo will benefit both nations' economies, creating an estimated 6,000 American jobs and generate billions of dollars in lost revenue as a result.

As President Obama noted, if the goal of the embargo was to undermine Cuba's revolutionary government, we have failed. Our country's embargo against Cuba, which began February 1962 has been a puzzling remnant of an old feud. If our reasoning revolves around communism and human rights, how do we explain normalizing relations with China over 40 years ago? While I remain a strong proponent of human rights and democracy, this should not hold us back in lifting the embargo against Cuba.

Lifting the embargo has made sense for a very long time, and with each passing year, this folly of continuing our estrangement becomes even more so. Our antiquated policy has made it easier for Americans to travel to North Korea than to Cuba. The Congress should follow the administration's lead toward modernizing our foreign policy decisions deeply rooted in Cold War disputes.

At a time when Americans are looking for new economic opportunities, the U.S. International Trade Commission has estimated the American loss of $1.2 billion annually due to the embargo. We need to look to the future and think about ways our relations with Cuba can benefit Americans and Cubans alike.

This is an important issue I have pursued for decades, gaining support from Democrats and Republicans alike, who understand how counterproductive our Cuba foreign policy has been. Even some of those who support the embargo for political reasons, quietly acknowledge its futility. Polls indicate 56 percent of Americans and more than 60 percent of Floridians support engaging more directly with our island neighbor.
I have re-introduced my bill, the Free Trade with Cuba Act, to reflect these needs and desires for change. I have consistently pushed for this bill over the past two decades but I have never been so optimistic about its passage until now. I am grateful to many of my colleagues for joining me in this effort to make history and tear down this barrier.

With increasing global threats of terrorism and epidemics, we are increasingly in need of partners and allies on the world stage. Cuba will be a welcomed addition, as our two nations are both known for international assistance.
We should work to move our country forward with what is sensible. I urge members on both sides of the aisle in both chambers to end this embargo once and for all. The American and Cuban people deserve this.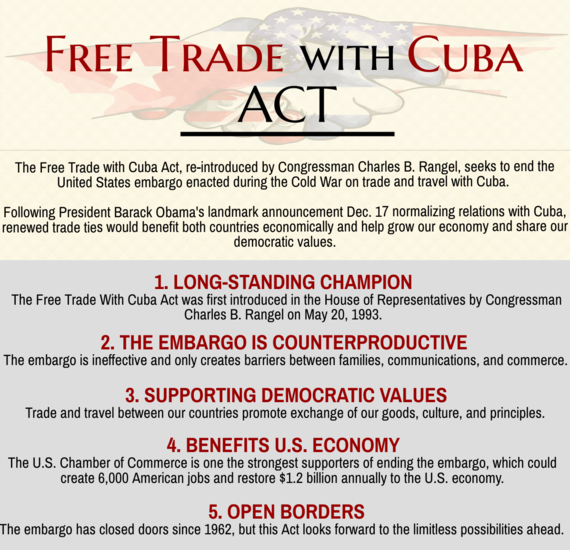 Calling all HuffPost superfans!
Sign up for membership to become a founding member and help shape HuffPost's next chapter