The university city of Tübingen, in southwest Germany, is testing free public transportation for all residents. Two weeks ago, the city began a two-year pilot project using its own funds to provide free rides on Saturdays.
For seven years, local authorities have been trying to provide unlimited public transport, free at the point of access, for a flat 15-euro monthly tax for all residents, Mayor Boris Palmer explained. To do so would require a change in law.
"We already have a decent system in Tübingen, with 89,000 inhabitants and 20 million rides a year," explained Palmer, who doesn't own a car. "One in three people uses public transport regularly; a third sometimes; and we are looking at the third that never uses it."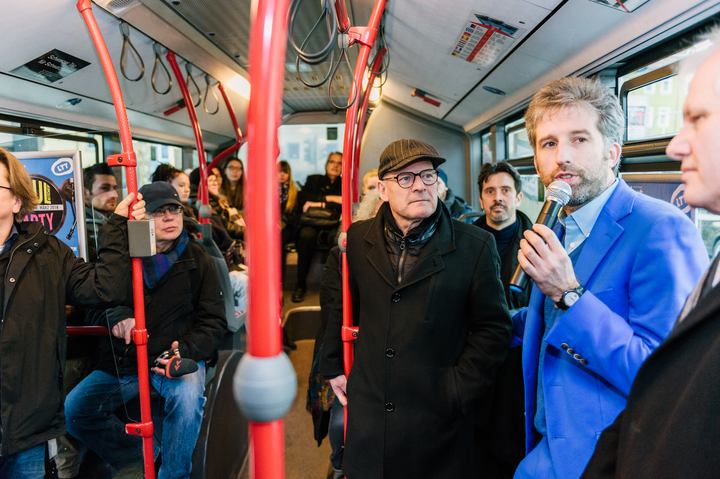 "If you ask them, they don't know how the system works and are not prepared to pay 5 euros when they have a car in the garage and can 'do it free.' In attracting these people, the price barrier is very important."
The aim in Tübingen, he says, is twofold: to lower emissions and reduce travel costs for people on low incomes. A municipal memo reportedly put the cost of zero-fee public transport for all at 14.5 million euros ($18 million).
There is a proposal to test free public transport in four other cities in Germany, which faces EU fines for breaking air pollution laws.
So, could this simple — but costly — measure work for other cities, using free buses, trams and trains to help cut private car use, reduce emissions and make cities less congested and more livable? The question takes on more urgency in Europe, where the European Commission found in November 2017 that 400,000 citizens die prematurely every year due to poor air quality.
Estonia's capital city, Tallinn, introduced fareless public transport for residents in 2013, although people from outside the city and tourists must still pay. Allan Alaküla, head of the Tallinn EU office and official spokesman for the project, says that five years later, "no one seriously thinks it can be reversed." There are 140 million trips a year, the vast majority by Tallinn's 450,000 residents.
Introduced by populist mayor Edgar Savisaar after a referendum, the measure is viable because under the country's fiscal law, Tallinn gets 1,000 euros of each resident's income tax each year. And as a result of the transit program, population numbers have increased.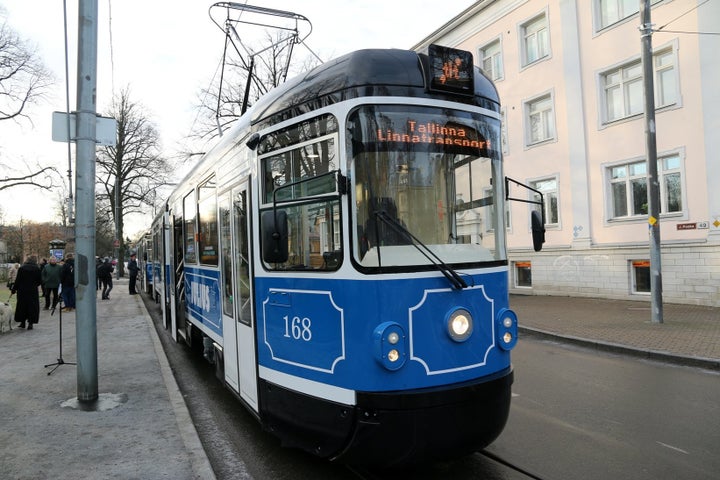 "The lost ticket revenue from residents is 12 million euros ($15 million), and the gain from additional revenues from the increase in the residential population, at the most conservative estimate, is well above 20 million euros ($25 million)," Alaküla explained. "So the city budget has gained, service quality has improved constantly and in the surroundings of Tallinn, the demand for public transport has increased."
So much so that on July 1, the whole country will roll out free bus travel thanks to central government subsidies making Estonia, Alaküla says, "the first public transport nation."
But while the city center has benefited from reduced congestion, and people who could not afford public transport before have greater access to jobs, shopping and leisure facilities, says Alaküla, there are downsides.
Alaküla said Tallinn's free transportation has resulted in a 10 percent decrease in traffic in the city centre. "But at the same time, we have observed a slight increase around the city center," he said.
Contrary to what you might think, people also walk less. "Particularly in the city center, where the tram stops frequently, some people are taking the tram out of convenience instead of walking," he said.
Dr. Oded Cats, assistant professor in transport and planning at Delft University of Technology in the Netherlands, who has studied Tallinn's project, said it has achieved two goals: to increase the mobility of the unemployed and low-income groups and the city's total residents.
"However, there is no evidence suggesting there has been a shift from car to public transport usage," he said. "We do see an increase in public transport usage, though, from people who would otherwise walk, which is not necessarily desirable."
He is doubtful that free public transport in Germany would do anything to reduce car use or emissions. "We know car users are very sensitive to the price of the car trip, not public transport prices, so increasing parking fees or congestion charges would be more efficient," he said.
Environmentally speaking, he adds, cities should invest in a mix of transport options and encourage conscious choices: "Walking and cycling are unbeatable, and public transport should take longer distance trips or [transport] groups that cannot walk."
Norman Garrick, visiting professor in transportation at the Swiss Federal Institute of Technology, believes that to tempt people onto public transport, it must be time-efficient, convenient and comfortable — not just free. "It's also to do with how cities are designed," he said. "If you widen streets to accept cars, that's what you are going to get. Longer term, you could convert cities to places where you don't need to get a car."
The cost is another potential dealbreaker. No details have emerged about how Germany might fund its free city transport.
But back in Tübingen, the mayor is optimistic. "The public discussion has been intense and 70% of people support [the German government's idea]," he said. "The debate has created a pressure not to do nothing, and my intention is to be on board and convince them."
Clarification: After publication, Alaküla contacted HuffPost to say that a quote about "contamination from traffic" as a main issue for changes to public transportation was in error. That part of the quote has been removed and the post updated accordingly.
For more content and to be part of the 'This New World' community, join our Facebook Group.
HuffPost's 'This New World' series is funded by Partners for a New Economy and the Kendeda Fund. All content is editorially independent, with no influence or input from the foundations. If you'd like to contribute a post to the editorial series, send an email to thisnewworld@huffpost.com