Fast-food junkies with a fear of clowns may want to reconsider where they eat this Halloween.
Burger King is hoping to attract thousands of clowns to five select restaurants this Tuesday by offering each location's first 500 clown-clad guests a free Whopper sandwich. The locations are in Miami, Boston, Los Angeles, Austin and Salt Lake City (the specific addresses can be found below).
News of the offer came in the release of a particularly creepy YouTube video that shows a man being chased by the painted characters until he reaches a Burger King restaurant. Once inside he's met by a sinister looking yellow and red-suited clown that resembles Ronald McDonald ― McDonald's mascot and Burger King's arch-rival.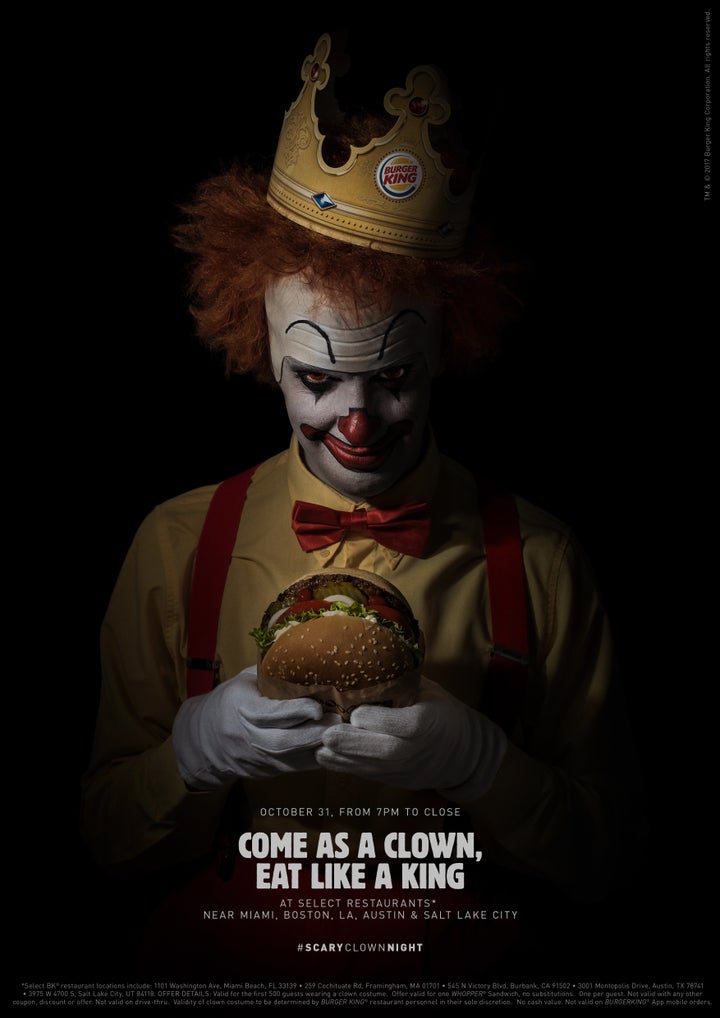 According to a press release by Burger King, clowns are the third most sought-after Halloween costume this year, likely in part to the recent release of Stephen King's horror movie "It."
"We don't usually talk about clowns," said Alex Macedo, President of North America's Burger King band, in a statement. "But for this Halloween, come dressed as a clown to eat like a king."
The offer is Burger King's latest clear dig at its fast-food rival.
Earlier this month, the restaurant snuck an ad into the credits of a screening of "It" in Germany to poke fun at McDonald's clown connection. Just before the credits were about to roll at the end, a sign flashed up on the screen reading: "The moral is: Never trust a clown."
Here are the addresses of select restaurants hosting the Halloween clown gatherings, which are scheduled from 7 p.m. to closing time:
1101 Washington Ave, Miami Beach, FL

259 Cochituate Rd, Framingham, MA

545 N Victory Blvd, Burbank, CA

3001 Montopolis Drive, Austin, TX

3975 W 4700 S, Salt Lake City, UT
Popular in the Community