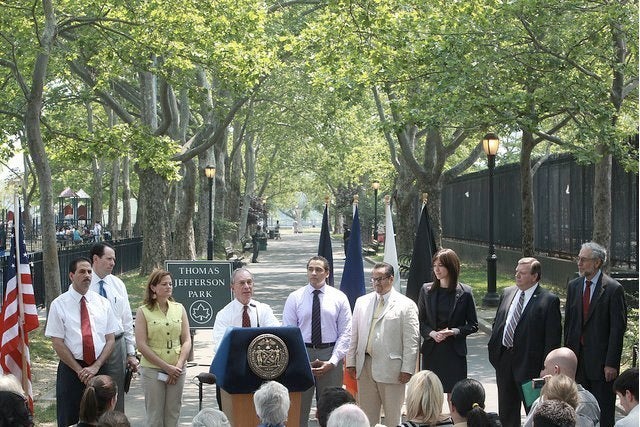 Mayor Michael Bloomberg and AT&T Chairman and CEO Randall Stephenson today announced a five-year initiative to provide free Wi-Fi service at 26 locations in 20 New York City parks across the five boroughs, according to a press release. AT&T will install and maintain the service this summer at no cost to taxpayers.
Mayor Bloomberg and Stephenson made the announcement in Thomas Jefferson Park in East Harlem, where they were joined by State Senator José M. Serrano, Assembly Member Robert J. Rodriguez, Council Members Fernando Cabrera and Melissa Mark-Viverito and Chief Digital Officer Rachel Sterne.
Bloomberg told reporters, "In May, we laid out a strategy to make New York City the nation's leading digital city, and AT&T's generous initiative to bring Wi-Fi to 20 City parks will help us get there."
And Stephenson added, "We're pleased to join Mayor Bloomberg and the New York City Department of Parks & Recreation to bring the convenience and benefits of Wi-Fi to many of the city's world-renowned parks."
The speedy Wi-Fi internet connection will be available for free to all users in the following parks:
Bronx: Joyce Kilmer Park, Bronx River Park and Devoe Park

Brooklyn: Brooklyn Bridge Park, Fort Greene Park, Herbert Von King Park, McCarren Park and Prospect Park

Manhattan: Battery Park, Thomas Jefferson Park, Central Park (multiple locations), the High Line, Holcombe Rucker Park, Marcus Garvey Park and Tompkins Square Park

Queens: Astoria Park, Flushing Meadows Corona Park and MacDonald Park

Staten Island: Clove Lake Park and South Beach

Assembly Member Rodriguez said, "AT&T's launching of free of charge internet service to Jefferson Park is a remarkable step in bridging the digital divide in low-income communities."
And Council Member Cabrera agreed, adding, "Internet access is a critical developmental tool for children, families, and community groups—all of whom use our city parks on a regular basis. I'm excited to see AT&T investing in an effort to bring the Internet to many who need it, and I look forward to a day of expanded Wi-Fi coverage for park goers in our City."
Brooklyn's DUMBO recently became the first neighborhood to go totally wireless. And The New York Times reports that the company Towerstream "plans to introduce what it claims will be 'the most robust and fastest portable Wi-Fi network' in Manhattan though it will not technically be free: it hopes to sell access to cellphone service providers, who could then offer it to their customers."
Related
Popular in the Community