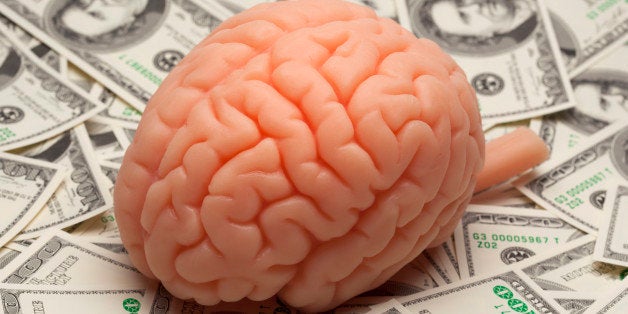 We all feel out of sorts with money, from those of us struggling with debt to the successful business owners I work with on a weekly basis.
People are programmed to avoid things that cause them fear. Sure, we may pop into the multiplex to catch the latest horror flick, but when it comes to living our day-to-day lives, most of us go out of our way to avoid scary things.
Unfortunately for many, budgets are the things that go bump in the night.
Many of us have been taught to think of a budget as a weapon of mass destruction, a tool that set us up for self-flagellation. The self-defeating thought process is often, "I'm going to set a budget and beat myself up if I can't keep to it... so I'm not going to do it at all." It is similar to a diet -- you know when you're ignoring it and instead of altering your approach, you mentally destroy yourself as you reach for more Halloween candy.
That has to stop. We need to change our mental approach to finance.
I think of a budget as a diagnostic tool. It is no different from going to the doctor and having the nurse take your temperature and blood pressure. They are establishing a baseline for your health. A budget is a baseline for your financial wellness.
The doctor doesn't beat you up if you have high blood pressure. It's discovery. It gives the doctor the information needed to fix the problem. Look at a budget the same way -- it's diagnostic.
If a doctor told you to exercise regularly or reduce your sodium intake, you would listen. Well, I'm not a doctor and I don't play one on TV, but listen when I urge you to look at your soon-to-be-born budget a different way. It's not a setup for failure; it's a recipe for long-term success.
Creating a budget allows you to get an understanding of where your money is allocated and what changes will help you get what you most want out of life. That's right, creating a budget can cause happiness, not stress!
So how do you get started?
In a recent Country Financial study, 70 percent of Americans who worked with a financial advisor rated their financial security as "excellent" or "good." When people are engaged with their financial planning, they are happier.
This makes a lot of sense. You get to have a relationship with someone who cares about your success. But the sad part is many people don't ever work with a financial professional to plot their long-term goals.
Often I hear people say they don't feel as though they have enough money to go to a financial advisor, or that they aren't sure they are getting good advice because they don't know the right questions to ask of them. Others simply feel overwhelmed.
Those are just some of the reasons I am teaming up with personal finance community MoneyTips.com for the #RetireeNextDoor Tweetcast on November 18. Top financial experts such as Robert Kiyosaki (best-selling author, "Rich Dad Poor Dad"), Jeff Rose, CFP (Author, "Soldier of Finance"), Cathy Curtis, CFP, and personal finance blogger Tiffany "The Budgetnista" Aliche will be on hand to get the conversation rolling, together with two dozen fellow CPAs, CFPs, wealth managers, authors and personal finance experts. We're offering free advice to help you transform retirement planning, savings and investing from scary things to avoid to something positive that will propel you to take control of your financial life.
We are joining together to be a one-stop shop for you to discuss budgeting, retirement, investing, how to approach saving when you are close to retirement, and why it is never too early for millennials to start filling up the piggy bank or too late for Baby Boomers stash away the cash for retirement.
You'll get advice that's unique to your situation, allowing you to create a roadmap for your financial future, making your vacations more memorable, the downtimes more manageable and your retirement to be both more enjoyable and less stressful.
Register for the 11/18 #RetireeNextDoor LIVE and let that be the conversation that changes your financial future. In the meantime, pick up your free copy of the eBook, The Retiree Next Door: Successful Seniors' Surprising Secrets. It's based on an exclusive survey of more than 500 Americans and how successful retirees prepared for and are getting the most out of their golden years.