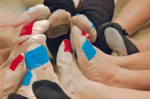 "Blue foot, jump!" Her hair is already slipping from her ballerina bun, but that doesn't matter in Free2BeMeDance. What matters is Melissa, and the moment she looks down at her left foot marked with a swatch of blue tape, balances on that foot and leaps over to the other line, cheered on by her classmates, volunteers and Miss Colleen.
Colleen's class proves you don't need a lot of experience to work kids with Down syndrome, especially when it comes to the misconception about their behavioral issues. "Maybe it's a little more challenging to keep their attention," Colleen notes. "But I find that if I'm not doing that, that's more of a failure on my part that it is the child's. It's up to me and the volunteers to capture their imaginations. The first class was more like joyful chaos, where everyone was just running around," she laughs. What does it take to be a volunteer? "I think you just have to have an open heart and a warm spirit."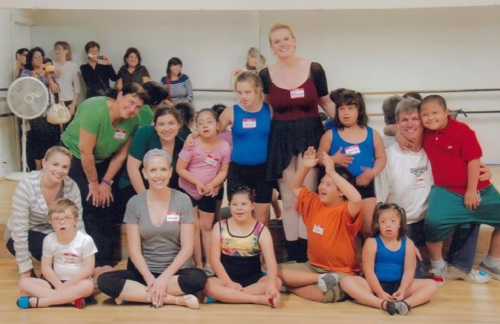 First Class Photo
It's obvious the kids love the class, from following the drum beat provided by Big Bob, Colleen's partner and support through the process of starting the non-profit, to dancing the parts of animals in "Animal Soup," to the free-style dance at the end, where they rock out to a pop song, spinning and twirling each other, showing off their moves. The class ends with relaxation time on mats, hugs and encouragement about the day's class.
Waiting in the lobby for their kids, the parents form a sort of support group, crucial for any parent facing the challenges of raising a child with Down syndrome. Most heard about the class through the Down Syndrome Association of Los Angeles (DSALA), and Colleen credits director Gail Williamson for tremendous support and help getting the word out. "As parents we focus on the abilities, not the disabilities," says Emily's mom, Elizabeth Flores. "This class offers a sense of belonging with other children with the same condition. It's an adaptive class, meaning they cater to our children's needs, they work with them at their own pace."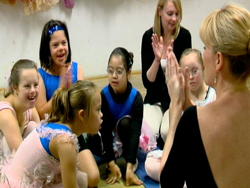 The class and time with other parents also helps to break down society's stereotypes about Down syndrome. "Children with Down are very friendly, or children with Down have a lot of behavioral issues," says Flores, citing the typical misconceptions. "Every child is different," she says. How do you break these stereotypes? "By educating society. Awareness," says Isabel's mom, Margot Guardardo.
The odds of Down syndrome are about 1 in 1000 births in the U.S., according to the University of California, San Francisco. Melissa's mother, Cheryl Hein, says it's almost a universal experience when parents get this diagnosis, they feel out in the cold, by themselves. She encourages new parents to get as much information as they can, to find professionals who know a lot about Down syndrome, and to find community and classes like Free2BeMeDance, where Melissa can create friendships with other kids who also have Down syndrome.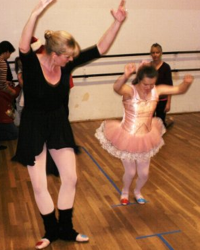 Based on the Boston Ballet model, Colleen plans to expand the program. "I'd really like the kids to come through together, be their own class, and then hopefully have another class." Colleen has the vision and drive to offer the program to any dance studio who wants it, but this means finding the funding to promote the program and train the ballet teachers. "There is a call for our program in the Valley and Orange County, but right now we're limited in resources and personal time, which hinders our expansion."
Through this class, the kids will have the opportunity to create and contribute for the Real Beauty Campaign art exhibit, hosted in Beverly Hills on Saturday, February 20th, in honor of the National Eating Disorder Awareness Week. Headed by Michelle Tamarkin and the International Association of Eating Disorders Professionals, the art exhibit will allow people to express their voices and interpretations of authentic beauty. When she heard about Free2BeMeDance, Tamarkin immediately saw the fit, that the kids represent all that is beautiful, and asked them to contribute to the show.
One mother thought it might be hard for her daughter to contribute, because she may not understand the concept of beauty. "Isn't that amazing in and of itself," says Colleen. "There doesn't have to be a definition of beauty, maybe it's just what you're attracted to, what you like, what you find valuable. We're hoping to put together a video montage of the class. Kids helping each other, that's what's beautiful, the big hug at the end."
To learn more, find out how you can volunteer, or give a tax deductible gift and help fund Free2BeMeDance, please contact Colleen Perry through the website.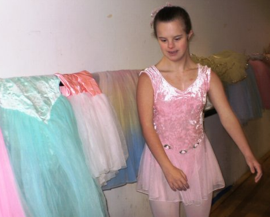 (Video by Marisol Montoya. All photos courtesy Free2BeMeDance; the red foot, blue foot photo was taken by Blair Williamson - an adult with Down who is an actor and amateur photographer, son of Gail Williamson who is referenced in the story as the director of Down Syndrome Association of Los Angeles.)