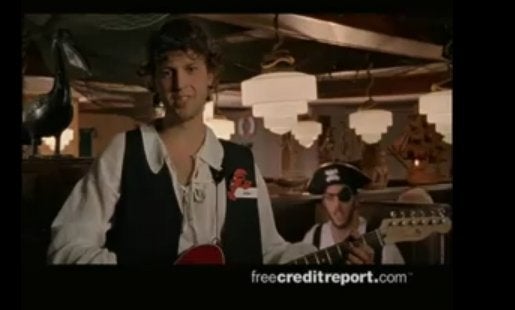 Among the merciful provisions of the landmark credit card reform signed into law last year is the requirement that purveyors of phony "free" credit reports put the following admission in all of their ads: "This is not the free credit report provided for by Federal law."
While credit card companies have had nine months -- from May 2009 until February 22 -- to come up with a business model less reliant on abusing customers, Experian, the credit reporting company behind FreeCreditReport.com, will have until September before it has to inject some honesty into its ubiquitous TV spots.
The ads, in case you somehow haven't seen them, say you can get a free credit report if you go to FreeCreditReport.com. You can, but only if you enroll in a $14.95-a-month credit-monitoring service and then cancel it within a week. The site for truly free credit reports is www.AnnualCreditReport.com.
The Federal Trade Commission has won more than $1 million in settlements over the years from Experian for its deceptive advertising. In February, a Wisconsin woman hit the company with a class-action lawsuit.
Online advertisements for "free" credit reports will have new disclosure requirements as of April 1. (See examples of how web ads might look after April Fool's Day on the FTC's site here. In its rule-making memo, the FTC notes that some elements of the new web disclosures faced opposition not just from business groups, but also from Arkansas lawmakers John Boozman (R) and Mike Ross (D).)
The FTC said it was reasonable to give TV advertisers more time.
"The Commission believes that a delay in the effective date for the wording of the disclosures in television and radio advertisements is warranted beyond April 2010," writes the FTC in the text of its Federal Register notice (PDF). "As one commenter noted, compliance with the required interim disclosures followed by compliance with the different final disclosures will impose additional costs for television and radio advertisers: "[I]t would require advertisers and advertising agencies to create two sets of commercials: one set to run beginning on February 22, 2010, and the second set to run when the Rule goes into effect. This would substantially and unnecessarily increase the costs to provide television and radio commercials."
Experian said it is reviewing the new rules.
"Experian just received the final rules issued by the FTC regarding the marketing of free credit reports and we are currently reviewing them to determine the appropriate actions to support our business," wrote a spokeswoman in a statement to HuffPost. "We remain committed to clearly and conspicuously disclosing to consumers that the free report we offer is not the free annual credit file disclosure provided by federal law."
UPDATE 5:40 PM: An FTC spokesman told HuffPost that the FTC has given advertisers extra time solely because of the costs associated with producing TV ads -- scripts, jingles, etc. But he said that TV and radio advertisers, as of Feb. 22, are supposed to comply with an interim provision mandating that ads say, "Free credit reports are available under Federal law at: AnnualCreditReport.com."
Support HuffPost
The Stakes Have Never Been Higher
Related
Popular in the Community