A veteran freediver set two world records in the extreme sport in three days, though he said he feared blacking out swimming back to the surface on the first outing. 
The feat was all the more remarkable because of what he said was a "terrible" experience during his record-setting dive at the Vertical Blue competition on Saturday. 
In freediving, swimmers cannot use external underwater breathing devices. They can only hold their breath. Trubridge competed in the free immersion category, in which divers guide themselves deeper by holding a rope. 
"The dive itself was pretty difficult. I had a beautiful descent, everything went well with the descent," Trubridge said in a video after his dive to 122 meters (400 feet) on Saturday. For that dive, he held his breath for 4 minutes, 24 seconds. 
But Trubridge struggled to attach a tag to his gear that would authenticate the depth of the dive, and became disoriented on his ascent. 
"At that point, I was completely out of the headspace that I need to be in for a deep dive. I was a little concerned," Trubridge said. "I didn't know how deep I was. I didn't even know if I was going to make it to my safety divers. I didn't feel that strong, but gradually I guess I started to come back and managed to get back to the surface."
Watch Trubridge's "terrible" record-setting dive below:
Freediving can be fatal, even during routine excursions. Last year, Natalia Molchanova, who The New York Times called the "greatest freediver in history," vanished on a recreational dive in Spain. Her body was never found. 
Trubridge on Saturday persevered and reached the surface unaided. A crowd of other swimmers burst into cheers after he lifted himself up on the rope. 
Despite the scare, Trubridge plunged into the depths again on Monday for what he called a "much more smooth dive." 
"Today I decided to have another crack at shifting the Free Immersion record up a notch or two. I felt like if I avoided the problems at the bottom plate of the last dive then I should be able to manage a greater depth," Trubridge said on Facebook. "This time I was in complete control for the ascent, and surfaced with less difficulty."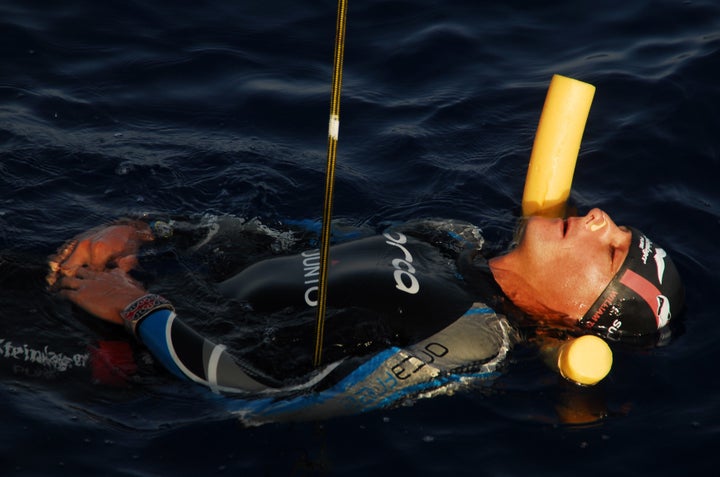 REAL LIFE. REAL NEWS. REAL VOICES.
Help us tell more of the stories that matter from voices that too often remain unheard.
BEFORE YOU GO