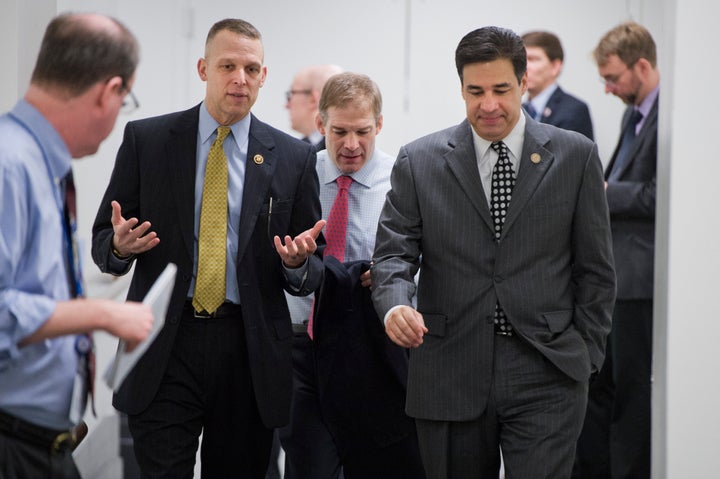 Members of the conservative House Freedom Caucus said Monday night they would not support the federal budget deal proposed by House Republican leadership, putting the spending plan ― and the entire appropriations process for the year ― in serious jeopardy.
From the basement of a Capitol Hill restaurant, Tortilla Coast, Freedom Caucus members took an official position against the $1.07 trillion budget that's scheduled for a committee vote on Wednesday. The conservatives took issue with the top-line spending number, arguing that Republicans should go back to the $1.04 trillion level under automatic spending cuts known as sequestration that were set in 2011.
At least 30 members of the roughly 40-member Freedom Caucus voted to formally oppose the budget. Those 30-some members are vital for the Republican budget. Without their support, the document would lack a majority of House votes, since the spending blueprint typically gets no Democratic backers.
Earlier Monday, GOP leaders held a special closed-door meeting with House Republicans to lay out a plan that would retain the current, $1.07 trillion budget caps, but would cut more than $100 billion over 10 years.
Those cuts, however, did little to convince conservatives. Members leaving the Freedom Caucus meeting castigated the reductions as "show votes."
"Those are all great ideas," caucus member Raul Labrador (R-Idaho) said of the spending reductions. "But they are not things that are going to pass. They are things that are promises of future cuts, which is what we've been doing for five years."
At this point, Labrador told reporters at the restaurant, "everything we've heard has been less than stellar."
Republicans attempted to placate conservative spending worries through a variety of votes, ranging from cuts to child tax credits for undocumented immigrants to reductions to the state Children's Health Insurance Program. But those votes don't seem to have done enough.
"I'm looking at it purely from a standpoint that there is an increase in spending in this budget," said Rep. Marlin Stutzman (R-Ind.), a member of the Budget Committee. Such a budget would break a commitment Republicans made to the American people, he said.
If there is no budget, Speaker Paul Ryan (R-Wis.) has intimated there won't be appropriations bills. A return to the regular legislative process for appropriations was a key tenet of Ryan's pitch for the speakership. Republicans overwhelmingly support the process of individual spending bills so that they could add policy riders to legislation.
Ryan spokeswoman AshLee Strong told HuffPost late Monday that adopting a budget always requires teamwork. "And we continue to work with any members who want to help find a solution," she said.
But without a budget, the House ― and by extension, the Senate ― appears likely to forego individual appropriations bills and instead consider an all-encompassing continuing resolution that would kick spending decisions into the new year.
The budget, a non-binding resolution laying out spending priorities for the next 10 years, is little more than a press release, except in one key area: It sets the spending limits for the next fiscal year. And without those individual allocations, there's little point in Republicans trying to go through appropriations process.
Freedom Caucus members seemed to think there wasn't much to be gained from appropriations bills, anyway. Caucus Chairman Jim Jordan (R-Ohio) expressed serious doubt about the Senate approving a budget of its own. He noted a recent comment from Sen. Lamar Alexander (R-Tenn.) that, in effect, left House Republicans to believe conservative policy riders weren't going to be taken seriously in the Senate.
Alexander, chairman of the Senate Appropriations Subcommittee on Energy and Water, said he didn't want controversial riders introduced in appropriations bills.
"They can offer on the floor, or they can run for the House of Representatives," Alexander said. "That's the two ways to do that."
Freedom Caucus members still say the House should pass a budget. As they have said for well over a month, they contend the budget should go back to the October deal that showcases conservative values.
"I'm hoping that leadership listens to the loud voice of the American people that has been speaking now for the last three or four months in every one of our primaries, where the establishment has been rejected from 50 to 70 percent in every one of our states," Labrador said. "If they don't listen to that, then maybe everybody needs a new job."
This article has been updated to include a comment from Ryan's spokeswoman.
Popular in the Community