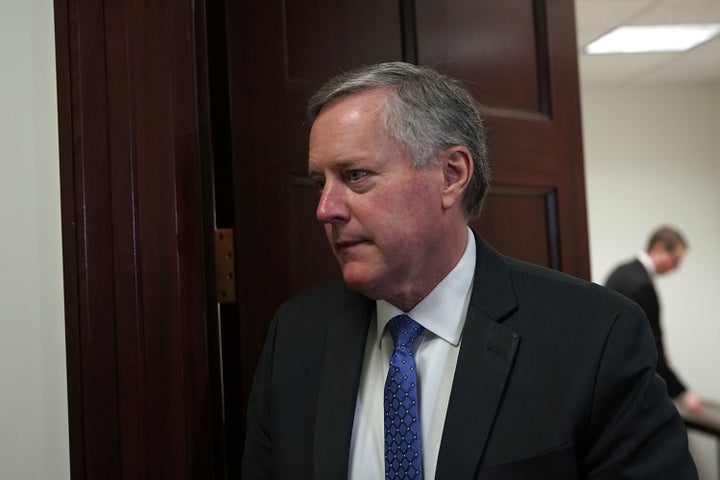 WASHINGTON ― House Freedom Caucus leaders are pushing a legislative gambit this week in which roughly a dozen conservatives offer their support for the farm bill in exchange for a vote on a hardline immigration bill. The scheme would at least temporarily kill an effort from moderate Republicans to pass an immigration plan palatable to Democrats.
Freedom Caucus Chairman Mark Meadows (R-N.C.) emerged from a meeting with the conservative group late Tuesday night, telling reporters that they had not taken an official position on making a vote on the immigration bill a condition of their support for the farm bill. But Meadows said a "significant number" of conservatives would be "moved" if leadership promised a vote on the hardline immigration bill authored by Judiciary Chairman Bob Goodlatte (R-Va.), which is also known as the "Goodlatte bill."
"Since we're whipping the farm bill very hard for a vote this week, we believe that it's probably time to go ahead and call the question on the Goodlatte bill as well," Meadows said.
Meadows noted it was his understanding that voting on the Goodlatte bill would effectively kill a discharge petition that Republicans who favor a fix to the Deferred Action on Childhood Arrivals or DACA program have been pushing. The discharge petition could be used to force a vote on a number of immigration proposals if 218 members sign on. (Moderate Republicans are using the Goodlatte bill as a vehicle for a rule that allows different immigration proposals to get a vote, including one they and Democrats prefer.)
Meadows acknowledged that Republicans supportive of a DACA fix could still get another discharge petition rolling to force a vote, but said the bigger issue for them would be time. "The clock would start all over again," he said, noting there are certain rules in how many legislative days it takes for a discharge petition to ripen before it's eligible for a vote.
Meadows noted that conservatives might not have enough votes to pass the Goodlatte bill, but he said conservatives in his group would still support the farm bill as long as they got a vote on the immigration bill, as their primary objective at the moment seems to be killing the discharge petition.
Mark Meadows said conservatives in his group would support the farm bill as long as they got a vote on the so-called Goodlatte bill on immigration.
GOP leadership already promised the Freedom Caucus a vote on the Goodlatte bill back during spending negotiations months ago, but leadership still hasn't brought up the legislation. Asked why the Freedom Caucus would trust leadership again on holding the vote, Meadows made it clear he wanted a vote on the Goodlatte bill this week, concurrent with the farm bill, though he also said he would accept assurances from Majority Leader Kevin McCarthy (R-Calif.) to put it on the floor next week.
The Freedom Caucus is in some position to negotiate because leadership is still clearly short on the votes to pass the farm bill. There are a number of moderates who are apparently uncomfortable with the farm bill's food stamp provisions, and conservatives seem somewhat indifferent ― maybe even slightly opposed ― to the legislation over a host of issues, notably some concerns that there aren't enough savings in the five-year reauthorization of farm provisions and the food stamp program.
With only a few Democrats expected to support the farm bill ― Minority Whip Steny Hoyer (D-Md.) told HuffPost Monday night he thought there might be some Democrats voting for the bill, but not many ― Republicans need to find votes from either conservative or moderate Republicans. But with moderates looking ungettable, it's the conservatives who are in the driver's seat to negotiate.
Giving in to the Freedom Caucus' demands of a vote on the immigration bill could always endanger support from moderates, but if the Freedom Caucus holds strong, it's hard to see GOP leaders finding the votes elsewhere. There are roughly 35 members in the Freedom Caucus, and while not every member is participating in this gambit, one member told HuffPost there are around a dozen and a half Freedom Caucus members who are.
The other option for GOP leaders is to simply ignore the Freedom Caucus demands and press ahead, hoping that adoption of some individual amendments could be enough to win over just enough Republicans. Plus, the farm bill isn't exactly must-pass legislation. Congress could end up doing a one-year extension of existing programs, which might happen regardless of whether the House passes the farm bill if the Senate doesn't take up the measure.
Still, Meadows and conservatives are putting leadership in a bind, and the plan to effectively kill the discharge petition could win over one key ally who's in communication with Meadows nearly every other day: President Donald Trump.
Calling all HuffPost superfans!
Sign up for membership to become a founding member and help shape HuffPost's next chapter