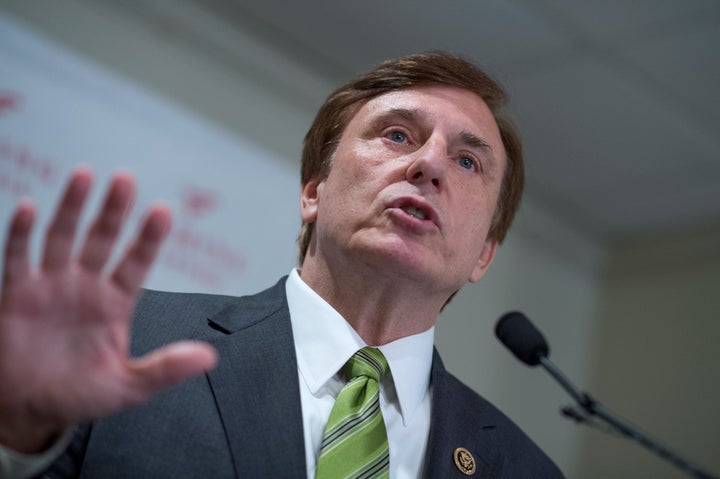 WASHINGTON ― Members of the House Freedom Caucus will call up a resolution on Tuesday that will force a vote on impeaching IRS commissioner John Koskinen within two days.
Conservative Rep. John Fleming (R-La.), who's been leading the fight to impeach Koskinen, told reporters Monday night after an HFC meeting at a Chinese restaurant here that he will call up the privileged resolution at some point on Tuesday. The Freedom Caucus also plans to hold a special hour of talking time on the House floor Tuesday to rail against Koskinen and explain their case for his impeachment.
Fleming suggested that House Democrats ― or even House Republicans ― are likely to offer some type of procedural vote to dispense with the impeachment resolution, perhaps as soon as Tuesday. "And we just have to make sure everybody understands: Anybody who votes to table or to refer to committee is voting the same as if they're in favor of keeping Koskinen in his job," Fleming said.
The resolution is unlikely to be successful. Even if it were to somehow find a majority in the House, the resolution would need two-thirds in the Senate, which it almost certainly won't get.
At issue is an old scandal involving the IRS and some tea party groups applying for tax-exempt status.
While that scandal, involving the supposed political targeting of conservative groups, was under the watch of a different IRS commissioner, conservatives say Koskinen lied to Congress when he testified that the IRS found "no examples of anyone who was improperly selected for an audit." They also take issue with the IRS destroying thousands of emails to and from Lois Lerner, then the director of Exempt Organizations at the IRS.
House GOP leadership has been reluctant to go along with conservatives in their pursuit to impeach Koskinen. Some Republicans have worried that Koskinen's impeachment is an unnecessary wedge issue, in which moderates, given all the issues facing Congress, will be turned off by a seeming political witch hunt, and conservatives, given all the things Republicans can't agree on, will be angered if their party can't even come together to hold Obama administration officials accountable.
"That's the whole point: Congress doesn't take action for things that are really obvious no-brainers," Fleming said. "Our job is to hold high-level officials in the administration accountable for their behavior."
"And if we fail to do that," Fleming continued, "then obviously we are a do-nothing Congress."
Calling all HuffPost superfans!
Sign up for membership to become a founding member and help shape HuffPost's next chapter