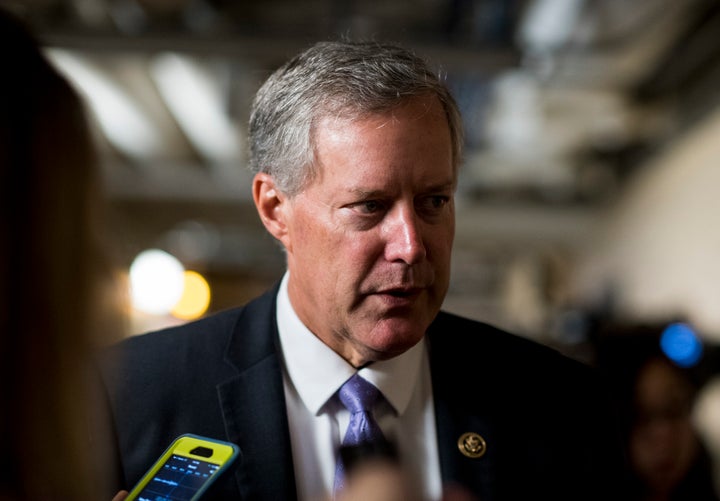 WASHINGTON ― Six days before voters go to the polls, top members of the conservative House Freedom Caucus huddled in the D.C. apartment of Rep. Mark Meadows (N.C.), discussing the future of the House Republican Conference.
Members attending the Wednesday meeting ― and there were at least seven ― said they were sworn to secrecy, so details of what they talked about were a bit hazy. But attendees said they mostly discussed potential rule changes, caucus members' own re-election battles and upcoming leadership contests within the House GOP.
While some Freedom Caucus members have discussed pushing House leadership to delay those internal elections, they said their caucus was unlikely to demand a postponement. The leadership contests are set for Nov. 15 ― a week after Election Day.
Rep. Scott Perry (R-Pa.), who is not part of the Freedom Caucus board but was at the Wednesday meeting, told reporters that the lawmakers spent "a fair portion" of the roughly three-and-a-half hour meeting talking about rule changes. He said the caucus seemed resolved that they would not allow other Republicans to alter the so-called motion to vacate, which permits any House member to call for a vote overthrowing the speaker. 
"That's not even a point of negotiation, honestly," Perry said. "We would push back vociferously."
Perry also mentioned a rule change the Freedom Caucus is likely to support: a shift in who chooses committee chairs. He said that giving the members of each committee the power to elect their own chair, rather than leaving those decisions with the leadership-aligned House Steering Committee, was something Freedom Caucus members are "really interested in."
Perry initially demurred when asked whether Speaker Paul Ryan's future was a topic of conversation, but admitted, when pressed, that the Wisconsin Republican did come up. 
"Of course his name comes up," Perry said. "He's in the news every day. He's the speaker!"
There has been chatter on Capitol Hill that conservatives may oppose Ryan during the January floor vote to re-elect the speaker ― if he seeks to keep the top job. Still, there doesn't seem to be an organized effort at this point to force Ryan out.
Freedom Caucus members seem to be waiting to see how many seats Republicans lose on Election Day and how Ryan responds. The speaker has indicated that he will try for re-election. But some caucus members have expressed doubts about his true intentions ― particularly if Republicans lose a large number of seats and it's clear that some lawmakers simply won't vote for Ryan on the floor.
Asked whether conservatives like Ryan, Perry said everyone does. He suggested, however, that there was more to supporting Ryan than that.
"We like each other generally. That doesn't mean we agree with everything," Perry said. "I love my wife. I don't agree with her on everything. So we have a bigger mission here. It's not personality-based. It really isn't."
A good deal of Wednesday's meeting, according to Perry, was spent discussing the elections of some of the Freedom Caucus' more vulnerable members, like Reps. Scott Garrett (R-N.J.) and Rod Blum (R-Iowa).
One member also said they talked about potential openings in the House leadership, with an eye toward, at the very least, picking a Freedom Caucus member for the post of House Republican Conference secretary, now held by Rep. Virginia Foxx (N.C.). Foxx is expected to become chairwoman of the Education and the Workforce Committee.
Members flew back to Washington just to have this secretive meeting, which was held about a mile and a half away from the Capitol. Most of the attendees rushed to their waiting cars afterward, unwilling to talk to a small group of reporters who had caught wind of the gathering.
Other than Perry, six members of the Freedom Caucus' nine-person board are known to have been at the meeting: caucus Chairman Jim Jordan (R-Ohio), Jeff Duncan (R-S.C.), Mick Mulvaney (R-S.C.), Matt Salmon (R-Ariz.), Justin Amash (R-Mich.) and Meadows. 
HUFFPOST READERS: What's happening in your state or district? The Huffington Post wants to know about all the campaign ads, mailers, robocalls, candidate appearances and other interesting campaign news happening by you. Email any tips, videos, audio files or photos to scoops@huffingtonpost.com.
Calling all HuffPost superfans!
Sign up for membership to become a founding member and help shape HuffPost's next chapter