Is it safe to mix freedom, journalism and religion in today's Arab world? Mention those three topics together and you're likely to start a riot - or at best a heated argument.
"Your organization called for the assassination of Farag Foda," said Lebanese journalist/activist/blogger Salim Allawzi pointing an accusing finger at Mohieddine Afifi, dean of Al Azhar University's Faculty of Islamic Studies in Egypt.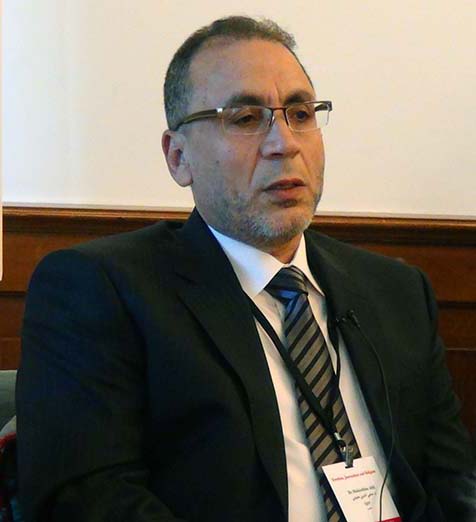 Al Azhar's Mohieddine Afifi (Abu-Fadil)
Foda, who was shot dead in 1982 by a "jihadist" group, was a secular Egyptian university professor and human rights proponent who wrote satirical articles criticizing Islamic fundamentalism in his home country.
Al Azhar, Sunni Islam's highest authority and seat to one of the world's oldest universities, had accused Foda of blasphemy.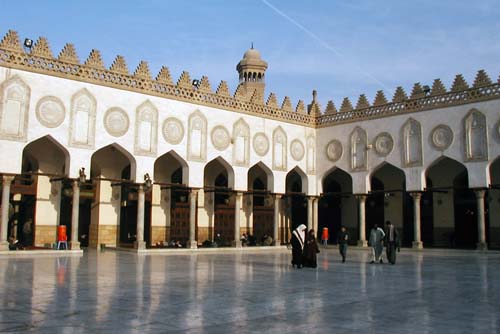 Egypt's Al Azhar mosque (Abu-Fadil)
One of its scholars had expressed his approval of the killing of "apostates."
"Al Azhar doesn't object to freedom of expression, but promoting atheism is anathema," responded Afifi at a conference last week.
He said his institution did not have a specific policy regarding the media and did not interfere in media's operations except when they infringed on respect for the prophets and people's faiths.
This has been a particularly touchy issue in Egypt where the armed forces deposed president Mohamad Morsi of the Muslim Brotherhood one year after he was elected, and stirred up a firestorm of pro- and anti-MB sentiment.
Secularists have fought against the Brotherhood and Morsi supporters, with local and foreign media covering or interpreting events raising the tenor of the internecine conflict.
So can secularists, atheists and believers engage in rational discourse about religion in the media and come out unscathed?
They did, thanks to a conference in Lebanon courtesy of the Samir Kassir Foundation and SKeyes Center, albeit with strained and heated discussions on personal freedom and offense to others as with the Allawzi and Afifi exchange.
"Religion is one of the most delicate topics to cover in the media, especially given the recent developments in the region and the rise of religious-based political actors," explained the Foundation's executive director Ayman Mhanna on the reason behind the event.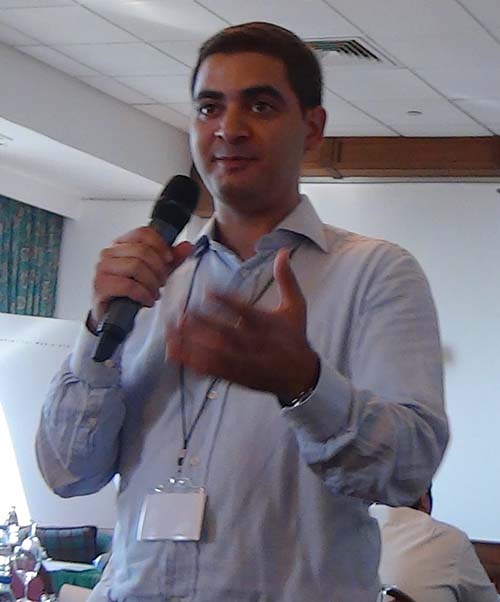 SKeyes Executive Director Ayman Mhanna (Abu-Fadil)
He added that media coverage of religious issues often fell short of addressing contentious issues such as corruption within religious administrations, ties between religious institutions and governments, and pressures by religious groups on creativity.
"Also, coverage of developments taking place in religions that are not widely represented in society is weak and doesn't always explain the nuances in an understandable language for local constituencies," Mhanna said.
A vocal explainer at the event was Father Georges Massouh, a Greek Orthodox priest who said the church had traditionally followed changes in society and that human rights policies in countries had passed despite the church.
"There's quite a bit of hypocrisy in religious institutions," admitted Massouh, the director of the Christian Muslim Studies Center at Balamand University north of the Lebanese capital Beirut. "To safeguard a sect, churches are imposing unrealistic regulations and strictures."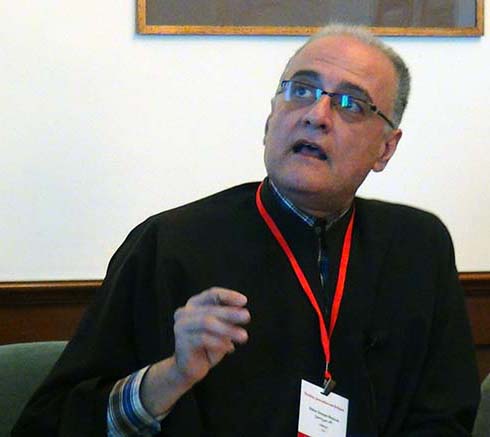 Fr. Georges Massouh (Abu-Fadil)
Massouh said in the beginning there was the word in Christianity, and in Islam the invocation "iqra'" (read), not violence and the imposition of values.
He also said one can't build a civil society with religious authorities calling the shots and that the separation of church and state had saved Europe.
The debate got hotter when humor and satire took a poke at religion.
Pushing the bounds of correctness was "Free Arabs'" Moroccan founder and editor in chief Ahmed Benchemsi, whose organization produced irreverent video clips based on real "fatwas" (Islamic religious edicts) to demonstrate how illogical or irrelevant they were.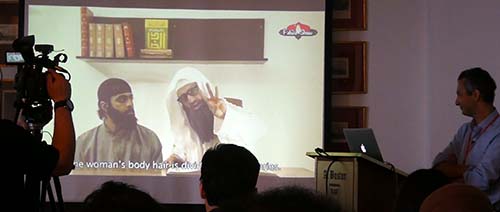 Ahmed Benchemsi's controversial "The Fatwa Show" (Abu-Fadil)
"The Fatwa Show" clips include pronouncements that high heels are bad for women, that contact lenses are forbidden, and an account of the functions of women's body hair.
"Free Arabs" describes itself as a group of "free-minded bloggers, journalists, activists and creators, we are dispersed throughout the Middle East, North Africa and the rest of the world. Keen on perpetuating the spirit of the Arab Spring, we confront both oppressive autocrats and religious zealots with audacious reporting, candid whistle-blowing... and ferocious derision!"
Strict adherents, secularists, and atheists from 15 Arab and European countries attended the conference dubbed "Freedom, Journalism and Religion."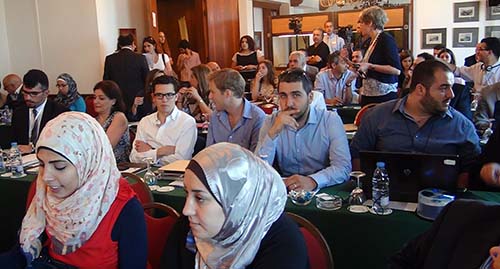 Freedom, Journalism & Religion Conference in Lebanon (Abu-Fadil)
"The problem is not the ability to express yourself, the problem is to listen," said Ralf Erbel, resident representative in Jordan for Lebanon, Syria and Iraq of the German-based Friedrich Naumann Foundation for Liberty.
The Foundation and the European Union funded the conference while Canal France International covered the travel costs of four trainers from France and Tunisia as well as two CFI representatives and five participants from Yemen, Egypt, Iraq and Syria for a subsequent two-day workshop.
Mhanna said his organization would monitor content produced by participants.
REAL LIFE. REAL NEWS. REAL VOICES.
Help us tell more of the stories that matter from voices that too often remain unheard.