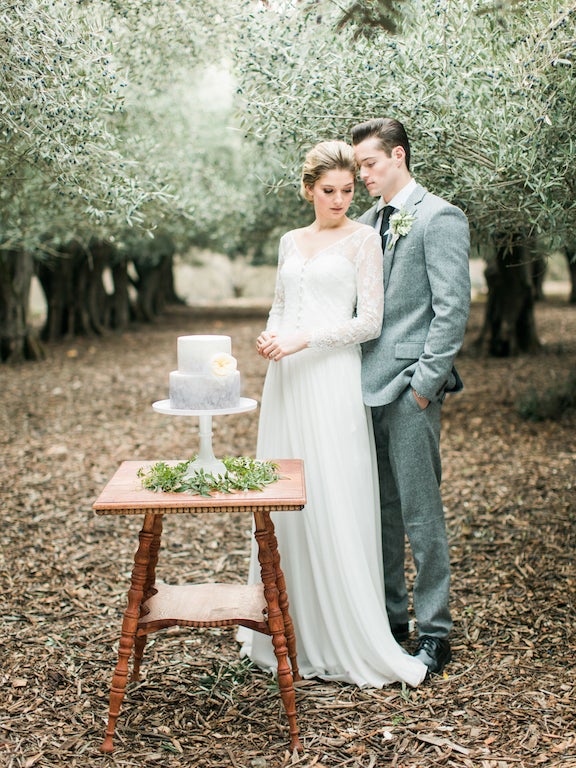 The wedding industry is notoriously known for being one of the most traditional industries around. Yet as we enter 2017, weddings have undergone some tremendous changes, particularly due to the millennial generation and voices of independent women.
As a result, many of today's brides are breaking away from classic wedding dress styles and are opting for personalization and customization options to create their dream dress. Driving inspiration from online sources such as Pinterest and Etsy, millennial brides are embracing the "DIY" (Do It Yourself) concept to rewrite traditional wedding dress style rules.
Freedom of Choice… Online
The Internet is one of the first places brides start to look for wedding dresses, primarily because it offers so many different options. And now, "DIY" wedding dresses that can be created in a few simple steps online is becoming a popular concept.
Lace & Liberty for example, is one of the first online luxury-custom wedding gown boutiques that is embracing the "DIY" wedding dress concept. Lace & Liberty offers brides to be a new and convenient way of purchasing a wedding dress, allowing women to pick and choose quality pieces that fit their budgets and unique styles.
Instead of flipping through racks of gowns to find "the right one," brides have the freedom to create the dress they want, having it custom made to their measurements and delivered right to their doorstep (all for under $1500!).
"Shopping with Lace & Liberty is a very modern experience that falls in alignment with other online shopping trends, such as purchasing food, clothes, transport and entertainment. You don't need to wait in line, make appointments, or spend hours sifting through wedding dress racks at different stores, and all of your options are delivered directly to your doorstep," said Danielle Wen, CEO and Founder of Lace & Liberty.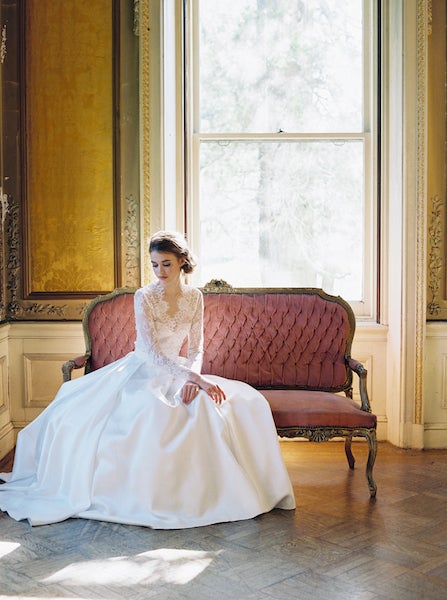 What makes Lace & Liberty really unique though is the "mix and match" wedding dress concept, combined with their at home try on service.
After surveying and helping hundreds of brides, Danielle and her Co-Founder, Jacqui Shi, realized that brides love the idea of designing their own wedding dresses, yet often lack the time and energy required to create dresses entirely from scratch. Most brides, however, still want to be able to showcase their personality through their wedding dress and customize options to their liking.
As a solution to this problem, Lace & Liberty offers brides a selection of existing tops, skirts and dresses to mix and match from to create over 500 different and unique styles. Once a bride makes her selection, she then has the option of personalizing each separate piece. For example, she can choose to add straps and low back options to a top design, or add varying train length, while choosing the exact color combination for her skirt.
"No matter what our bride's personal style is, we want to empower women with the option to create the wedding dress of their dreams. Not the dress showcased in bridal magazines, but the dress that reflects the woman who she really is. Whether she is a princess, feminist, bohemian beauty or rocker chick, we want all of our brides to have the option to showcase who they really are on their big day," explained Jacqui.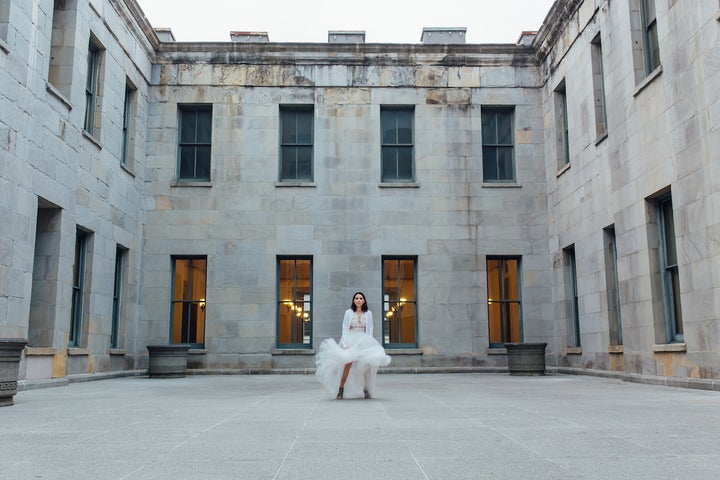 Of course, being able to try on your customized dress is the next step in the process. Unlike other online wedding dress websites, Lace & Liberty offers a try on at home service, which includes a "try on at home sample box". Each box contains a customer's choice of one top or one dress, one skirt, clips and accessories and costs only $45 (wow!).
"It was the most amazing experience to try on wedding dresses in the comfort of your own home, without the pressure of someone badgering you to make a decision. All the tops, skirts and dresses were so beautiful and honestly much better quality than some of the $3000+ dresses I tried on in stores," said Lace & Liberty customer, Victoria S.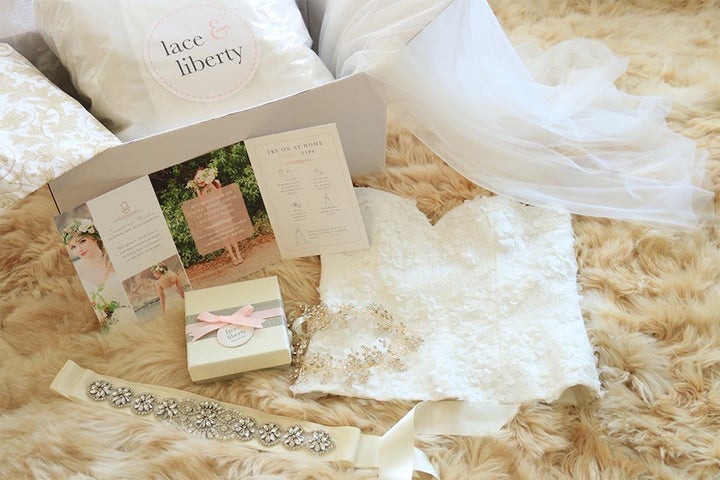 Benefits of Mixing and Matching
Mixing and matching bridal tops and skirts also has a number of benefits. For instance, going to the bathroom and dancing is much easier for brides who opt for two separate pieces. Having a separate top and bottom can also allow for some fun wedding surprises…
"While there were many memorable moments during our wedding (believe me, many), one of my favorite moments was when I finally decided to take off my 'Big Celebration Skirt' later in the evening. Charles unbuttoned my skirt in front of our guests on the dance floor. As I started taking it off, all our guests gasped and could not believe that I was wearing a little white dress underneath. All the women marveled and several expressed that bridal separates is a brilliant idea," explained a Lace & Liberty customer.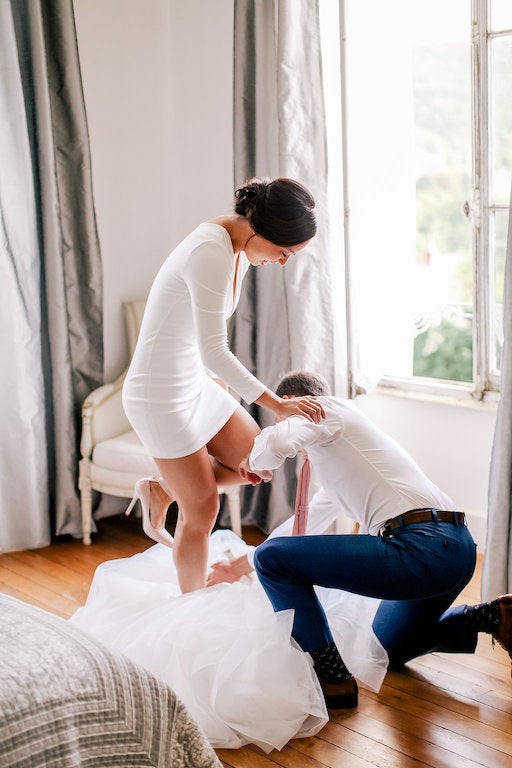 Many Lace & Liberty customers also hope to wear their separate wedding pieces over again - another popular trend amongst millennial brides.
For example, a recent New York Times article discusses the growing popularity of separate wedding pieces amongst millennial brides, mentioning how many of these women intend to re-wear these pieces,
"I would wear this dress to any summer cocktail party — why not?" Nina Hartmann, the Viktor & Rolf marketing chief, said of an abbreviated, giddily flounced white dress. She added that a particular hit with retailers was a minimalist jumpsuit rendered in white and intended for, but by no means limited to, a saunter down the aisle. Much the same could be said for the peplum top and trousers Lela Rose showed for fall 2017."
The Choice is Yours
At the end of the day (or rather, a very long day of wedding dress shopping), today's modern bride really cares about having options that will allow her to express herself.
Just as a bride can choose the very flowers she wishes to include in her bouquet, Lace & Liberty allows brides to create and personalize the perfect look that suits her. Millennial brides and independent women can finally rejoice and say, "I do" to the perfect man or woman - in the perfect dress that reflects who she really is.
Related
Popular in the Community