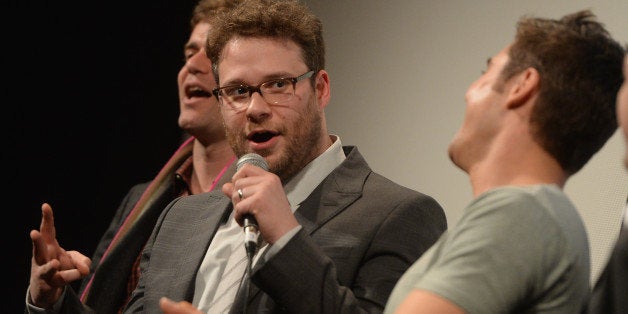 With the First Amendment, you're never protecting Jefferson; it's usually protecting some guy who's burning a flag or doing something stupid. This is a silly comedy, but the truth is, what it now says about us is a whole lot. We have a responsibility to stand up against this.
The First Amendment protects Americans' right to decide what they want to say, read, write, watch and listen to without interference from the government. Government officials do not always honor that principle and that is why organizations like ours that advocate for First Amendment values are a necessary bulwark to free expression in the arts as well as politics.

But censorship by government officials and agencies is not the only threat to freedom of expression. Back in 1998, the Manhattan Theatre Club initially cancelled its planned production of Terrence McNally's Corpus Christi when it received bomb threats. After an outcry by proponents of free expression, and with security precautions in place, the play eventually opened. People offended by the play's content were, of course, free to protest, and they did. But so were free expression advocates, and we marched as well. In the end, the show went on.

For The Interview, it appears for the moment, the show will not go on. It's hard to know exactly what motivated the theater chains that cancelled the show -- fear of making themselves the next hacking target, legitimate worries about the potential for violence and/or legal liability in the case of violence. The end result is that we have now allowed the government of North Korea to dictate content.

That is, to state the obvious, not an acceptable state of affairs. Judd Apatow, one of the first to speak out, tweeted earlier this week, "I am not going to let a terrorist threat shut down freedom of speech. I am going to The Interview." I think the vast majority of Americans, whatever their political persuasion, can applaud that spirit, and embrace Clooney's insistence, "We cannot be told we can't see something by Kim Jong-un, of all f*cking people."

This isn't about pointing fingers at theater owners or Sony. This week's events are an extreme example of the complicated questions free expression advocates around the world are facing as private corporations control more and more of the world's access to information and communications -- whether it's corporate control of internet service providers, search engines and social media channels, or efforts by regulators in some countries to require search engines like Google to censor the content they make available. These aren't traditional free expression questions, but they are ones that we must face.

It's time for a renewed national commitment to and celebration of the fundamental value of free expression. It is time to dedicate the intellectual and financial resources necessary to safeguard our online infrastructure. And maybe more importantly, it is time to assert a shared national will to stand up to those who would limit our freedom expression, whether they are corporate executives, government censors or foreign dictators who will happily export their political repression to our shores if we allow them to do so.
Popular in the Community