A "Freedom 2 Twerk" party may have been ostensibly planned to celebrate Dr. Martin Luther King, Jr., but naturally, it instead seemed to offend most who saw its flyers. Now, it's been cancelled -- and the venue owner is using it as a chance to honor King, for real.
The party planned for Saturday in Flint, Mich. made headlines with its flyer showing King's head superimposed on another person wearing a chain to promote the event.
The event was reportedly to be hosted by Mid-Michigan Teen Parties, a group that hosted a New Year's party and has since deleted their Facebook page. The venue was the Social Network Banquet and Event Center, which isn't affiliated with the party promoters.
King's likeness and message have been misused to promote parties before, and a graphic designer took heat over his flyer for a Miami strip club in 2012. But this time, it drew the ire of Dr. Bernice King, daughter of the Civil Rights leader. She spoke out this week, telling Atlanta's local Fox affiliate the imagery for the Michigan party was "appalling."
"For me, as his daughter, it's like, 'wow,' I lost a father who sacrificed everything for them to live a much more dignified and respectful life, and for it to come to this makes me sad," King said.
Instead, he's hosting a free community event Sunday afternoon to honor King, particularly to bring awareness of his legacy to the young people of Flint. According to MLive, local boxer Anthony Dirrell and former Michigan State University football player William Cooper will be attending to talk to teens and sign autographs.
"As an African-American man who owns a business, I have a lot of responsibility," McEwen said, according to the New York Daily News. "This is about his legacy. Dr. King has done way too much for this country, or me, or anyone, to allow this to go on."
The new event also happens to have a much more appropriate flyer.
"Please know that I stand proudly and supportive behind your decision and hope that profit never supersedes respect for these party promoters," she said. "They can twerk if they choose to, but leave the deceased civil rights Nobel Peace Prize legacy to rest respectfully in peace."
Before You Go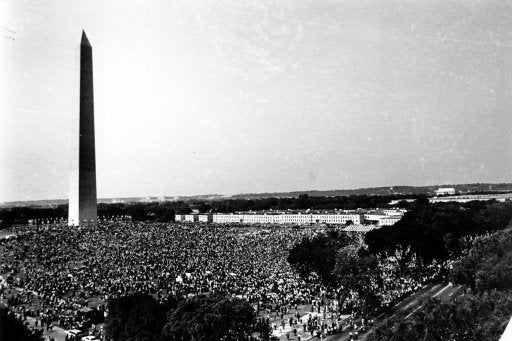 Martin Luther King March 1963
Popular in the Community