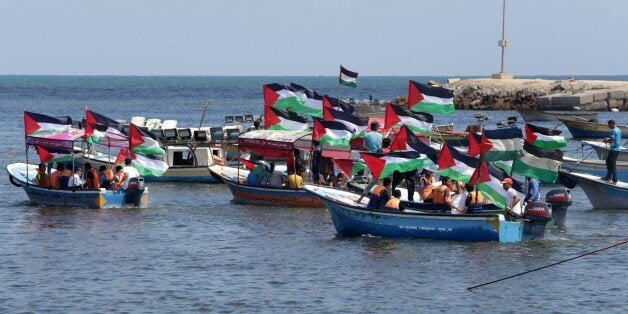 Supporters of continuing the Israeli occupation of Gaza, the West Bank, and East Jerusalem would like global public opinion to believe that the occupation can be maintained and yet Israel can be considered a democracy. A central challenge of occupation opponents is to expose and exacerbate the contradiction between democracy and occupation in mainstream international political discourse.
The #FreedomFlotilla III sailing to challenge the Gaza blockade is providing an excellent opportunity to expose the true face of anti-democratic, pro-occupation political actors in international media.
Yesh Atid chairman Yair Lapid on Saturday denounced those taking part in the flotilla to Gaza as "a gang of supporters of terrorism" and a "despicable flotilla that needs to be stopped."

The former finance minister spoke to a town hall meeting in Holon. He ridiculed the idea that the flotilla was aimed at highlighting the plight of Gaza and advancing Palestinian human rights.

"This flotilla is a kind of provocation against the State of Israel," he said. "This is a provocation by people who are anything but defenders of human rights."

"People are trying to portray this flotilla as one that seeks to promote human rights," Lapid said. "The last thing that you can say about this flotilla is that it has anything to do with human rights. This is a flotilla run by a gang of terrorism supporters, a despicable flotilla that needs to be stopped."

"Israel needs to deal with this flotilla like it would if it was trying to disperse a violent protest," he said. "And all of these folks on the flotilla need to be arrested."
In U.S. media descriptions of Israeli politics, Lapid is routinely described as an Israeli "centrist." For example, in this June 22 Politico article:
Multiple Israeli officials also condemned Oren's essay. Former Finance Minister and leader of the centrist Yesh Atid party Yair Lapid told an Israeli news source that Oren's piece was "pseudo-psychological analysis based on nothing" and Deputy Foreign Minister Tzipi Hotovely told Walla! News that his article "does not represent Israeli policy."
Who are the people that the "centrist" Lapid called "a gang of terrorism supporters" that Israel needs to "deal with" as if it were "trying to disperse a violent protest"?
Participants in the #FreedomFlotilla III include the former President of Tunisia, Moncef Marzouki; Israeli Knesset Member Basel Ghattas; Spanish Member of the European Parliament Ana Miranda; Jordanian Member of Parliament Yahya Abo Soud; and Moroccan Member of Parliament Abouzaid El Mokrie El Idrissi.
Responding to the attacks of right-wing Israeli politicians on the participation of MK Ghattas, the Israeli newspaper Haaretz editorialized:
MKs are elected to represent the positions of their parties and the public that elected them... All MKs must remember that Ghattas is entitled to convey his views in a nonviolent manner, whether by defiant expression or through protest activities like the flotilla... it is important to remember that the purpose of the flotilla is to break the blockade that Israel has imposed on Gaza, which continues an unacceptable situation in which nearly two million people are closed up as if in a cage. Instead of "killing the messenger," who is trying to increase awareness of an ongoing injustice, it would behoove the State of Israel to remove the blockade and help rebuild the Gaza Strip.
Retired IDF Major General Shlomo Gazit, who was head of IDF military intelligence, has called on the Netanyahu government to leave the flotilla alone. He wrote in Haaretz:
The ship that is currently making its way toward Gaza...isn't carrying military cargo. It is seeking to focus world attention on the blockade that Israel is imposing on the 1.8 million residents of the Gaza Strip...The world is accusing us of still maintaining Gaza under military occupation. We, in turn, are seeking to prove that we have withdrawn, but we haven't disengaged. We continue to control everything going in and out, and that is a continuation of an occupation government.

It is in our hands to decide and determine if the goal of the new ship will be achieved or not. It is in our hands to decide whether we will be smart and "weak" and simply ignore the ship, letting it reach Gaza. Then all the fuss over its trip here will dissipate. Or we can play into the hands of the activists on board and be "heroes," but foolish ones. We will take over the ship and show the entire world that indeed it is not carrying weapons.
If you think that Secretary of State Kerry should side with Haaretz and Major General Gazit rather than with Lapid, and press to avert any Israeli military attack on the flotilla, you can tell Secretary Kerry so here.
Related
Popular in the Community