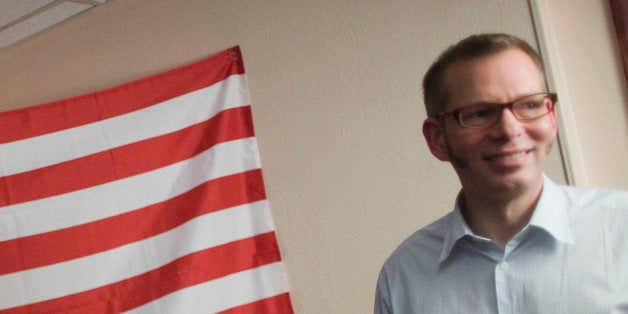 WASHINGTON -- As Rep. Paul Ryan (R-Wis.) and congressional Republicans angle for a deal with President Barack Obama to resolve the government shutdown, the leader of one influential conservative group remains unreceptive to the idea of any grand bargain.
Matt Kibbe, the CEO of the conservative nonprofit FreedomWorks, said House Republicans should continue pushing to end or delay the president's health care reform law. Kibbe insisted that Obama could conceivably sign a bill that gutted, or at least delayed, his signature legislative accomplishment.
"It's certainly possible because he's already done it. He opened this can of worms by delaying the employer mandate and delaying some other 19 provisions," Kibbe said.
Kibbe further expressed the belief that conservatives should hold out for concessions from Obama and Democrats even if it means going past the Oct. 17 deadline when the U.S. government runs out of money. At that point, lawmakers will need to raise the so-called debt ceiling in order to allow the Treasury Department to borrow more money to finance the government's spending commitments.
"We will go past the deadline for the debt ceiling, and I don't think that that is a bad thing if we can get to better fiscal policy," Kibbe said.
In the showdown over the government shutdown, and the looming deadline on raising the country's borrowing limit, one of the major questions is how the few dozen tea party-aligned House Republicans will react to potential calls from Republican leaders to strike a deal with Democrats.
Will they get on board with an effort to that might include getting rid of across-the-board federal budget cuts in exchange for tax reform, or more targeted spending cuts, or even entitlement reform? Will they vote no, but peaceably? Or will they revolt, threatening House Speaker John Boehner's (R-Ohio) hold on his job?
So far this group of conservatives, led by figures such as Rep. Tim Huelskamp (R-Kan.), Rep. Justin Amash (R-Mich.) and Rep. Jim Jordan (R-Ohio), has been the main reason behind Boehner's continued attempts to extract concessions from Democrats in exchange for funding the government, rather than passing a clean bill with Democratic support.
These hard-right members, in turn, are heavily influenced by outside pressure groups like FreedomWorks, one of a few conservative organizations based in D.C. aligned with the tea party grassroots base of the GOP. The group has been a vocal supporter of Sen. Ted Cruz (R-Texas) in his efforts to stop Obamacare at all costs and has mobilized activists to contact their members of Congress on issues such as the current fiscal fight.
FreedomWorks and other tea party groups have been the beneficiaries of a series of institutional changes that reduced the influence of congressional leadership positions and handed outside forces more power.
The elimination of earmarks removed a key way for congressional leaders to help or punish rank-and-file members, and redistricting has created more politically homogenous districts for members, rewarding ideological purity over bipartisan deal-making. As a result, newly arrived lawmakers care less and less about landing plum committee spots, another carrot that leadership had dangled in front of members in the past.
Boehner's aversion to a clean bill to end the government shutdown -- in other words, one that would outrage his most conservative members -- has given these back-benchers leverage against their leader. The one caveat is that Boehner loyalists have told this reporter that he would be willing to lose his speakership over a grand bargain to resolve the country's current long-term problem with its entitlement programs.
Kibbe showed no inclination to get on board with a possible effort by Ryan, the House Budget Committee chairman, to negotiate an agreement with Democrats that might include swapping sequestration's spending cuts for more specific cuts or tax reform -- an idea floated on Tuesday by one Republican leadership aide.
"As far as I'm concerned the sequester is something that is already an agreement that's sealed. I don't see any reason to reopen that. I'd be all for tax simplification and going after all the junk in the tax code, but I don't think I would trade it for the sequester. I would trade it for something meaningful like increasing the debt ceiling," Kibbe said.
If Kibbe's view remains the view of the GOP's right flank, that will complicate any efforts by party leaders to reach a bargain -- grand or not -- with Democrats. The task then will be to pacify these insurgents enough to keep them from rising up in anger over the direction that Ryan, a respected conservative, and Boehner are taking them.
CORRECTION: A previous version of this article misidentified Rep. Amash as a representative from Illinois. He represents Michigan's 3rd District.
Calling all HuffPost superfans!
Sign up for membership to become a founding member and help shape HuffPost's next chapter