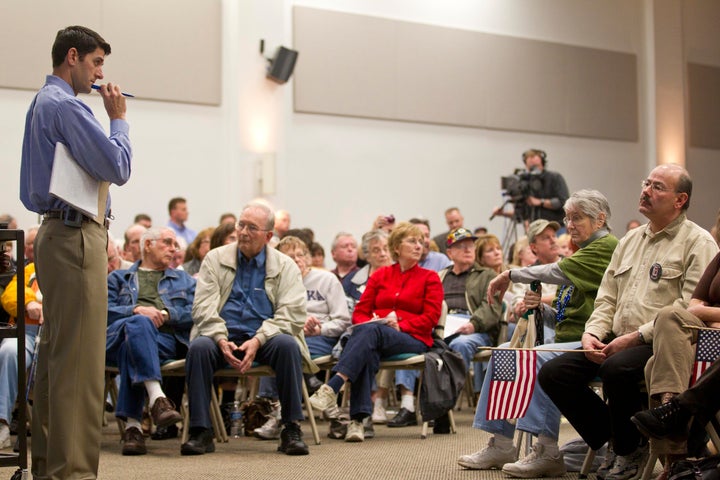 WASHINGTON -- The conservative group FreedomWorks has a message for freshman Republicans in Congress: Do not shy away from the Medicare fight.
On May 24, the group run by former House Majority Leader Dick Armey convened one of its regular off-the-record meetings with "communicators from limited-government conservative offices in the House and Senate who have a close relationship with the grassroots," according to an email from FreedomWorks' Media Coordinator Jackie Bodnar obtained by The Huffington Post. The email was intended for attendees of the breakfast meeting.
The main topics of discussion, according to notes attached to the email that recapped the meeting, were the debt ceiling and Medicare. The special guest that day was Sen. Mike Lee (R-Utah), who argued, according to the recap, that the "debt ceiling has become a key bargaining chip that can be used to get the BBA [balanced budget amendment] passed."
Matt Kibbe, president of FreedomWorks, focused on Medicare and gave the congressional offices tips for dealing with the hot topic in their districts (emphasis added):
Get out there and talk to people. Hold town halls at senior centers and other areas where the population is especially concerned about their benefits being cut. Take the lessons of '94 and '95 and get out there and explain to people that their immediate benefits will not be affected. Explaining the plan will offset confusion and the Democrats' negative messaging.

We need to dispel the myth that if we leave Medicare alone it will stay the same. It won't. By reforming them we are saving and strengthening these programs for the current and future generations.

Don't bury your head in the sand. Republicans must not shy away from this issue. Expect Democrats to attack, but not fighting back will only makes it worse. BOLD action is needed.

Communicate that Democrats do not have a plan of their own. Hold up a blank piece of paper as a powerful image of their do-nothing approach.
FreedomWorks spokesman Adam Brandon told The Huffington Post that the main audience for these meetings is communications staffers who work for small-government, conservative, freshman Republicans.
"This is a very important class, and it's very delicate," said Brandon. "This class owes its office to this grassroots movement. They don't owe it to any institution in D.C., and they don't owe it to the party leadership. So as the political process continues, they're going to be put under special pressure. That's why we started getting this together, as a place to exchange ideas."
"With Medicare, when you get into a policy battle, you launch your position," explained Brandon. "The other side pushes back, and you have to push back again. It goes back and forth, back and forth. Often in that first push back, people get scared and run, try and switch the tone to 'let's talk about gas prices,' or something like that. While energy prices are a critical issue, we're in this debate on Medicare, and we're going to have it, and we're going to make sure that the GOP has that debate."
Also at the May 24 meeting, Dean Clancy, FreedomWorks' legislative counsel, discussed the debt ceiling and said the key point for congressional offices was that the "world does not end if the debt ceiling is not raised," according to the notes distributed after the meeting.
"The Democrats' communication strategy is to scare people into thinking that Republicans are going to cut grandma's benefits," read the summary of Clancy's remarks. "We must communicate the truth that if spending is allowed to continue, our children and grandchildren will have no benefits, and grandma is likely to suffer too. We need to take this battle to the states where activists have a focal point to rally around as we head into the 2012 elections."
In addition to its regular meetings, FreedomWorks will also be bringing in more than 100 tea party activists from around the country to Washington, D.C. from June 24-27 for a "comprehensive activist training boot camp."
Brandon predicted that the town halls that lawmakers will hold in their districts this August will be worth watching.
"I would expect the August town halls to be the ones that get pretty exciting, in the sense where you're going to have more turnout, and that's mainly because the folks on our side got used to the August town halls," he said. "There's more publicity, they're easier to find. ... The real story on the town halls will be in August."
Popular in the Community