 The most powerful officials at Penn State actively worked to cover up Jerry Sandusky's sexual abuse and rape of children, failing to protect them against a sexual predator for more than a decade, according to an internal investigation released Thursday.
The report on the investigation led by former FBI director Louis Freeh indicts President Graham B. Spanier, Senior Vice President‐Finance and Business Gary Schultz, Athletic Director Timothy Curley and the late head football Coach Joe Paterno for showing "no concern" about alleged victims of Sandusky, the one time assistant football coach.
"These men concealed Sandusky's activities from the Board of Trustees, the University community and authorities," the report stated. "They exhibited a striking lack of empathy for Sandusky's victims by failing to inquire as to their safety and well‐being, especially by not attempting to determine the identity of the child who Sandusky assaulted in the Lasch Building in 2001," when then-graduate assistant Mike McQueary reported witnessing Sandusky sexually assault a young boy in a locker room.
"There were more red flags here than you could count over a long period of time," Freeh said Thursday in a press conference.
Sandusky retired in 1999, but kept an office at the school and used its facilities, where there were several reported sightings of him assaulting young children on campus.
Freeh said his team conducted 430 interviews and pored over 3.5 million emails and other documents. Freeh's team said no party interfered with, or attempted to influence, the findings in this report. No one spoke to Curley, Schultz or Paterno to complete the report, instead relying on documents and emails.
Curley and Schultz both face criminal charges for failing to report allegations of child abuse against Sandusky to law enforcement or child protection authorities in 2002.
"I didn't know exactly how to handle it and I was afraid to do something that might jeopardize what the university procedure was," Paterno said. "So I backed away and turned it over to some other people."
Several emails between Spanier, Paterno, Curley and Schultz in the report showed careful deliberation about how to handle the assaults. Curley and Schultz stated that the "humane" thing to do was to "carefully and responsibly assess" the best way to handle the allegations against Sandusky, but reported nothing to anyone.
In a press conference Thursday morning, Freeh declined to name any one of the key players as more involved than the others in the cover-up. He also declined to say whether anyone had perjured himself.
However, the report details an extensive cover-up stretching from 1998 to 2011 by some of the most powerful officials at Penn State.
The Freeh investigation reveals points at which Penn State officials could have stopped Sandusky's abusive actions and failed to report them.
On May 3, 1998, Sandusky sexually assaulted a young boy in the Lasch Building on Penn State's campus. His mother noted the boy was acting differently when he came home and called a psychologist about it, as well as the University Police Department.
When the boy's mother confronted Sandusky on May 19, asking if Sandusky had touched the boy's "private parts," he said, "I don't think so ... maybe." Unknown to Sandusky, UPD Detective Ron Schreffler and a State College police officer were listening from another room.
Sandusky asked if he could speak with the boy, but the mother said no. "I understand. I was wrong," Sandusky replied. "I wish I could get forgiveness. I know I won't get it from you. I wish I were dead."
When word of the May 3 assault reached Schultz two days later, he noted, "Is this opening of Pandora's Box?" and wondered if there were other children involved. Emails between Schultz and Curley imply that they had "touched base" with Joe Paterno about the incident as well. Yet after the UPD began an investigation, campus police chief Thomas Harmon said they would "hold off on making any crime log entry." All four officials -- Spanier, Paterno, Curley and Schultz -- were fully aware about the allegation and investigation in 1998, but failed to report it to the Board of Trustees, according to the report.
In June 1998, Harmon emailed Schultz to say officers "met discretely" with Sandusky and "his account of the matter was essentially the same as the child's." Sandusky said "he had done this with other children in the past." Schultz informed Spanier and Curley that the investigation of the matter was closed as such.
Later in November 2011, Schultz claimed, "I was never aware that 'Penn State police investigated inappropriate touching in a shower' in 1998."
"What's striking about 1998 is nobody even spoke to Sandusky ... including the coach [Paterno] who was steps away from [Sandusky's] office," Freeh said. No one informed other staff not to let Sandusky bring youth into the shower either.
Sandusky made plans to retire in 1999 and move on to an outreach program, despite Paterno and Curley offering him positions at Penn State athletics. The report notes Sandusky retired with the "unusual lump sum payment of $168,000" and access to university recreational facilities.
Sandusky would continue to assault children over the next two years on Penn State's campus and at a team hotel. McQueary witnessed an assault in February 2001 and immediately reported it to Paterno. According to the report, Paterno told McQueary, "You did what you had to do. It's my job now to figure out what we want to do."
Spanier, Curley, Schultz and Paterno then spent the next month debating what they would do and whether to report Sandusky to authorities. During this same period, Curley said he met with executive director of the Second Mile and "shared the information we had with him." The Second Mile leadership concludes the matter was a "non‐incident." Eventually, they decided not to report Sandusky at the insistence of Paterno.
THE AGE OF MAGICAL THINKING
In remarks to reporters Thursday morning, Freeh said a janitor, a Korean war veteran who witnessed Sandusky raping a child in one incident on campus, recalled it as the most horrific thing he ever saw.
According to the Freeh report, several other janitors also witnessed Sandusky assaulting children, but did not report the incidents out of fear that they would lose their jobs. One janitor said he witnessed Sandusky performing oral sex on a boy. Freeh noted to reporters it showed how afraid they were of "taking on the football program."
"If that's the culture on the bottom, God help the culture on the top," Freeh said, referring to the Board of Trustees.
Freeh said the Board failed in its oversight of the senior university officers and did not create an atmosphere "where the president and senior officers felt accountable to the board." Most Board of Trustees members did not know about Sandusky's actions until they read about it in the newspapers, even as the office of Pennsylvania's then-Attorney General Tom Corbett began investigating Sandusky in 2010.
On Jan. 7, 2010, the university received subpoenas from Corbett's office for personnel records and correspondence regarding Sandusky. Schultz, Paterno and Curley testified before a grand jury a year later. The Patriot-News published an article about the Sandusky investigation on March 31, 2011 and the next day, a Trustee emailed Spanier to ask if the board would be briefed about the what was reported in the article.
"Grand Jury matters are by law secret, and I'm not sure what one is permitted to say, if anything," Spanier replied in an email. "I'll need to ask [then-Penn State General Counsel] Cynthia [Baldwin] if it would be permissible for her to brief the Board on the matter."
"[D]espite grand jury secrecy," the trustee emailed back, "when high ranking people at the university are appearing before a grand jury, the university should communicate something about this to its Board of Trustees."
No one on the Board of Trustees was briefed about the Sandusky case until Spanier and Baldwin had a conference call with Chair Steve Garban on April 17, 2011. The Board of Trustees did not bring up the Sandusky investigation again until Nov. 5, 2011, after Sandusky was arrested. A trustee asked Spanier, "What is going on, and is there any plan to brief the Board before our meeting next week?"
Daniel Filler, a Drexel University law professor and Pennsylvania and New York criminal attorney specializing in sexual abuse cases, said reporting anything to the board would have been letting the "genie out of the bottle."
"Penn State officials were engaged in magical thinking," Filler said. "I think they had fully tricked themselves into believing this wasn't a problem."
Related
Before You Go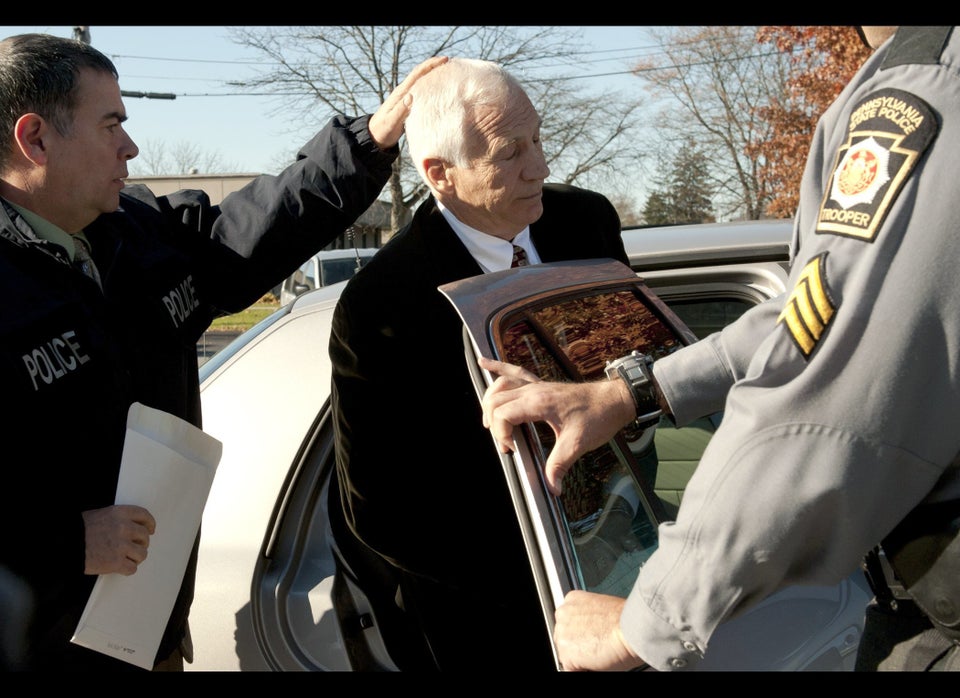 Key Players In The Sandusky Scandal At Penn State (All Images via AP)
Popular in the Community