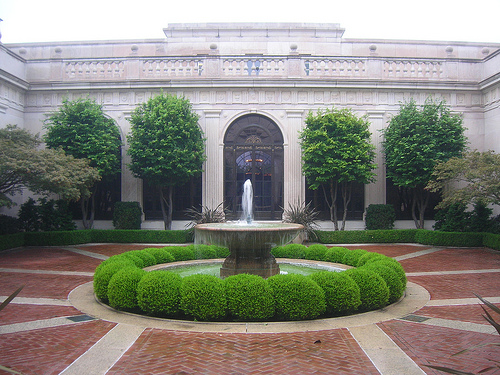 My favorite place in D.C. is an oasis of contemplative calm smack in the center of the city's most chaotic tourist hotspot. As visitors flurry along the Mall, checking Smithsonian sites off their lists and buying their children snow cones, I amble toward the unassuming, white museum that keeps my favorite place at its heart like an oyster cradling a pearl.
Inside the Freer Gallery of Art, as the Midwesterners fly past in search of the famous Whistler Peacock Room and the art enthusiasts eagerly seek out Islamic metalwork and Japanese screens, I stand gazing out the bank of arched windows at the museum's central courtyard.
This lovely space exudes a sense of quietude rare in this city of power lunches, periodic protests, and swarming holiday-makers. The small trees in the corners arch above the brick patio, their leaves still green but soon to turn a glowing copper. Sunlight sparkles in the central fountain, its edges braceleted by round, emerald bushes. Along the open-air galleries at either end, elegant metal chairs wait for weary souls to rest themselves. The proportions of the space are in perfect harmony; an area at once large and small, as enclosed as it is open, as interesting to the eye as it is serene.
Charles Lang Freer (1854-1919), a Detroit railroad-car manufacturer, founded the Freer in 1923 as the first Smithsonian museum for fine arts, dedicated to art from across Asia and the Near East. Architect Charles Platt designed an Italianate building to house the collection, structuring it so that while meandering from room to room visitors have consistent views of the courtyard through rows of full-length windows.
Before I came to the Freer, I would have never imagined that Italian and Asian aesthetics could complement each other so well. But the large Japanese statues that survey the museum's gracious hallways from pedestals seem perfectly at home in the granite-and-marble building. The tranquil sensibility of the Buddhas and calligraphy scrolls is an ideal match for the gallery's peaceful atmosphere.
I settle into an iron chair on one of the courtyard's shaded side galleries and imagine I'm in the piazza of a grand manor house where Freer himself might have sat sipping whiskey in the fading evening light. But thankfully everyone can enjoy this place. On this sunlit afternoon, I watch as museum visitors pause under the arches after perusing ancient Chinese bronzes and Korean ceramics, letting their minds wander in the serenity of this perfect, public space.
Katherine Gustafson is the author of DC Insider's Guide for iPhone and iPad, in which the Freer and its courtyard are of course included. This essay was adapted from a piece that originally appeared in The Northwest Current. Photo by Julie Lyn.
Popular in the Community