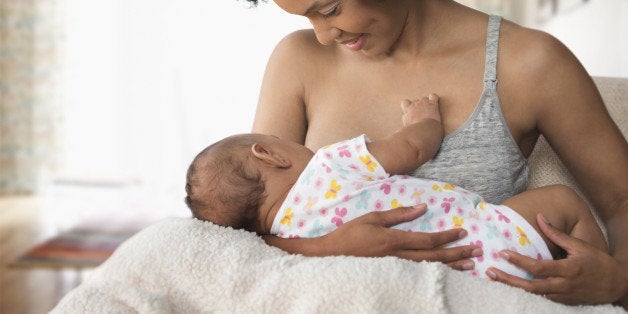 Everybody's got to eat.

With this short statement, we wanted to communicate a strong but simple message: a woman should never be made to feel indecent for feeding her children in public. At her workplace, school, a gym, or in a store, at a park, in a restaurant. Anywhere.
WATCH: Everybody's Gotta Eat
As a mother who breastfed three children, including twins, for nine months, the words above from Lina Esco, Director of Free The Nipple, resonated with me. I was regularly reminded that I should hide breastfeeding -- that it should be relegated to closets, out-of-the-way hallways, cars, public bathrooms. Do you know how hard it is to breastfeed twins in a public bathroom stall? Aside from the logistical inconveniences, the more important aspect of the problem was the idea that this act, of feeding children, was shameful and offended people's sensibilities because people might see, gasp, lady nipples... virtually indistinguishable from the very bare and obvious ones of men all around me during the hottest months on record in the city I lived in.
That's why two recent movements challenging the public harassment of breastfeeding mothers, something that happens every day, caught my eye: When Nature Calls, a project that highlighted the ridiculousness of forcing women to feed their babies in bathroom stalls, among other places, and a recent breastfeeding initiative undertaken by the more broader ranging #FreeTheNipple movement. As an activist pressing companies like Facebook to change policies that censor women by conflating all female nudity with pornography and obscenity (which they just did in regard to breastfeeding mothers), I share goals of movements like these. So I contacted Lina Esco to talk to her about her goals, her upcoming film and this new Public Service Announcement about breastfeeding being released today. Here's what she shared:
We at FreeThe Nipple have heard from countless women who express hesitation and fear when faced with the need to breastfeed in public. They felt ogled, embarrassed and shamed. This response, often rooted in sanctimonious and discriminatory double standards, is a gateway to alienation, censorship and gender inequality. The mission of Free the Nipple is to fight this fear, reveal the double standard and its harms, and provide a safer and more equal place for woman in our world.

Free The Nipple is a film, an equality movement and a mission to empower women across the world. We stand against female oppression and censorship, both in the United States and around the globe. Today, in the USA it is effectively ILLEGAL for a woman to be topless, breastfeeding included, in 35 states. In stricter states, an exposed nipple can take a woman to jail for up to three years and cost $2,500 in fines. Even in New York City, which legalized public toplessness in 1992, the NYPD continues to arrest women. We're working to change these inequalities through film, social media, and a grassroots campaign.

As artists making a film about this censorship, we are censored every day. Often, we are unable to film or share our work. On social media platforns, many of whom use the same mainstream female-shaming regulations that our laws and media regulatory agencies do, we cannot share our work.

Famous graffiti artists, mobs of dedicated women and celebrities have shown public support, igniting a media blitz with international press and a viral #FreeTheNipple campaign, even on social networks that ban visible female nipples as "obscene" while allowing grossly demeaning and sexist representations of girls and women. Often without consent.

The issues we're addressing are equal rights for men and women, a more balanced system of censorship and legal rights for all women to breastfeed in public.

Join the evolution and FREE THE NIPPLE.
Popular in the Community