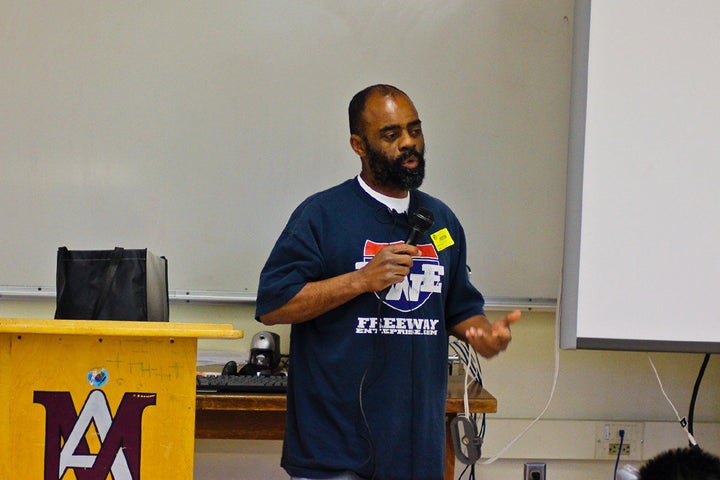 Nearly every night that"Freeway" Rick Ross spent in prison, the same nightmare filled his head:
He and his crew are sitting around a table piled high with hundreds of kilograms of cocaine and more money than they could count. His Nicaraguan supplier is there, too. Everyone's smiling and laughing as they wait for a big shipment. Then there's banging at the door. Everything goes in slow motion. A wave of big guns and masks and bulletproof vests floods the place.
"It's the DEA," Ross recalled. "And I know it's all over."
In many ways, that replaying loop of a nightmare mirrors Ross' real-life rise and fall as one of the most powerful drug kingpins America has ever seen.
In 1996, Ross was given a life sentence after being convicted of trying to buy 100 kilos of cocaine from a federal agent. His relationship and dealings with Blandon is a story in itself, rife with geopolitical intrigue, alleged CIA-backed Latin American drug warlords and rebel armies, state-sanctioned arms-for-drugs deals and ultimately ending with Ross as an unwitting pawn in a game much bigger than himself.
In a recent interview with HuffPost Black Voices, Ross talked about life after prison, his legal battle with a multiplatinum rapper, and how he is moving on with his life. What emerges is a man both humbled and emboldened by the myth surrounding his name, who wants to separate himself from his destructive past as much as he wants to capitalize on it.
And he wants to mend the wounds he helped inflict on the black community.
"It's a very complicated story, the Rick Ross story, but it's a very American story," said Martin Torgoff, a co-creator of an acclaimed 2011 documentary, "Planet Rock: The Story of Hip Hop and the Crack Generation."
"This was an illiterate guy who didn't learn to read until he went to prison," Torgoff said. "You don't run a multimillion dollar business unless you're really smart and really shrewd, the way he victimized people. And in a way, in the end, he became a victim himself."
BECOMING A STREET LEGEND

Not long after his parents divorced, Ricky Donnell Ross, his mother and five siblings moved from Troup, Texas, to Los Angeles in the late 1960s, when Ross was just boy.
The family was fleeing the racism and lack of opportunities -- "all that redneck stuff, the prejudice and having to go to the back doors," his older brother, David Ross, recalled.
By the time that Rick was in high school, his mother had fallen on hard times. When her sister-in-law died, the burden of the home mortgage fell entirely on his mother.
"Ricky [saw] the struggle that Mom was going through, and I think he wanted to help her out," his brother David said. Rick dropped out of Dorsey High School, where he had been a star tennis player, and spent some time at a local trade school before quitting there as well. It was around this time that Rick first began selling drugs. Not long after, David joined him.
"At that time for a black child to have that much clout and that much money -- it felt good," David remembered.
As time passed, Rick became a bigger player in the drug world. The clientele began to change from poor people to those who were otherwise respected in the community, including a few celebrities, David said.
"At the point I started to realize how bad it all was was when I saw my people starting to sell to doctors and businesspeople. It was like, 'Wow, how did this happen?'" (David claims funk pioneer Ike Turner was a regular customer.)
Rick Ross definitely didn't invent crack, but he mastered its promotion and got incredibly wealthy along the way. What began as a $125 investment in his first three grams of cocaine when Ross was an illiterate 19-year-old eventually grew into a business making hundreds of millions of dollars in profit.
Later, Ross got cheap cocaine straight from his Nicaraguan connections. By cutting out middlemen, he was able to sell it thousands of dollars cheaper than the competition. Ross created a fast food-like service for users. Smokers had already been cooking up their own cocaine into smokable form. So he mass produced "ready rock:" Smokers could smoke and go, no cooking required.
At one point, Ross said, he was making $12,000 profit on every kilogram. On good days, his operation was pulling in upwards of $3 million. So much money was pouring in, he said, he had to hire full-time money counters.
"I thought I was doing a service to the people that were getting high," Ross said. "They had me thinking that when they got high, they were having the best time, the best feeling in life," he said. "Those not getting high -- I was getting them jobs."
"It was a win-win," he said. "At least it looked that way."
But soon the collateral damage on the street became evident.
"I felt myself being a hypocrite," Ross said. "I said I didn't want my people, my girlfriends, my friends, my sisters and brothers getting high. But I was getting everyone else's sister, mother and brother high. That was something I really struggled within myself and I had to deal with it."
By then, the feds were closing in. Crack cocaine was spreading from city to city like a plague. And federal and local authorities were bent on bringing down Ross -- the Los Angeles "King of Crack" -- and his empire.
NEW DAY, NEW DREAMS

A little more than two years ago, Ross, 51, walked out of prison, after serving 13 years of his life sentence. After successful federal appeals, his punishment was reduced to 20 years -- and then even further for good behavior.
He returned to Los Angeles, a city he helped spin into a long cycle of pain, violence and addiction. The gangs he once fed with his high-grade, low-priced South American cocaine had become more violent. Opportunities, especially for black youth, were in short supply: The national unemployment rate for young black people was about 47 percent then, according to the Bureau of Labor Statistics.
"When I started hustling, unemployment was high like this," said Ross. "It's scary."
His prison nightmare comes less often now, just every few weeks or so, and it's giving way to new dreams. He started a trucking company, Ross Express, which has two of its five trucks turning a profit. On a good week last month, he made $6,500.
Since his release, Ross moved into his mother's foreclosed home in the Los Angeles suburbs. He's only purchased two pairs of shoes and two pairs of pants. "I survive now on about $1,500 a month," he said.
"Consciously, in my mind, I know that if I go back into the drug game, it's like putting my life on the line," Ross said. "It'd be like putting a gun to my head, like feeling the barrel and sliding one bullet in."
Ross tells his seven children as much, letting them in on bits of his old life. His kids are more concerned to have him back in their lives, about "not really knowing me," he said.
"At 18 and 19, we thought we were important. And the things that are important now, being a grown man, are different," Ross said. "There's wisdom. I'm still the same person, but the grown man is not embarrassed about anything that has happened to him in life."
The older boys, 25 and 23, have struggles of their own. Both have been in and out of jail and are burglars and fighters. (Ross had seen himself as more businessman than thug. He was slight and smart, and not prone to violence. Bloodshed, he said, was bad for business.)
But those two are beginning to listen, Ross said. "I kind of just tell them who I was," Ross said, "that I was a young man who thought he knew everything, that nobody could tell him anything."
Ross isn't totally in the legal clear. He narrowly avoided being sent back to prison a few weeks back after he violated his probation by accepting phone calls from felons in prison.
Ross is now trying to make amends for his past life. He visits drug rehab programs, where he often runs across old customers or running buddies. He talks with schoolchildren about the perils of selling and using drugs.
A certain multiplatinum rapper who happens to use the stage name Rick Ross is one of the few snags in his plan to remake the "Freeway" Rick Ross brand. While Ross is warning young people to stay away from drugs and guns, this rapper is spreading an amplified, somewhat fantastical image of a drug dealer named Rick Ross, a rather distorted glorified image of the Los Angeles kingpin's former self.
"The first thing that I want to do is I have to help eliminate and erase the mindset that I helped to create," Ross said. "I know I have a lot of work to do, but the first step is to eliminate this guy from going around telling people how great it is to sell drugs."
While giving a deposition last week in Miami, Ross said he came face to face with Roberts. The rapper sneered and "gave dirty looks," said Ross, though earlier, when Ross was in prison, they had phone conversations during which the overweight, bearded emcee showered him with respect.
Their brief interaction last week was anything but respectful, Ross said. "[He] treated me as if I had done something to him," Ross said. "When he first came to me, he didn't know what position I was going to take, if I was going to send a word out to those young cats out in L.A. or not. That put a little fear in his heart. But now that he knows I'm not carrying it like that, he's a little more courageous right now."
Ross noted what he considers a bit of irony: "[He] has my name tattooed on his hand."
These days, Ross rounds up a couple of neighborhood teenagers each morning and has them work with him at his trucking company.
"The end of the rainbow is a concrete-and-steel gate, and you won't have the key," he tells them.
He never knows which of the teens will get the message. He's sure many won't. So many young people come up to him in barbershops or in the streets and tell him they want to be just like he was.
But he hopes to stop some of the bleeding, even as he grapples with being both a hero and villain.
"As long as we consume drugs, we are going to create Rick Rosses," he said. "The demand will create the dealers. The users created me, and the user kept me going and made sure that I would be O.K."
Popular in the Community