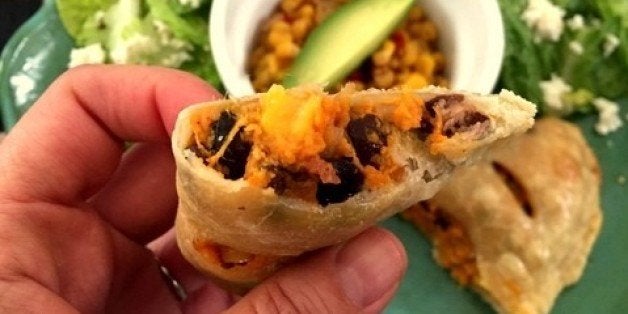 In anticipation of extreme fatigue, postpartum brain fog and lack of sensibility, I embarked on a "freezer food prep" pilgrimage this week. My motivation? I want healthy food, conveniently ready to eat in order to help me lose baby weight as well as provide enough nutrition for breast-feeding. Since I am not a celebrity mom with a private chef, trainer and financial flexibility, my only viable option is to create my own food "delivery" program. Without this convenience, I will leave myself vulnerable to overpriced Whole Foods' deli bars or even worse, fast food.
Never before have I had the desire to prepare food to be frozen. The idea simply never appealed to me. The process appeared to require a great deal of forethought, time and patience, qualities of which I often lack. The reward at the end of this process? Frozen food. Yeah, the concept is not an easy one to sell. Well, I'm here to tell you I have become a believer, a convert if you will - can I get a hallelujah please?
The process was actually very straightforward and when you are focusing on one dish at a time, instead of side dishes which often accompany dinnertime cooking, the process of frozen meal prep is quite uncomplicated. Whether you are trying to simplify your life, attempting to lose weight or just want to have back up entrée options, freezer food prep is the way to go. After all, you gain the benefits of convenient foods without the preservatives and other negative ingredients you might otherwise find outside your household food supply. Even if you decide to prepare highly caloric foods, if you pre-portion them, they will most likely serve you better than a trip to your local burger joint.
These empanadas are very satisfying, hearty, delicious and packed full of nutrients. If you prefer meat in your entrées, I can assure you, it will not be missed when eating these savory little pockets of deliciousness. The dough is absolutely divine as its flaky, can be used with any filling and most importantly, is easy to make. The mixture of veggies are colorful, rich with vitamins and protein. Serve with a side salad for a satisfying and well-rounded meal.
Enjoy!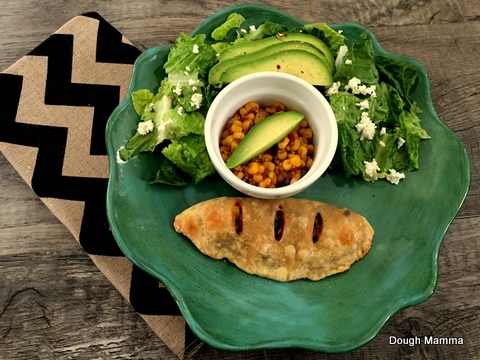 Title: Freezer Ready Empanadas
Author: Cooking Light (dough recipe) and Dough Mamma
Prep Time: 1 hr 30 mins
Cook Time: 20 mins
Total Time: 1 hr 50 mins
Serves: 10
Notes: This lovely and forgivable dough recipe is from Cooking Light. Feel free to add your own fillings or simply add cheese to this veggie mix. You will notice these empanadas are a light tan color. I intentionally undercooked them so that when it's time to reheat them, I can microwave for 45 seconds and then place in the toaster oven to crisp. I did not add too many spices so that I could pair them with a salad or salsa, or whatever side might inspire me at the time.
Ingredients
Dough
9 oz of flour (2 cups)
3/4 tsp salt
1/3 cup canola oil
1/4 cup cold water
1 Tbsp of vinegar (I used cider vinegar)
1 egg beaten
Filling
4 medium sweet potatoes
2 Tbsp of butter
1 14oz can of black beans
1 Tbsp of canola oil
1 medium white or red onion (small dice)
2 cloves of garlic (grated on a microplane zester or box grater)
1 cup of frozen peas
1 cup of frozen corn
Salt and Pepper to taste
1 lemon wedge
1/2 tsp of chili powder
1/4 tsp cayenne pepper
1 tsp of cumin
1 egg white beaten
Instructions
Set aside two sheet pans with parchment paper and set oven temperature to 450 degrees.
Weigh or lightly spoon flour into dry measuring cups and level with a knife. Combine flour and 3/4 teaspoon salt in a large bowl, stirring with a whisk, set aside. Combine canola oil, 1/4 cup of water, 1 Tbsp of vinegar and egg in a separate container. Gradually add oil mixture to flour mixture, stirring just until moist. Knead lightly until smooth. Shape dough into a ball and wrap in plastic. Chill for 1 hour.
Place your potatoes in the oven and bake for 45 minutes or until a fork can be inserted all the way through. Remove from oven and set aside until cool enough to handle. Turn oven down to 400 degrees. Once cool, remove skins. Place in a large bowl, add butter and mash. Set aside.
Rinse and drain your can of black beans. Leave in colander to drain completely, set aside.
Heat oil in saute pan over medium-high heat and add onions. Cook until translucent, stirring occasionally. Add garlic. Cook another five minutes. Place in bowl with potatoes.
Add peas and corn to saute pan, heat, season to taste with salt and pepper. Squeeze lemon wedge and stir. Remove from heat and add to bowl with potatoes and onions.
Add beans and spices (cayenne, chili powder and cumin) to bowl and fold together with veggies. Taste. If you would like to add more heat, now is a good time. Also, feel free to add some shredded cheese - a queso fresco, mozzarella or a jack cheese would work nicely.
By now your dough should be nicely chilled. Weigh 1.5 oz of dough, you should get about 10 balls. As you weigh each ball of dough, keep covered with a kitchen towel.
On a lightly floured surface, roll one ball of dough at a time, flipping with each roll of your pin, to create a circle. You can roll these rather thin to get the most out of your dough. Add about 4 Tbsp of filling to the center of your dough, leaving a 1/2 inch perimeter around the edges.
Taking a pastry brush, dip your brush in your beaten egg whites and lightly brush your perimeter of dough. This will act like a "glue" to seal your empanadas. Fold the top of dough to meet the bottom of the dough and seal with a fork.
Place your empanadas on a sheet pan with parchment paper and brush the tops with the rest of your beaten egg white mixture.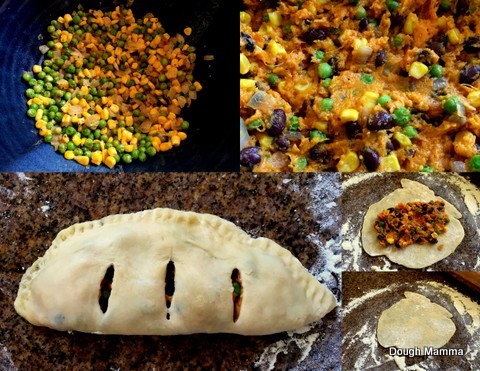 Now they are ready to go into the oven. If you plan on freezing them like I did, cook only until lightly colored (about 18 minutes). If you plan on eating them right away, bake for about 23 minutes or until golden brown.
To store in freezer, allow to cool completely. Wrap each empanada in plastic wrap and store in a freezer safe Ziploc bag.