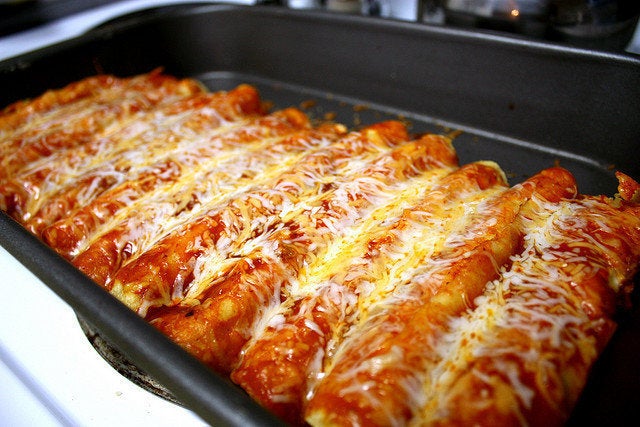 THE SPLENDID TABLE'S HOW TO EAT SUPPER
By Lynne Rossetto Kasper

Host, The Splendid Table®, American Public Media's national food show and co-author of The Splendid Table's How to Eat Supper: Recipes, Stories and Opinions, and the new How to Eat Weekends. Ask questions and find Lynne, recipes and station listings at splendidtable.org, or 800-537-5252.
Copyright 2012 Lynne Rossetto Kasper
My husband and I work different shifts so we started freezing our suppers. Do you have any tips? My defrosted enchiladas are mushy. What do I need to know?

Dear Working Hard,
As for tips, just remember three simple rules -- freeze cool, freeze fast and freeze airtight. The details follow. The solution for mushy enchiladas has two possible answers. Here is one and another follows the basic tips.
Freezing cool may be the answer to the mushy enchiladas. If you freeze your food while it's hot or warm, ice crystals form on its surface. When they melt, your food is in a wading pool of liquid. Solution: Cool cooked dishes down, chill them through to their centers in the fridge, and then freeze. Of course label and date everything. Even write down any reminders about how to use.
Freezing fast is another assurance that those ice crystals don't form. If you have pieces of things or odd shapes, like cut up chicken (or a whole chicken for that matter), berries and filets, chill them, then spread them on a cookie sheet to freeze quickly (give them a couple of hours at most). Wrap the individual pieces airtight in clear plastic freezer wrap, then gather the wrapped pieces in a heavy plastic freezer bag. Obviously small items like berries and little meatballs go directly into heavy, sealable plastic freezer bags.
Soups, stews, purees and sauces go into those bags, too. But you can save a stunning amount of freezer space with this trick.
Take a cookie sheet; cover it with a paper towel. Pour the soup, stew, etc. into a heavy-duty plastic freezer bag. Close all but one-inch of the seal.
Lay the bag on its side on the paper towel and ease out all the air through that one-inch opening so there are no air bubbles. Seal the bag and freeze it (you could stack bags with paper towels between them). Freeze. Once they are solid you can stack or stand them up like file folders.
Freezing airtight is essential because air is the enemy of all frozen foods; it's one of the causes of that awful "off" taste you can get in frozen dishes. No matter how you package things, press out all the air. If you're using lidded containers, gently press a piece clear plastic freezer wrap onto the surface of the food before putting on the lid, then "burb" the lid to get rid of any air as well.
The Mushiness Problem: This plagues sauced casseroles like enchiladas because mushiness comes from high moisture foods. The moisture freezes and expands, breaking down the food's structure. When you defrost, you get a softer texture and excess liquid. In sauces, it's easy to stir in the liquid. With assembled dishes like your enchiladas, think about its components.
Get rid of excess moisture by cooking down sauces or gravies more than usual. If you're using salsa, drain it in a strainer for a short time. Definitely add the cheese when you're heating up the enchilada after defrosting. Some cheeses can deconstruct in freezing and throw off liquid. This recipe is just about freezer proof and worth your time. It's my blend of a Rick Bayless recipe and my own take on the dream enchilada.
CHICKEN ENCHILADAS WITH ROASTED RED CHILE SAUCE
30 minutes prep time; 15 minutes stove time; 15 to 20 minutes oven time. Serves 4 to 5.
The enchiladas can be assembled and refrigerated for a day or two before baking, but do seal them well. They freeze for up to four months. Roasting the chiles, onions and garlic is the secret to this depth and rich taste of this sauce. I am a pushover for the mild to medium hot Ancho chiles because of how sweet and velvety they are. If you like a little more heat and interest, mix them with a few Guajillo chiles. Try using organic ingredients if possible.
Cook to Cook: Certainly roasted or grilled vegetables like zucchini, onions, peppers, broccoli, greens could stand in for the chicken. Fresh sweet corn kernels are wonderful as well; you could even mix some up with the chicken.
5 to 6 whole dried Ancho chiles (mild to medium hot), or a 4 Anchos and 2 dried whole Guajillo chiles
4 large garlic cloves, lightly crushed
½ medium to large onion, peeled and cut into 3 thick wedges
1 28-ounce can whole peeled tomatoes (don't use pureed tomatoes, they often contain poor quality, poor tasting tomato paste)
Canola oil as needed
½ teaspoon ground cumin (fresh ground if possible
1 teaspoon dried oregano (Mexican if possible)
½ teaspoon fresh ground black pepper
Salt to taste
Sugar to taste (no more than a ½ teaspoon should be needed if at all)
12 corn tortillas
2 to 3 cups cooked chicken (take-out works well here)
1 to 1-1/2 cups shredded cheese, ideally Mexican like Chihuahua, asadero, Oaxaca, Quesadilla, or Manchego, or Monterey Jack
Make the sauce by spreading the whole chiles, garlic, and onion wedges on a large griddle or a piece of heavy-duty foil. Roast them over medium heat atop the stove or on the foil under the broiler. Watch closely. Turn the pieces with tongs. The chiles will be ready first. They need to soften a bit and just begin to turn color. Remove them immediately. Next the garlic will pick up a little color. Get that off the heat, then the onions. These you want to brown a bit. Cool everything for a few minutes.
Stem and seed the chiles and put them in a blender with the garlic and onion. Add the tomatoes and puree until very smooth.
Have a strainer handy. Film the bottom of a 4 to 6 quart sauce pan with a little of the canola oil and set over medium heat. Add the cumin, oregano and pepper, stir for 30 second, or until fragrant. Quickly set the strainer over the pot and pour in the sauce. Stir it to push it though the strainer quickly. Raise the heat to medium high and simmer the sauce until it's very thick - 5 to 8 minutes - stirring with a wooden spatula so it doesn't stick or burn. Taste for seasoning, adding salt and sugar to taste.
Have the oven at 350ºF. Spread foil on a big cookie sheet. Soften the tortillas by lightly moistening each a little canola oil, then stacking them in two or three's and baking about 5 minutes or until soft. Wrap them up in the foil and set aside.
Assemble the enchiladas by mixing about 1/3 to ½ cup of the sauce into the chicken. (If you are not freezing the enchiladas, mix the extra ½ cup of cheese into the chicken).
Preheat the oven to 350ºF.
Have 2 9x13 pans ready. Spread a little of the sauce on the bottom of each one. Fill each tortilla with a few tablespoonfuls of the chicken. Roll them up and tuck them side by side in the pans. Pour over the sauce. If freezing, do not add the cheese. If baking off soon, cover with the cheese.
Cover with foil and bake 10 minutes. Uncover and bake another 5 to 10 minutes or until the chicken centers are hot. Serve hot.