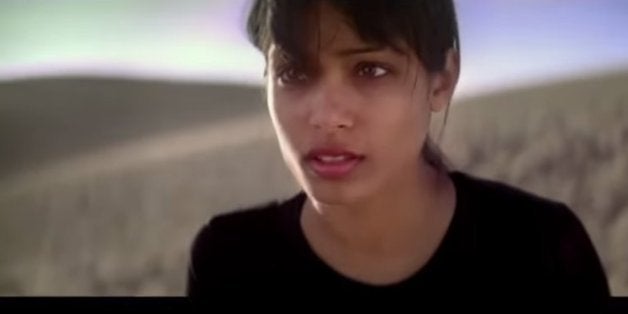 Some life stories seem fated for Hollywood.
"Desert Dancer" tells the extraordinary tale of Iran's most famous living dancer, Afshin Ghaffarian, who fled his country during the Arab Spring to freely practice his art in Europe. The semi-biographical movie stars Reece Ritchie as Ghaffarian, and opens in select U.S. theaters today.
The movie also stars Freida Pinto as the fictional Elaheh, a talented, mysterious and troubled dancer who inspires Ghaffarian to revolt. Filming took place in part in London and Jordan. (Life seemed to imitate art when Ghaffarian, originally slated to be filmed in a dance promoting the movie, was barred entry to Jordan because the country's government presumed him to be gay.)
As with so many new exiles from Iran, Ghaffarian's story links closely to the heated Iranian elections of 2008. He became a target of the government that year, not only for openly supporting opposition leader Mir Hossein Mousavi, but because of his profession. The field of dance has been a special target since Ayatollah Khomeini banned all forms of it in 1976.
One faithful-to-life scene in "Desert Dancer" shows a pair of government goons threatening to beat Ghaffarian "artistically," after discovering an identity card on his person doctored to label him an "artist" (to be a "dancer" would be worse). Ghaffarian eventually fled to Europe, where a remarkable on-stage demonstration led to the French government granting him asylum.
Pinto and the rest of the cast performed all of their own dance moves in the film, which come to a head in a depiction of one of the desert shows Ghaffarian staged outside of Tehran as an underground series, hoping to avoid capture. Some of the movie's most memorable scenes are these sequences, featuring blue and gold swathes of Jordan's Wadi Rum desert and the beautifully stripped-down choreography of Akram Khan, who previously worked on the 2012 Olympics Opening Ceremony in London.
Pinto trained for a year to prepare for the part, which was so taxing she ended up concussed after one dance-related injury. In an email exchange with The Huffington Post, she discussed the formidable role, and her hopes for the movie.
It's rare for actors and actresses from India to cross into the global film industry. Do you have role models or mentors who have helped you chart your unusual path?
Art is one of the most universal and globally understood mediums so I don't look at my experience as being rare, just very fortunate.
What inspired you to take a part in a movie by a first-time director?
I was really drawn to the complexity of the character. She is very unpredictable and her mystery is boundless. Elaheh comes with beauty and pain which is what intrigues me about people in general and how it manifests itself in people's lives.
When Richard Raymond, the director of the film, approached me, I was immediately intrigued by the story and excited for the opportunity to train for the role. I am proud of the film and while I can't truly know what people think about it I just hope it starts a conversation.
Some of the movie's most striking scenes are the choreographed sequences. Do you have any formal dance background?
I am not trained in dance but always believed I had a dancer's soul.
Your character is full of contradictions. She's committed to dance, but her addictions get in the way. She's instinctively passionate in her approach to life, but because of her past, she's also deeply cynical about the future. How did you get into what must have been a tricky mentality to enter?
Playing this role required me to expose myself to every emotion that is out there, ranging from the deepest pain to extreme ecstasy. It was a very daunting task but I do believe dance helped me to access spaces within myself I was unaware existed.
In a short time, you've worked with a long list of legends, from Danny Boyle to Woody Allen. What are some lessons you've learned along the way?
The one thing that every director has inspired me to do is approach every project as if it were my first. While the experience counts and is very useful, the rawness can never be lost and it's what keeps things exciting.
This interview has been edited and condensed.
Calling all HuffPost superfans!
Sign up for membership to become a founding member and help shape HuffPost's next chapter