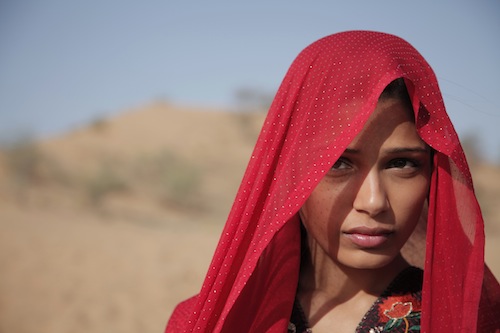 Each time I interview Freida Pinto I grow more in awe of her. At an age when her peers are busy getting on TMZ, she is instead a classic beauty, with great wit and a timeless sense of style. Whether in a green Dior strapless dress, at the 2010 Doha Tribeca Film Festival, or wearing a white cotton and silver sequin top by Rohit + Rahul at this year's Tribeca Film Festival, Pinto is ever chic, cool and collected. And she commands attention with her thought-out statements and self-assuredness, all the while allowing her sultry looks to melt down the defenses of even the most weathered film journalists in the bunch.
When I sat down with Pinto this past April, while she was in NYC promoting her upcoming release Trishna, she was candid about playing a modern-day Tess of the D'Urbervilles as a lower-caste Indian in Michael Winterbottom's re-interpretation of the Thomas Hardy novel. Pinto of course may have had some sexy shoes to fill, considering that her director admits to having fallen in love with Nastassja Kinski after watching her in Polanski's Tess. And yet, upon revisiting the older classic, I still found Pinto's performance much more deeply understandable, the true essence of strength and womanly selflessness. Her answers provided insight into why we, the audience, relate to her performance so strongly.
Your character Trishna is so far removed from your own experience. You grew up in Bombay and come from a completely different background. How did you connect to that woman?
Well, it was really difficult because you're right, I never grew up in a situation where I had to be submissive to, you know, another... not just male but even a female person in my life. I just had that independence and that liberty always to make my own choices. I guess it was tough because of not knowing what that other world would feel like. So, I started my research a month prior to the film. I went down to Rajasthan, met with a few families. Some of the families we actually use in the film as well. I spent some time with them. And I met a lot of girls, all kinds of girls. There were girls like Chanchal in the film, the really talkative one. There were girls like her who were kind of traditional but a little more outspoken than Trishna. And then there were girls like Trishna. I remember meeting this one 16-year-old girl who was married. I asked her, "Have you finished school? Do you want to be educated?" She was like, "Yeah. I'd like to but now I've got to cook." She was not resentful, not openly resentful of it. She had almost accepted it as, "This going to be my life from now on." Those are the kind of influences I drew for my character. Because that's when it struck me that there is a reality outside my world as well, outside all of us. We're all outspoken people and there is a reality that exists outside that.
Did your character ever say no in the film, in the script was there ever a "no"?
Toward the end actually when she says "I don't want to dance." And that was also kind of like not a "no, I am not going to dance." It was more "I just don't feel like dancing. I don't want to dance." And Jay kind of persuades her to do it anyway.
Is beauty a quality that helps you in your career or has it also been something where people have looked at you and said, "She's really beautiful -- we're just going to use her for eye appeal"?
It's funny because when my second film happened, obviously none of the beauty questions really came up. I was just playing a Palestinian journalist in Miral. So, I was just playing her as a 17-year-old girl. That question never really arose even though Rula Jebreal, whom I played in the film, is herself so beautiful, if you've met her. And then the Woody Allen film, yes, I do feel with playing the seductress and the next-door neighbor, that did come into the picture. But I feel it really depends on me, how I want to play with it and how I want to pitch myself when I go into meetings. Sometimes, being... and I hate saying this, they look for this "exotic" girl in the film. Then they'll send a script and I read the script and I'm in two lines, which if you actually take those two lines out of the film it has not effected the film at all. The film still continues to run as is. That's when it's for me to say that's not for me.
One thing you learned from Trishna?
Just say "no" when the time is right. Just don't wait until that time goes out of your hand. Saying no... I'm talking about like maybe not as mortifying a situation as what Trishna went through, but even in situations like in the film industry. Whether it's publicity or whatever it is and you're asked to do certain things and you just don't think it's right for you, that's not something you relate to and you're just not comfortable doing it. Instead of beating around the bush, I think the best thing to say is I'm just not going to do it.
Trishna opens in U.S. theaters on July 13th.
Top image by Marcel Zyskind courtesy of IFC Films, used with permission
Related
Popular in the Community