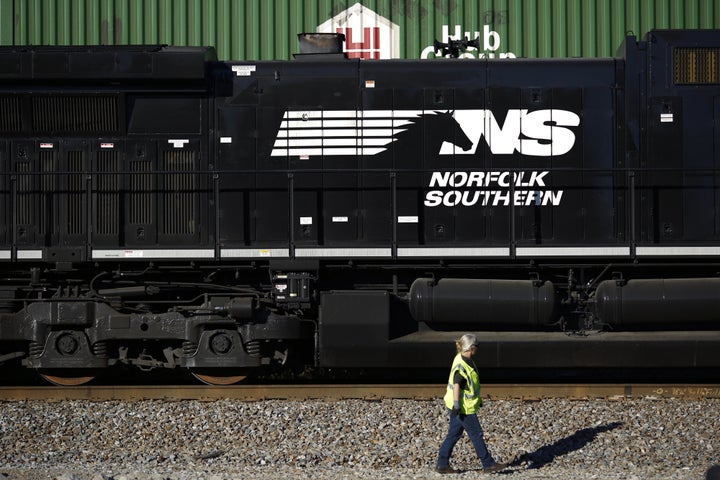 Four people were taken to a hospital after two freight trains collided and caught fire near Lexington, Kentucky, late Sunday night, forcing nearby residents to evacuate, authorities said.
The two Norfolk Southern trains were traveling in Georgetown, roughly 15 miles north of Lexington, when they collided and derailed 13 rail cars and both locomotives just after 11 p.m., a company spokesperson said.
Four engineers onboard the trains, who were initially reported as suffering minor injuries, were taken to a hospital for examination. Three of them have since been released without injuries. One remains hospitalized for evaluation, Susan Terpay, Norfolk Southern Corporation's director of public relations, told HuffPost in an email Monday afternoon.
A fire that resulted from the crash led to an evacuation of nearby homes as well as a warning of a possible chemical spill, which WKYT reported turned out to be vegetable oil and diesel fuel.
The evacuations were ordered "out of an abundance of caution," Lt. Jessica Bowman, a spokesperson with the Lexington Fire Department, told The Associated Press.
The Federal Railroad Administration is investigating the incident alongside Norfolk Southern employees, said Terpay, who added that a cleanup of the oil is underway.
The National Transportation Safety Board confirmed to HuffPost on Monday that the federal agency is aware of the incident but is "not dispatching investigators," as previously reported by local news sites.
The cause of the crash remains under investigation.
The incident is the latest of several derailments involving the company since February.
On March 11, a Norfolk Southern train derailed in Asheville, North Carolina, WLOS reported.
On Feb. 15, a Norfolk Southern freight train derailed in western New York while carrying automobiles. Two crew members were taken to a hospital with non-life-threatening injuries, AP reported.
The most common cause of a train accident in all of 2017 was a switch being improperly lined, which was reported 378 times.
Among the railroad companies having the most accidents in 2017, Union Pacific RR Co., which covers 32,000 miles of track across the U.S., saw the most number of accidents, with 492. BNSF Rwy Company, which covers 21,000 miles, saw 372 accidents; CSX Transportation, which covers 21,000 miles, saw 246. Norfolk Southern Railway Company, which has 19,500 miles of track, saw 176 accidents.
This story has been updated following comment from a Norfolk Southern spokesperson.
Popular in the Community