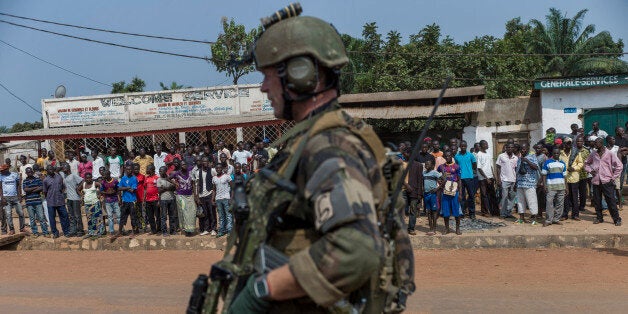 By John Irish and Daniel Flynn
PARIS, Dec 9 (Reuters) - France's intervention to quell violence in Central African Republic may prove simpler militarily than the campaign it waged against al Qaeda-linked Islamists in Mali this year, defence experts said.
But, in a country the size of France, imposing state authority after decades of coups, rebellions and poor governance will take years and risks tying Paris down longer than it wants.
More than 400,000 people have been displaced since Seleka rebels - many of them Muslims from neighbouring Chad and Sudan - seized power in March, unleashing a wave of rapes, massacres and looting on the majority Christian population. Some 400 people have died since Thursday in the capital Bangui alone.
The U.N. Security Council mandated France on Thursday to do whatever necessary to protect Central African Republic's 4.6 million people and restore government authority while an African Union peacekeeping mission slowly deploys.
"We are intervening for humanitarian reasons," French President Francois Hollande said, outlining a short campaign that would be unlike that against Mali's well-armed, determined rebels. "There are no terrorists in Central African Republic."
France has moved 1,600 troops to its former colony, far fewer than the 4,000 it sent in January, along with air power, to crush the Islamists who had seized Mali's vast desert north.
Those well-trained rebels had sophisticated weapons looted from the arsenals of ousted Libyan leader Muammar Gaddafi. They were willing to die for their cause and had months to create arms caches and mountain hideouts before the French arrived.
Seleka, by contrast, is an ill-disciplined coalition of warlords whose poorly armed foreign fighters came for plunder and may disperse rather than fight, defence officials say.
"The threat in CAR is radically different," said a senior French defence ministry source. "It's not a war mission like Mali ... There may not even be a fight."

Crucially for France's overstretched military budget, the mission may also be far cheaper than Mali, which Hollande said had cost 400 to 500 million euros. He said the United Nations would pay for the "humanitarian" Bangui operation.
The difference between the two missions is encapsulated in their code names - Serval, a desert wildcat, in Mali; Sangaris, a red tropical butterfly in Central African Republic.
"A butterfly is not aggressive and it doesn't last long," said Jean-Vincent Brisset, a former air commodore who once helped choose names for French missions and is now head of the Institute of International and Strategic Relations (IRIS).
France has suggested it acted in Central African Republic because of fears of Muslim-Christian "genocide", evoking memories of Rwanda, where 800,000 Tutsi and moderate Hutus were killed by Hutu extremists in 1994 as the world stood by.
In Mali, France intervened to prevent an enclave taking root where Islamists could recruit and train fighters and prepare attacks on the West - an Afghanistan on Europe's doorstep.
Though France originally cast the mission in Mali as short, it plans to keep 1,000 troops there even after Serval winds down to counter a stubborn Islamist threat in the impoverished Sahel region. Suicide bombings and attacks on troops have increased there in recent months as France has sought to hand security responsibilities to a 12,600-strong U.N. peacekeeping mission.
Keen to shed France's reputation as "Africa's policeman", Hollande has also said the Central African Republic intervention would be quick. French officials hope a handover to a 6,000-strong African Union force can be completed in six months.
Pierre Servent, a conflict specialist, said the deadline was realistic if France aimed only to secure Bangui and the nation's main roads, and to help the AU force and a possible U.N. peacekeeping mission deploy. "That said, in Africa, it's quite rare that things go according to plan," he said.
Central African Republic's Prime Minister Nicolas Tiangaye has said French forces would need to remain at least a year.
French troops are already having trouble identifying Seleka gunmen, who can shed their uniforms and melt away.
Numbering up to 20,000 fighters at its height, the loose alliance of five rebel movements has dwindled to several thousand men, the defence ministry source said.
And while Mali's desert landscape made it easy to spot Islamist fighters and destroy them from the air, Central African Republic's bush and forest terrain diminishes France's advantage from its Rafale fighter jets and Tiger attack helicopters.
"In Central African Republic, you can drive around in the forest for two weeks without being spotted," said former French General Vincent Desportes.
The military challenge is one thing. Restoring peace and government authority in a state close to breakdown is another.
Rich in diamonds, gold and uranium, the country has seen little stability in five decades. France has intervened more since independence in 1960 than in any of its former colonies.
Central African Republic also lies at a crossroads of conflict in the heart of Africa, with Sudan, South Sudan and Somalia to the east, the Islamist threat in the Sahel region to the north and the revolts of the Great Lakes to the southeast.
Months of tit-for-tat violence between Muslim fighters and majority Christians have fuelled communal hatred.
Louise Lombard, an anthropologist specialising in Central African Republic, said Muslim-Christian tensions, interlaced with ethnic resentments, had been building for 10 years.
While Seleka is widely blamed for the chaos, Muslim civilians, who represent 15 percent of the population, say its fighters are their only protection from the "anti-balaka" Christian militia that have formed in response to Seleka.
"We are not intervening against an enemy. We are entering a civil war, between ethnic groups and communities. It is about stabilising the country," said Desportes.
"As in Mali, France will be constrained to stay longer than expected. It is going to take time and perseverance." (Additional reporting by Sophie Louet; Editing by Alistair Lyon)

Related
Before You Go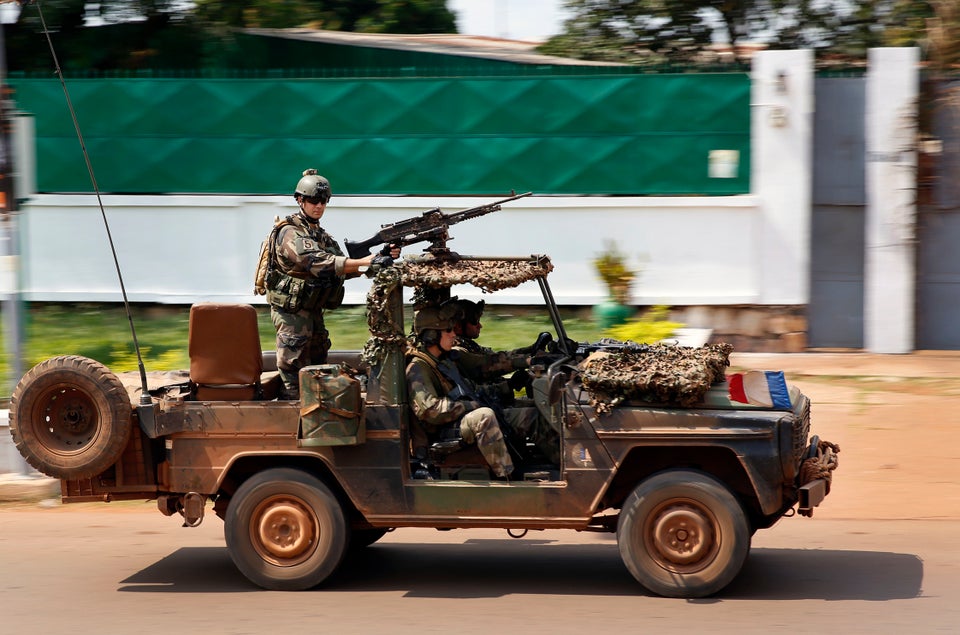 Fighting Rocks Central African Republic
Popular in the Community