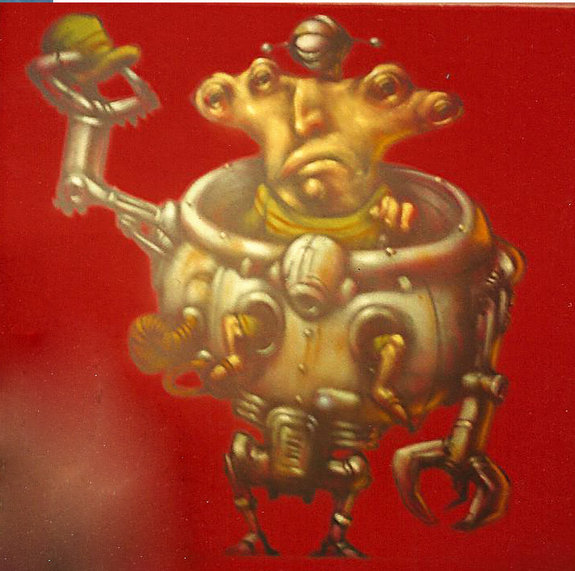 Photo credit: Barzolff
French artist Barzolff, aka David Nicolas, recently brought his first US exhibition to Here is Elsewhere Gallery at West Hollywood's Pacific Design Center. Barzolff began his career as a trailblazing Parisian street artist. Going by the nom de can Numéro 6, he's created iconic, highly influential graffiti.
He segued into the study of animation but was unable to resist the urge to continue spraying walls. In 2007, with the aid of a MacBook Pro, he created a series of UFO hoax videos that went viral. These depictions of UFOs hovering above Haiti and the Dominican Republic were so convincing that media outlets such as The Los Angeles Times were compelled to investigate. In spite of such proof, even today, there are people who refuse to believe it was a put-on.
Barzolff went on to much-lauded work in the music video and advertising industries (including a music video for Super Furry Animals that won multiple awards, and a more recent one for Boys Noize) but eventually rejected the advertising, which he came to regard as "soul sucking." He retreated for a while to a quiet life in Burgundy to work on fine art for two years, then made the move to LA in 2011. We recently had the opportunity to talk to Barzolff about his current show.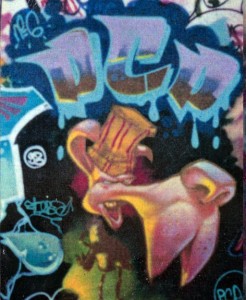 Pop Curious: How do you choose your subjects?
Barzolff: I don't really choose them; they often emerge in relation to what I am listening to. Like a baker or a mason, I have opportunity to perform an activity that allows me to have my ears free to listen and I take advantage of this to fill them with music and talks/conferences on just about every imaginable subject. When I dive into a subject, it creates an environment for me: a visual grammar of a portrait. The most interesting, for me is the confusion of the genres, the never-ending debates on the subjects, such as gay marriage which inspired 3 of my pieces, but they are all colored by my interest for different satellite subjects. For example, the theme of road rage inspired me to create the artwork: "Nude Woman on the Highway." For the [triptych], "The Gender Theory," which I worked on over 5 months, a multitude of satellite subjects "perfume" the main subject over several layers of paint, painted repeatedly, layer upon layer.
Pop Curious: How do you feel about LA's art scene? Are there any particular artists/galleries/museums that hold your interest?
Barzolff: Nothing. I don't really interest myself in the work of others, and when I do, it shows. I have to be "threatened to death" to make me go visit museums or exhibitions and I haven't to date had the opportunity to discover work in LA that inspires/awakens my curiosity. Maybe, now that my exhibition is in place, I will interest myself in the work of others...that sounds good.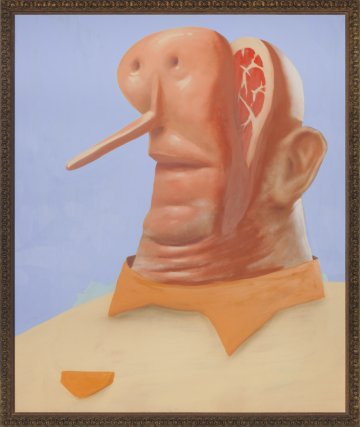 Pop Curious: I saw a photo of you with Mr. Brainwash. Are you friends? A fan of his work?
Barzolff: I met him for the first time at the opening of my exhibition. I adored him in Banksy's masterpiece, and we jumped into each other's arms like long-lost friends. He's full of life and good humor, fascinating, instant love. I found an installation of his "dinky toys" that appealed to my inner child but I do not know his work on canvas. From what I saw in [Exit Through the Gift Shop], and based on the fact that I am not a fan of Warhol, I deduced that we do not worship the same gods, but it isn't that which is essential.
Pop Curious: Are you still doing street art? We'd love to see some of your graffiti on our streets.
Barzolff: The last graffiti that I did was in LA in 2011, and it had been around 10 years since I'd painted in the street. However, I still continue to "micro-tag" which consists of placing tags of less than a half millimeter everywhere that I go. It's a lot of work with little recognition. The street art project that inspires me the most at the moment is that of "video mapping pirate," an extension of graffiti which is even more ephemeral and immaterial. There is a lot of work to prepare but it's reusable.
My "video mapping pirate" project is rooted in the scale of the drawings that inspire it, in relation to space: what happens when a sketch drawn with a Bic pen is enlarged 2000 times the original size. This is in direct relation to my inspiration concerning doodles that I consider as quintessential to my art. You see this in my current exhibition with the large-scale puzzle of an enlarged doodle. Nothing is more honest than a drawing you do while on the telephone, or a sketch at the bottom of a page. With Art by the Gram, I have grouped together 15 years of doodles, sometimes accomplished or finished, sometimes just a sketch or an idea. I have cut them up, weighed them and put them into 1, 5 or 10 gram sachets. It is as if I am separating myself from my intimate journal: there is nothing more personal and profound than these scraps of paper, and it rips out my insides to separate myself from them. To me, these scraps of paper are much more than a work of art. It is an authentic vintage since other than cutting and weighing them, I didn't do anything specific for this exhibition. It is a real harvest of my doodles, 15 years of my brain put on display in sachets. The next harvest will have to wait another 10 to 15 years.
The idea is also to make a portable device when everything is destroyed, when we will no longer have access to technology or electricity following a magnetic storm: having a sachet of art, easily transported with you and exchanged as a new currency. The Art by the Gram is a bit more expensive than gold at the moment, but I think that it will increase in value.
Barzolff's art is on view at Here is Elsewhere Gallery until September 17.
(Originally published on PopCurious.com)
Calling all HuffPost superfans!
Sign up for membership to become a founding member and help shape HuffPost's next chapter