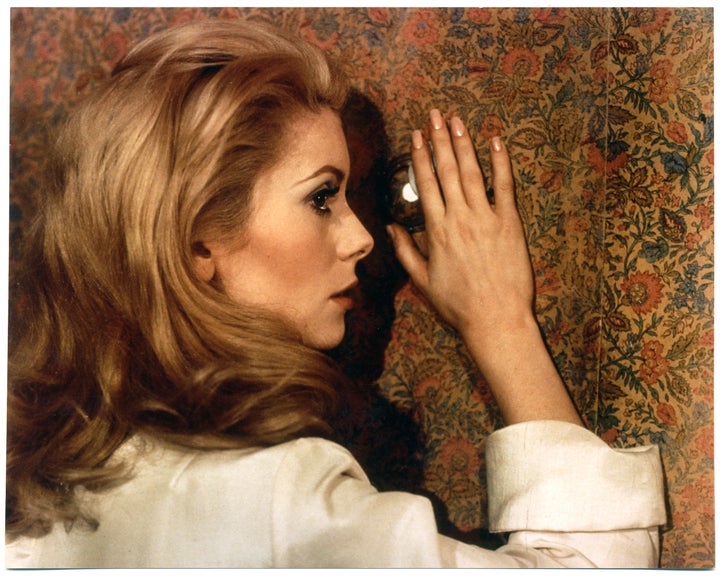 What makes an erotic film an erotic film?
The distinction between pornography and today's romantic dramas, like "Fifty Shades of Grey" or "Nymphomaniac," can be slight. Erotic films could be viewed as the bridge between porn and romance, offering fans a "safer" viewing experience -- fit with not just sex, but a plot and well-developed characters, too -- than we might get from their soft-core cousins. Still, the genre remains pretty broad, expanding and condensing over the years to reflect the prevailing attitudes toward sex and love at the time.
"I would say that, overall, erotic films are most akin to the horror genre," Caryn Coleman, senior film programmer at Nitehawk Cinema in Brooklyn, New York, explained to The Huffington Post, "in that they are taboo, corporeal, and often subversively dealing with socio-political issues. Erotic film can be violating and liberating at the same time."
Coleman ought to know. She's the curator behind Nitehawk's "Naughties" series, a collection of screenings devoted to various corners of the erotic film universe. In the past, she's looked at the history of American porn in the early 1970s, and the Scandinavian films that influenced those American porn films. Now, she's landed on French erotic films. Her soon-to-launch installment of "Naughties" -- dubbed "Ooh La La" -- explores the ways sex manifests in French cinema, from the 1960s to the 2000s.
Coleman's nifty comparison, presenting erotica and horror as similar genres, might explain why "Naughties" has a sister series -- "Nasties" -- which focuses on the camp, gore and comedy built into horror films past. Both "Nasties" and "Naughties" veer entertainingly into the nether realms of subversive filmmaking, They seek to point out the less obvious traits of the slippery movie genres we've come to love.
"Many of the films that have been part of the 'Naughties' are very much about a woman's sexuality and her journey to finding her sexual self," Coleman continued. "I think that, generally speaking, people automatically [think of] porn as it was in the 1980s on home video, and how today, with rare exception, it's very much about male pleasure. That said, what the 'Naughties' looks at are pockets of cinema history where erotic and pornographic films had a narrative and how that story was quite often about a woman's attempt at fulfillment."
As Valentine's Day approaches, what better time is there to educate yourself on the intricacies of French erotic films? Nitehawk's "Naughties" series opens this month, and Coleman gave us the scoop on all the screenings to come.
1. "Belle de Jour" (1967)
"Belle de Jour," directed by Luis Buñuel and starring the great Catherine Deneuve, is, in Coleman's words, about "a woman's sexual exploration on her own terms."
Deneuve plays Severine, a married woman who, while chaste in the home she shares with her husband, begins exercising her decidedly kinky fantasies with other men, eventually turning to a day-life of sex work. She does so to explore her suppressed sexual proclivities, but also to "indulge in behavior that allows her to become herself," Coleman notes. While Severine is expected to be domestic and pure among her family and friends, she finds a way of embracing her identity as a sexual being and individual outside of them.
"'Belle de Jour' was one of Luis Buñuel's biggest hits," Coleman explained, "even those who didn't like his work raved about this film, and it's probably the best known erotic film. It's a complex film that somehow manages to weave together elements of surrealism, challenging societal norms, and a woman's sexuality; it's funny, it's weird, and just naughty enough."
2. "Last Tango in Paris" (1972)
Bernardo Bertolucci's 1972 drama "Last Tango in Paris," starring Marlon Brando and Maria Schneider, tells the tragic story of an American widower and an engaged French woman who meet in an apartment they both wish to rent, soon embarking on an anonymous sexual affair -- they do not even share names with each other -- that seems to hinge upon their mutual desire for a casual encounter.... until it doesn't. 
Bertolucci ended up going on trial for the Oscar-nominated erotic film, deemed "obscenity" in his home country of Italy. So how has the censorship of erotic films changed in the last 40 years since "Last Tango"?
"I know that the import of Scandinavian films in the 1960s and 1970s into America certainly shaped film censorship laws and sparked that debate of what was acceptable to screen in public," Coleman replied. "But thinking outside of the porn industry and more on 'mainstream' films, it would seem that there is both a more conservative/censoring attitude toward sex in movies while audiences are also very accustomed to seeing sexual situations in films. Bertolucci did go on trial for 'self-serving pornography' -- how great is that phrase? -- while there is both an R and NC-17 U.S. cut for [Bertolucci's other film] 'The Dreamers.' So maybe we're still not as evolved as we think."
3. "The Dreamers" (2003)
Speaking of "The Dreamers," this is Bertolucci's more recent foray into taboo sexual journeys, in which an American exchange student meets two twins (one played by Eva Green) during the Parisian student protests of 1968. Matthew, the student, stays with the brother and sister, taking part in a polyamorous relationship that hints at incest among other supposed faux pas. "The sex in this movie is, as measured by the display of body parts and the amount of time the actors spend out of their clothes, more explicit than even the most notorious scenes in 'Last Tango,'" a New York Times review noted.
"Importantly, it is also a love letter to cinema itself," Nitehawk's website notes, "mimicking another infamous Parisian threesome film, Jean-Luc Godard's 'Bande à part (Band of Outsiders).'"
4. "Fascination" (1979)
"It's pretty much impossible to try to write about a Jean Rollin film," Nitehawk's description begins, "they are much better suited to explain themselves." Perhaps it's best to just tease this one -- which lends itself to quick modifiers like "erotic horror" and "lesbian vampire movie." The plot, in short, centers on a thief who attempts to hide out in a castle owned by two women (Eva and Elizabeth) who are part of an aristocratic vampire cult. 
"Many of the films that have been part of the 'Naughties' are very much about a woman's sexuality and her journey to finding her sexual self," Coleman reiterated. "This is clear in 'Emmanuelle' and probably more so in Jean Rollin's 'Fascination.' Those women are in control!"
5. "Emmanuelle" (1974)
Another tale of sexual awakening abroad, Just Jaeckin's 1974 film is unabashedly soft-core porno, following the open relationship of a married man and young woman (played by Sylvia Kristel) that challenges the assumption that sex is tied to love. "The softcore drama sent Kristel's character through an endless whirl of skinny dipping, masturbation and the leg-over antics of the Mile High Club," a Guardian review explained. "But 'Emmanuelle''s hedonistic worldview struck a chord with mainstream '70s audiences. It went on to become one of the most successful French productions ever, earning upwards of $300m at the box office and famously playing at a cinema near the Arc de Triomphe for 11 years straight."
"'Emmanuelle' is one of those great mid-1970s films," Coleman added, "hazy, golden, saturated, elegant and seductive."
Bonus: Even More Erotica
We asked Coleman to give us a few other French erotic film recommendations and she delivered: 
Well, if you like your French erotic films strange and bloody, then I would recommend watching every Jean Rollin film. He's the master of erotic horror. In that vein, there's also the cannibal erotic french film "Trouble Every Day," which will be the last of our 2016 "Nasties" series ("I Eat Cannibals") that conveniently transitions into the "Naughties" [series]. There's also "Betty Blue" and "The Piano Teacher," too.
PHOTO GALLERY
Art History's Most Erotic Artworks

REAL LIFE. REAL NEWS. REAL VOICES.
Help us tell more of the stories that matter from voices that too often remain unheard.