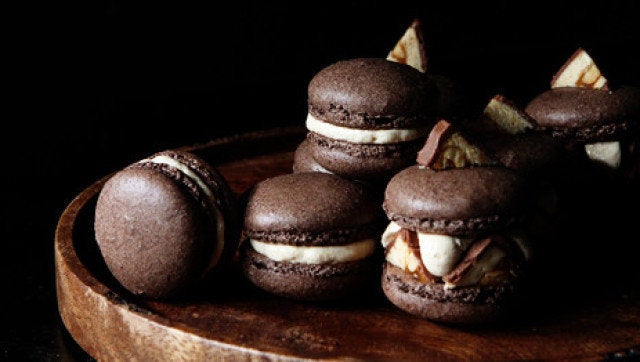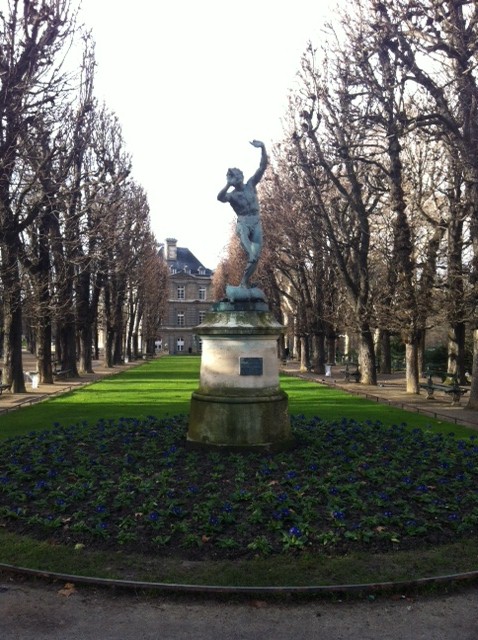 I had been dreaming of French macarons for weeks. With their porcelain shells and Easter egg colors, macarons are almost like a jewel rather than a cookie. Perhaps that is why I have never been overly fond of eating macarons. They beg to be admired, packed into boxes, or put on display. To eat them almost makes me feel guilty. But now my guilt was replaced by desire. I wanted to taste a French macaron. My upcoming flight from Athens had a six-hour layover in Paris, and if the flight was on time, that would give me a window of opportunity to visit the City of Light. Of course, the problem was that over the past few months I had been flying quite a bit and all of my flights seemed to be delayed for one reason or another. Whether it was weather delays or mechanical problems, an on time flight was not something I had been experiencing as of late. Now, in the middle of the holiday season, an on-time flight seemed even less likely. Still, I decided to remain "optimiste." Like Napoleon, I mapped out my plan of attack. I would take in as much of Paris and as many of its pastry shops as I could.
How does one visit Paris when one only has three hours to spare? This was the question I had asked myself repeatedly. Of course you can't take in the entire city, but you can sample a taste of it! I had been to Paris once before becoming a chef. I had dutifully visited the Eiffel Tower and Notre Dame. Now I wanted to take in some of the culinary sights the city has to offer.
My flight touched down at Charles de Gaulle airport at 10:45 a.m., 10 minutes earlier than its scheduled time of arrival. I grabbed my bag and began to rehearse the few sentences of French that I know. I find that in any foreign culture the attempt to speak the language is always appreciated. In Paris it's almost deemed an insult if you don't at least attempt to speak some French.
The "blue line" takes you directly from the airport into the center of Paris. It does so in half the time it will take for a taxi, and at only 19 euros round trip, at a fraction of the cost. Forty minutes later I got off at the Luxembourg station. The Luxembourg station is located in Paris' 6th arrondissement, mere steps from the Luxembourg Gardens and Palace. The palace and original gardens were built in 1611 by Marie de Medici, the widow of Henry the IV. With over 100 statues, monuments, and fountains scattered throughout the manicured gardens, it's the perfect place to take in a breath of fresh air as you begin to explore Paris. Across from the gardens is Dalloyau, one of the oldest pastry shops in Paris, dating back to the 1600's. Dalloyau is the pastry shop that first created the Opera Cake. It was the perfect spot to begin my culinary exploration and pick up a snack to enjoy while walking through the Luxembourg gardens. After strolling through the palace courtyard, I walked up to the Pantheon, which is just a block away.
As fate would have it, I passed Amorino, a French ice cream shop that was not on my list but well worth a stop. The window display of chocolates on gold pedestals and the sign for Marron Glacé (candied chestnut) ice cream caught my eye. Despite the winter chill in the air, ice cream is something I can never resist. Amorino offers an assortment of chocolates, all delicately wrapped in various shapes and sizes of gold paper. In the center of the tiny shop is a small freezer filled with mounds of ice cream. The day's flavors were lavender, candied chestnut and salted caramel. I sat on the only stool available. Apparently I am not the only one with a weakness for ice cream, even in the dead of winter. I tucked into a scoop of the candied chestnut ice cream. It was beautifully balanced, with the sweet and silky ice cream giving way to the earthy-nutty flavor of the chestnuts. It was perfection! I did not care that it had begun to rain outside and I didn't have an umbrella. The air inside the tiny shop was warm and fragrant with the scent of hot chocolate. As the lashing rain turned into a light drizzle I left the shop and walked the remaining half block up to the Pantheon. This was the Paris I had envisioned, even the rain was cooperating.
The Pantheon is an imposing building of massive proportions. The dome of the Pantheon stretches up almost 300 feet, as if reaching toward heaven. It took 34 years to complete the building, which is now a temple to the great intellectuals of France. Among those buried in the Pantheon are Voltaire, Victor Hugo, Jean Moulin, and Marie Curie. At Christmastime the outside of the Pantheon is lined with dozens of decorated Christmas trees. From the steps of the Pantheon you can see Paris and the Eiffel Tower laid out beneath your feet. The building and festive holiday decorations make it feel more like a museum than a crypt. In fact, if you have to go, this might not be a bad final resting place.
As I left the Pantheon I still had an hour and a half left before I needed to take the train back to the airport. I was headed just a 6 block walk away, but between the rain and the time constraints, I decided to take one of the many cabs that line the Rue Soufflot.
My next stop was Laduree, one of Paris' most famous pastry shops. Laduree is famous for its afternoon tea, and for creating the very first macaron at the beginning of the 20th century. To this day it is still one of the most popular shops in Paris. This was reaffirmed upon my arrival. The Laduree Café was booked for afternoon tea. The pastry shop was no better. It looked like a delicate green and gold tin can that had been filled with live sardines, as packed in customers wriggled their way into line to purchase macarons and canelles for the holidays. I joined the masses, slowly making my way to the front of the counter. I was in awe. Macarons in every color of the rainbow sat in tidy little rows. Pale green and pink gift boxes lined the shelves, and ribbons in cream, pinks, and golds dangled from spools along the wall. The only thing missing was women in white powdered wigs, which I half expected to see at any moment. Had I just stepped back in time? The presentation, in typical Parisian fashion, was perfect. Losing reason and restraint, I began to point at everything; filling up a box with macarons in every flavor, from violet to licorice. I then moved on to a dainty little box of chocolates that looked like flower petals and were scented with rose water. Then I tackled the bakery counter with canelles and croissants. I left Laduree with a shopping bag full of pastries, not yet having tried a bite but already satisfied.
The walk from Laduree back toward the Luxembourg station takes you through the charming streets of the 5th arrondissement. Here you will find every shop imaginable, from designer label clothing stores to family run candle shops. Along the way, on Rue Gay Lussac, you will find Les Papilles, a classic French bistro that also serves as a wine shop. The ever changing menu offers one starter, one main dish, and one dessert, all based on what the chef found at the farmers' market that day. There are plenty of chairs lining the wooden bistro tables, making it easy to grab a quick bite if you are dining on your own. On the menu that day was a leek soup that can only be described as sublime. It was followed by a thick veal stew dotted with baby carrots and pearl onions no bigger than rose buds. The sauce was rich with red wine, and perfect for soaking up with a nice crusty baguette. The rice pudding, which was on offer that day, sounded pleasant enough, but as I eyed the time and my overly stuffed bag from Laduree, I decided it was best to pass.
Making my way back to the train station, I took a final look at the city around me. I had only spent three hours in Paris. Despite the dashing about, I somehow felt rested and revitalized. I understood what Thomas Jefferson meant when he said, "A walk about Paris will provide lessons in history, beauty, and in the point of Life."