An international controversy has kicked up over cartoons in a French weekly which poke fun at Japan for getting picked to host the 2020 Olympics despite the increasing radiation levels at the Fukushima nuclear plant.
The two cartoons were published Wednesday in French weekly Le Canard Enchaine. In one, two emaciated sumo wrestlers with extra limbs square off near a damaged nuclear plant, while in the foreground an announcer says: "Marvelous! Thanks to Fukushima, Sumo is now an olympic sport."
(Story continues below.)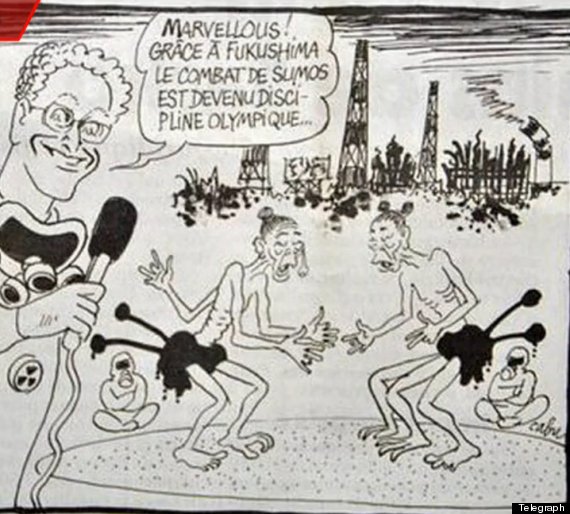 The other cartoon shows two hazmat suit-clad men, one of which holds a Geiger counter, standing in front of a tank of water. "The Olympic pool is already constructed in Fukushima," reads the caption, most likely referencing recent news that a radioactive water tank at the plant is leaking.
(Story continues below.)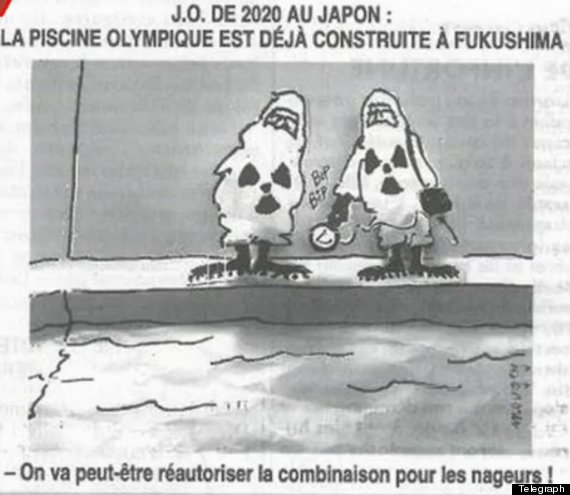 In Japan, people were (predictably) not happy. Chief Cabinet Secretary Yoshihide Suga called the cartoons hurtful to victims of the tsunami and said, "This kind of journalism gives the wrong impression about the waste water problem," according to France 24.
An unnamed Foreign Ministry official said Japan had submitted a complaint to the newspaper through its French embassy, The Associated Press reported.
The weekly had not issued an apology as of Friday morning. Editor Louis Marie Horeau said Thursday she understood Japan's reaction but denied there was any intention to hurt anyone, per the AP.
Tokyo Electric Power Company, the operator of the Fukushima plant, recently admitted that an 80,000-gallon leak of radiation-contaminated water had probably begun about six weeks before it was discovered Aug. 19. TEPCO admitted in July that another leak at the plant was pumping contaminated water into the ocean, something it had denied for months.
BEFORE YOU GO
PHOTO GALLERY
The Fisherman Of Fukushima