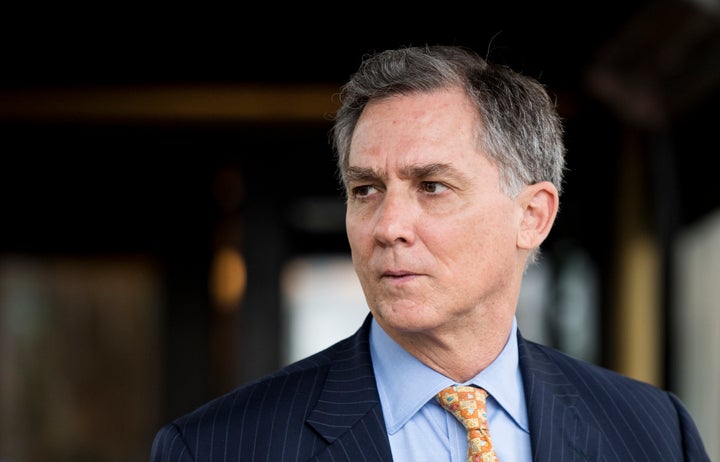 A right-wing political action committee that supports a Republican incumbent in Arkansas has released radio advertisements so vile that the incumbent himself has denounced them.
The ads are produced by a PAC called Black Americans for the President's Agenda and are meant to support Rep. French Hill (R-Ark.), who is running for re-election in Arkansas' 2nd Congressional District.
In the ads, which aired in predominantly black areas of Arkansas, several people speak about abortion and the sexual assault allegations against Supreme Court Justice Brett Kavanaugh before concluding that a victory for Hill's Democratic rival will lead to "race verdicts, life sentences and lynchings."
"Our congressman, French Hill, and the Republicans know that it's dangerous to change the presumption of innocence to the presumption of guilt, especially for black men," a woman says in one of the ads.
"If the Democrats can do that to a white Justice of the Supreme Court ... what will happen to our husbands, our fathers or our sons when a white girl lies on them?" she asks.
"Girl, white Democrats will be lynching black folk again," another woman replies.
"We can't afford to let white Democrats take us back to the bad old days of race verdicts, life sentences and lynchings when a white girl screams rape."
A second ad from the PAC features similar voices discussing abortion and Planned Parenthood founder Margaret Sanger.
"The Democrat don't care that black babies are three times more likely to die in abortion than white babies," one woman says.
The woman adds that Hill's opponent and the Democrats "hold Margaret Sanger up as a hero."  
Hill condemned the ads in a statement on Thursday and called them "appalling" and "outrageous."
"I do not support that message, and there is no place in Arkansas for this nonsense," the congressman tweeted.
Meanwhile, his opponent, Democrat Clarke Tucker, blamed Hill for the ad and said he "will have to live with the kind of campaign they're running."
A North Carolina man named Vernon Robinson runs Black Americans for the President's Agenda, according to the Arkansas Times. The PAC did not respond to HuffPost's request for comment.
In an interview with Vice News' Alexandra Jaffe, Robinson said he had no intention of taking the advertisement down and said there was another one coming out.
Robinson paid a little less than $50,000 to run the ad on radio stations in St. Louis, Kansas City and Little Rock, according to Vice.
"All it is is hard-hitting. I believe the #metoo movement deserves every hit they take," Vernon told Vice. "Shifting the presumption of innocence to the presumption of guilt is very dangerous for black men." 
The Democratic Party of Arkansas also denounced the ads and urged Hill and Arkansas Republicans to call for them to be taken off the air.
"It demeans the pain and experience of African Americans and exploits for political gain centuries of segregation and racial violence, including lynching," the group said in a statement.
"Instead of calling the ad for what it is ― overtly racist, dangerous, and immoral ― Congressman French Hill and Arkansas GOP Chairman Doyle Webb have revealed their disturbing lack of awareness and insensitivity."
Calling all HuffPost superfans!
Sign up for membership to become a founding member and help shape HuffPost's next chapter