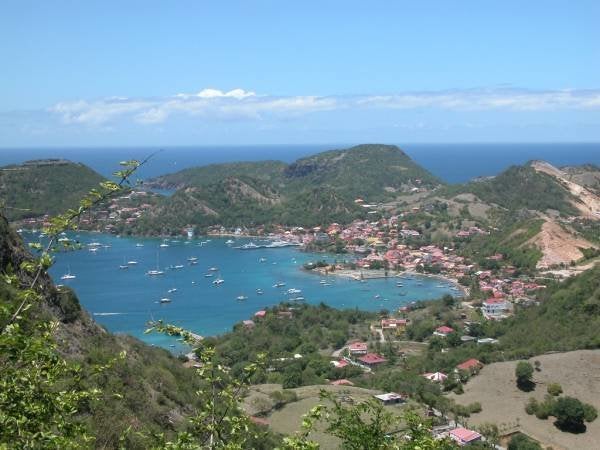 Standing on the dock at a marina in Bas-du-Fort, Guadeloupe, Alain, a Belgian transplant, pointed his finger at a group of islands on the French West Indies chart.
"You must sail to Terre-de-Haut, it's a mini St. Barts, but not many people know about it," he says. Soon after, my husband, John, and I cast the dock lines off our chartered 41-foot catamaran, Jade Marie, and steered a course of 203 magnetic.
After two hours of sailing in light winds, the volcanic domes of the archipelago of Iles des Saintes begin to distinguish themselves. There are seven islands; we head for the tiny, main island, Terre-de-Haut.
Dotting the waterfront are bright red roofs and bobbing Breton-style fishing boats. With remote control in hand, the anchor and rode descend into the abyss. After the anchor is set, we start the dingy's engine to set out for a day of exploration.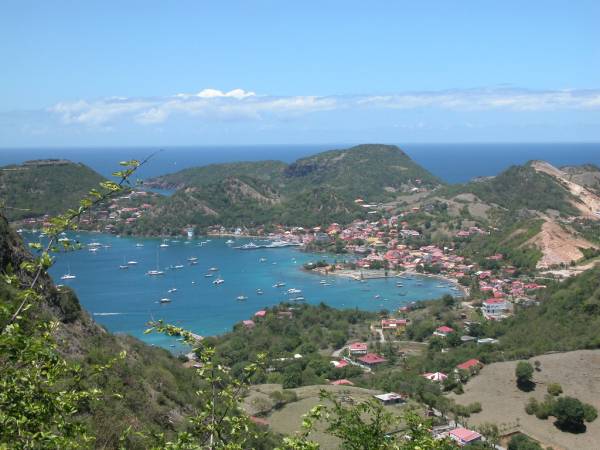 Terre-de-Haute, Les Saintes - Photo ©Susan Fogwell
In five minutes, the dinghy reaches the dock. In another five minutes, we're renting a scooter. Locals use them and tourists rent them. The island is free of cars and a walker's dream; a scooter will cover every nook and cranny. We head for the highest point, Le Chameau (1,036 feet), by the old Napoleonic lookout tower.
Although Napoleon never set foot on Terre-de-Haut, Comte de Grasse saw 2,000 French sailors killed or wounded by the British in1782. This led to De Grasse's surrender. We climb an old ladder in the tower for a 360-degree view of the town and six of the seven neighboring islands. It's a sweeping view, which includes one of the most beautiful bays in the world: The Bay of Pain de Sucre.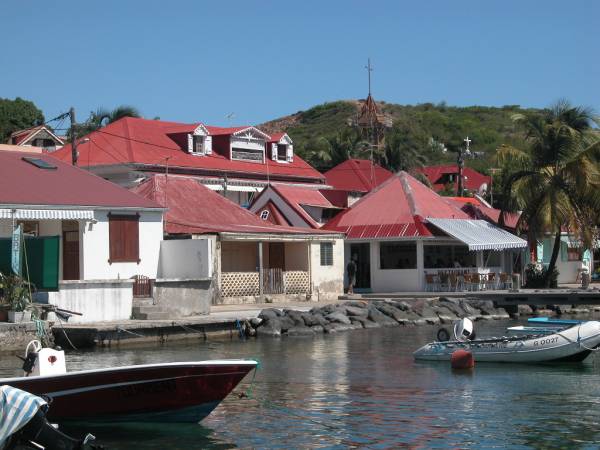 Approaching the dock in Bourg des Saintes - Photo ©Susan Fogwell
Next, we're off to Fort Napoleon. Built in 1867, it's perched on a hill north of town and beautifully restored. I spy large iguanas lying very still among labeled cactuses in a well-tended garden. Hordes of hummingbirds buzzing like bumblebees are attracted by succulents. The iguanas spy me and approach seeking scraps. At noon, the fort closes and we venture down the hill.
We come across a sign reading "Plage De Cawen Baignade a vos risques et perils nudisme," or "Cawen Baignade Beach has risks, perils and nudism." Curiosity gets the cats: We walk down the rocky, dirt lane reaching the beach. Other than a French family picnicking, the beach is quiet, the surf is rough and there isn't any nudity. Not on that day, anyway.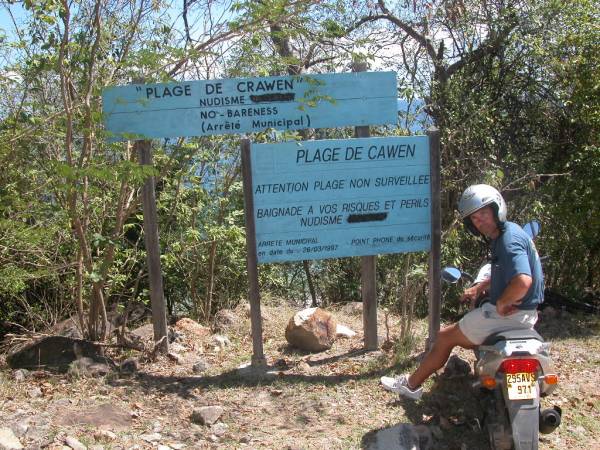 Photo - ©Susan Fogwell
The water is as calm as a lake. We drive to popular Plage Pompierre where we sink our feet into the silky white sand and don our snorkeling gear. There are endless tropical fish discoveries.
Back in the only small town on the island, Bourg des Saintes, a local recommends La Case aux Epices. Knowing a bit of French is essential; nobody speaks English. We ask the kind local in French to call in our dinner reservation for later in the evening. Back at the dingy dock, the daily ferry from Pointe-a-Pitre arrives to pick up day-trippers. We motor back to our spacious catamaran anchored in the snug harbor. A burst of orange in the sky brings daylight to a close.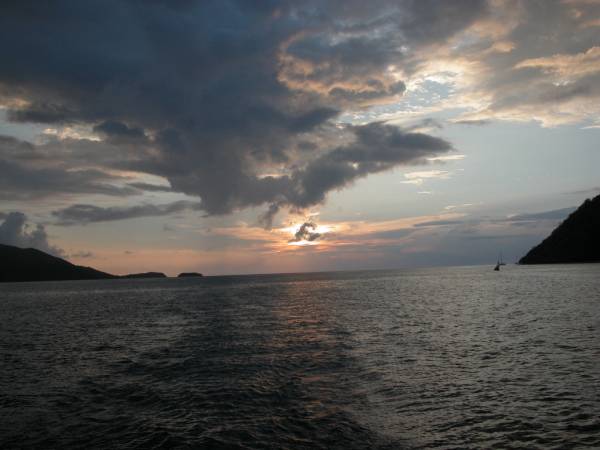 Photo - ©Susan Fogwell