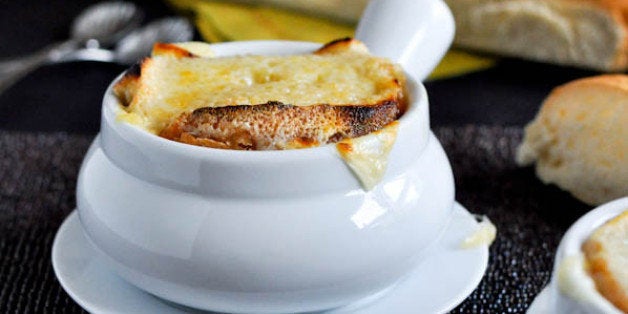 We've got something important to tell you, and it has to do with soup. Not just any soup, but the king of comfort soups: the French onion soup. You've probably ordered, and savored, this cheese-covered soup at a French restaurant once or twice. And you most likely thought to yourself, "Man, this is the best soup in the world."
You were right in thinking that, it is just about as good as soup gets. There's the beefy broth, the soft, flavorful onions, the broth-soaked bread and then the cheese -- that perfectly golden, nicely bubbling layer of cheese that wraps this soup up as though it's the greatest gift on earth. Which, it is. It's one bowl that has everything soup has ever needed.
We're willing to bet that no matter how much you love this soup, a great many of you out there have never made it. We know, it's an impressive-looking bowl, which usually translates to incredibly tricky to make. Well, guess what guys? It's not. This soup is incredibly simple to make -- and it just got even easier with this slow cooker version.
So what are you waiting for? Go make a pot. And enjoy this perfect soup all winter long.