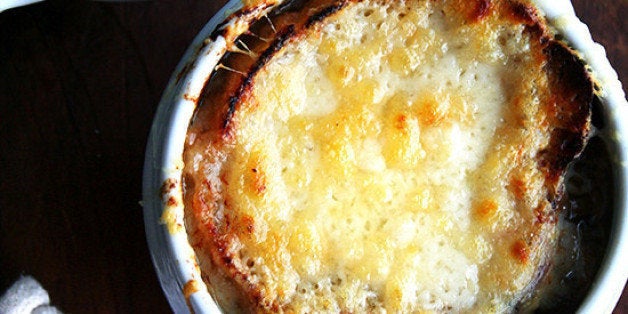 Soup, by nature, is comforting. Hot, steamy, loaded with vegetables or brimming with noodles, it's warming from the inside, filling and so soothing. It's difficult to choose, but if one soup had to win the ultimate comfort competition, we think it would have to be French onion soup.
A beefy broth enveloping soft, sweet onions and soaking through bread would be enough to steal our hearts, but when you add the melty, bubbly cheese on top, you've not only converted our hearts and minds, but you've touched our souls. The whole package is enough to have us dreaming of snowy days where we can cozy up under a blanket with a giant bowl of French onion soup and never look back -- or go outside -- until summer.
If you're as enamored with French onion soup as we are, you've not only got your own go-to recipe, but you're constantly looking for new ways to bring more of this soup into your life. We've taken it upon ourselves to find some of the best recipes featuring the dream team of caramelized onions, broth, soaked bread and cheese -- and they're not all in soup form. The sweet, salty, soft and gooey combo goes great in things like sandwiches and gratins. If we didn't need to eat every last drop, we'd pretty much want to bathe in it. The fact is, French onion soup is all you need to achieve supreme happiness this winter.
Here are 17 French onion soup recipes to hunker down with this season.