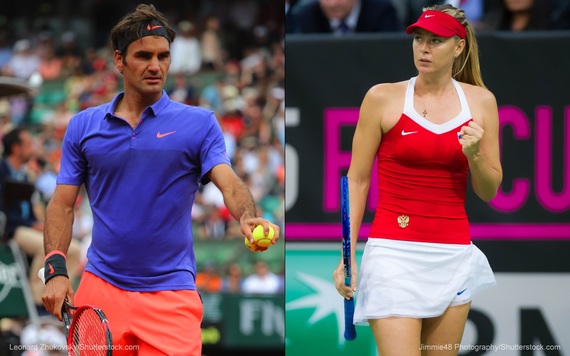 By Andrew Lisa, Contributor
Roland Garros, also known as the French Open, is one of four major tennis tournaments that make up the vaunted Grand Slam. The other three are the US Open, Wimbledon and Australian Open.
In 2016, the two week French Open will take place between May 16 and June 5. The total prize money shelled out for the championship, per diem excluded, will be just over $35 million, up 14.07 percent from last year.
With lucrative prizes, tennis' top stars are among the richest athletes on Earth. Here is a look at the net worths of the seven richest tennis players in the world.
Roger Federer Net Worth: $320 Million
With a net worth of $320 million, Roger Federer is one of the highest-paid tennis players in the world. He has 16 Grand Slam singles titles to his name, and suitable compensation to boot. In addition to earning a record $71.1 million in prize money over the course of his career, he has 10 major endorsement deals with the likes of Nike, Rolex and Wilson, reported TheRichest, which reports on celebrity earnings.
From endorsements alone Federer earned $58 million in 2015, $52 million in 2014, $65 million in 2013 and $45 million in 2012. He is a 12-time winner of the Fan's Favorite award from ATPWorldTour.com and a five-time ITF Player of the Year award winner.
Serena Williams Net Worth: $145 Million
When Serena Williams won the 2015 French Open, it was her 20th career Grand Slam title. While she will compete in the 2016 French open, the 34 year old will be bringing several nagging injuries with her to Paris.
Serena Williams has a net worth of $145 million. TheRichest puts her cumulative prize money at $36 million, more than any female athlete in history has ever earned. She has won gold medals in both the Beijing and Sydney Olympics. Her lucrative endorsement deals, which include Nike and Kraft Foods, earned her $13 million in 2015, $11 million in 2014 and $12 million in 2013.
Novak Djokovic Net Worth: $140 Million
Aside from being fluent in five languages, Novak Djokovic has been ranked the No. 1 tennis player in the world since July 2011. Novak Djokovic has a net worth of $140 million. He has 63 career singles titles to his name, in addition to a bronze medal from the 2008 Olympics in Beijing. He reportedly earned more than $48 million in 2015.
Maria Sharapova Net Worth: $125 Million
Maria Sharapova has a net worth of $125 million. With $6.7 million in winnings and $23 million in endorsements in 2015, Forbes named her the highest-paid female athlete of any sport in 2015. She took in $24 million in 2014 and earned a staggering $90 million in 2013, which included earnings, winnings and endorsement deals with Nike, Porsche, Head, Cole Haan and Tag Heuer, reported TheRichest.
She won the 2014 French Open but was upset early in the 2015 Roland Garros. Sharapova holds the honor of being the third-youngest female Wimbledon winner, having won the title in 2004 at the age of 17.
In March 2016, Sharapova shocked the tennis world when she announced she failed a drug test at the Australian Open. She was provisionally suspended and Nike immediately suspended the $70 million contract they signed with her in 2010. Porsche and Tag Heuer quickly followed suit, although Head renewed her contract.
Rafael Nadal Net Worth: $120 Million
Rafael Nadal's $120 million net worth can be traced to 2005, when he won the French Open at his first appearance when he was just 19 years old. In his career, Nadal has won the French Open three times, in 2006, 2007 and 2008, beating Roger Federer in the finals each time.
His endorsements include contracts with Babolat, Nike, Kia Motors and Bacardi. He earned $32.5 million in 2015. Endorsements netted him $30 million in 2014, $21 million in 2013 and $25 million in 2012. When he enters the 2016 Roland Garros, Nadal will be hoping to win an unprecedented 10th French Open.
Andy Murray Net Worth: $70 Million
Scottish tennis pro Andy Murray has a net worth of $70 million. He suffered a brutal loss to Novak Djokovic in the semi-finals of the 2015 French Open but will return in 2016 riding a wave of momentum from his best season ever, which included a trip to the finals at the Australian Open.
In 2011, he reached the semi-finals of all four Grand Slam tournaments in the same year, making him the seventh player to accomplish such a feat in the open era.
Andy Murray has a net worth of $85 million and has held endorsement deals with Adidas, Head Rackets and Royal Bank of Scotland, among others. He earned a combined $22.3 million in 2015, $19.2 million in 2014 and $35 million in 2013.
Caroline Wozniacki Net Worth: $20 Million
Caroline Wozniacki has a net worth of $20 million. She lost in the second round of the 2015 French Open but will be returning in 2016. She earns more than $10 million per year from sponsorship deals with Proactive, Yonex, Rolex, Sony Ericsson and Adidas, reported Forbes.
The French Open returns in May, and some of the biggest names in tennis will compete for one of the sport's most coveted titles. Those who emerge victorious will not only boost their net worths from the prize money they win, but through the lucrative endorsement deals that are sure to follow.
More from GOBankingRates:
Calling all HuffPost superfans!
Sign up for membership to become a founding member and help shape HuffPost's next chapter