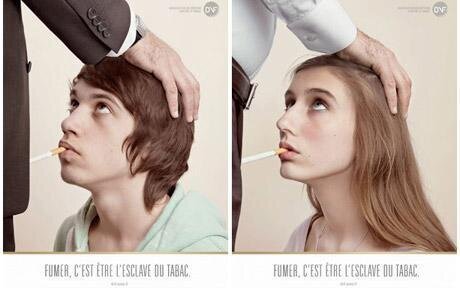 (AP) PARIS — A provocative anti-smoking ad campaign featuring teens in a subservient sexual position has sparked a storm of controversy in France, with the country's family minister calling Wednesday for the advertisements to be banned.
The ad, sponsored by the Association for Nonsmokers' Rights, features a teenage boy who could be construed to be performing oral sex on a man in a suit, except the teen has a cigarette in his mouth. A caption reads, "Smoking means being a slave to tobacco." There are two other ads in the same vein, one featuring an adolescent girl.
The leader of the organization behind the campaign acknowledged the ads were meant to shock and said such provocative campaigns were the only way to reach young people.
"Traditional advertisements targeting teens don't affect them. Talking about issues of health, illness or even death, they don't get it," the group's director, Remi Parola, told The Associated Press in an interview. "However, when we talk about submission and dependence, they listen."
Parola insisted the ads – developed pro bono by the BDDP & Fils advertising agency – were not really about sex at all.
"The visuals have a sexual connotation, that I can't deny, but it's really a way to start a discussion with young people to get them to understand the dangers of smoking."
Family Minister Nadine Morano thinks otherwise. Speaking Wednesday on RMC radio, Morano added her voice to the growing chorus of those offended by the graphic ads.
"I think this might constitute an affront on public decency, indecent exposure," she said, adding that she is looking into getting the ads banned. "There are other ways to explain to teenagers that cigarettes are addictive."
Representatives of pro-family groups have also denounced the ads as ineffective and even pornographic and called for them to be banned.
The spokeswoman for the Families of France association, Christiane Therry, denounced the ads as "stupid."
"It makes no sense. An advertisement, even a provocative one must be decipherable and understandable, it should create a message, transmit a message," she said. This campaign "gives the impression of being more about sexuality than about anti-smoking. This is what bothers us."
The advertisements have not yet been used in France, but photos of them have accompanied media stories published since the association announced the launch of the campaign Monday.
Ironically, the ad agency said that it no longer really matters whether the campaigns end up appearing in magazines, as originally planned.
"What's funny here is that those who are making a flap over the ads, saying they are indecent, are the ones who are promoting the campaign," the BDDP & Fils agency's vice president, Marco de la Fuente, told The AP in a telephone interview. "This campaign has made a splash thanks only to them."
France has long battled teenage smoking. Despite a 2008 ban on smoking in bars, restaurants and other public places and efforts to crack down on those who sell cigarettes to minors, the habit remains prevalent among the country's youth. Fully one-third of 17-year-olds here smoke, according to a recent study by the French Watchdog of Drugs and Addictions.
France is no stranger to grisly or hard-to-watch public interest ad campaigns. Recent road safety posters featured close-ups of the mangled bodies of accident victims, while a TV spot featured violent car crashes taking place in real time.
Other provocative anti-smoking campaigns have made waves throughout Europe. Britain's advertising watchdog received hundreds of complaints after the Department of Health put up posters showing grimacing smokers with fishhooks piercing their cheeks as part of its 2007 "Get Unhooked" campaign.
In Denmark, ads showing bleeding brains and body parts drew some criticism, while others contended the blood-soaked campaign – which appeared in newspapers, on TV and the Internet and in pharmacies – was highly effective.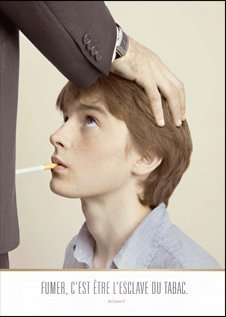 Associated Press reporters Raphael Satter in London and Jan Olsen in Copenhagen contributed to this report.
Related
Popular in the Community