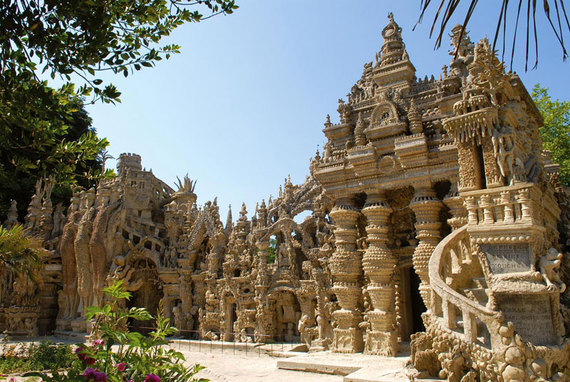 Is This The Temple of Angkor Wat?
The very eccentric Ferdinand Cheval (his real name) built a striking palace entirely made of pebbles he collected on his postal work route. He was a modest 19th-century postman in the town of Hauterives, in the Drome region, a rural and remote part of France.

On a special day in 1837, while walking his 18-mile work trek by foot - not even a bicycle was available to him - he picked up one stone of original shape, and the rest is history. This was the foundation of his dream palace. He was 43 years old.
"I wanted to know the cause. In a dream, I had built a palace, a castle or caves. I told no one about it for fear of being ridiculed and I felt ridiculous myself... I said to myself: since Nature is willing to do the sculpture, I will do the masonry and the architecture."
The area of Hauterives once was beneath the sea, and the floor is rich in fossils and porous limestone sculpted by the ancient elements.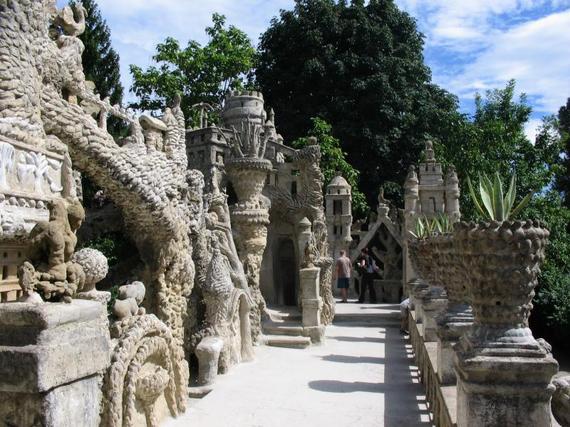 No Experience in Architecture.
In a country chock-full of castles and chateaux of every style and kind, this one is unique, and strangely looks somewhat inspired by intricate Asian art.
With zero building experience, Cheval started his grand project in his very own garden, collecting stones every day along his route. With pockets full of stones, he started something unique and destined to fame in the hall of weirdness.
Using a wheelbarrow on his work walks, he was able to gather even more and larger stones for the walls of his dear structure. Taking inspiration from postcards from foreign lands and the very picture magazines he was delivering, he was elated by exotic monuments and elaborate stone detailing.
It took him a long 33 years, but Ferdinand Cheval crafted a masterpiece, an eerily creative 24 meter-high castle complete with fanciful statues and sculptures, exotic animals' figures, sculpted support pillars, buttresses, and grottoes.
He was proud to inform those interested that his creation took years (33), days (9,000) and hours (65,000). He began his autobiography in 1922. Two days after its completion, Ferdinand Cheval died at the age of 88.
The sculptures include octopus, caiman, elephant, pelican, bear, and birds of all kinds. Some people collect pretty shells or special round river stones, he collected ordinary pebbles and made it his lifelong passion.
After finishing the monument in 1912, Cheval expressed the desire to be one day buried in his surrealistic creation, but he wasn't allowed to - so at the age of 78, after retiring from the Postal Service, he started another project, a mausoleum located in his village cemetery to be able to stay close to his work for all eternity. He died in August 1924.
In 1969, the Palais Idéal (The Ideal Palace) as it is called, became a historic landmark and declared a Historical Monument by André Malraux, then French Minister for Cultural Affairs, in the category of Naïve Art. In 1984, Cheval's granddaughter offered it to the town, allowing the public to visit.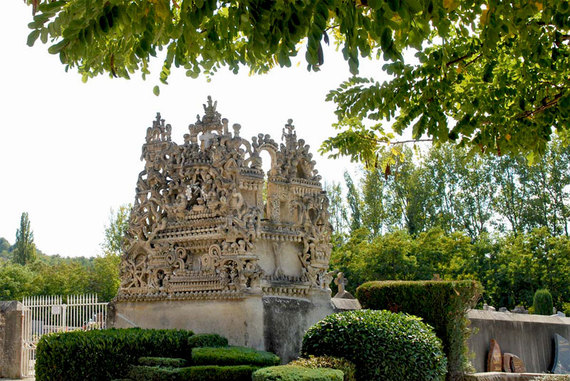 More info here.
Access to the town in southeastern France can be a challenge but only adds to the thrill of discovery. It's less than one-hour car ride south of Lyon - or you can take the train to Saint-Vallier, the closest station to the castle.
GPS : Lat 45.255889 / Long 5.027794 . Entrance fee is 6.50 Euro.