France's presidential candidates are beginning to ramp up their campaigns months before the election, but the race is already mired in scandal, rumors and uncertainty.
The race reflects a volatile time in French politics, as traditionally powerful parties are taking a back seat to independent and right-wing populist candidates. Opinion polls published on Wednesday show the National Front's Le Pen and Macron garnering the most support. A win by either would be the first French president from a non-establishment party.
Just weeks ago, France's election outcome seemed far more certain. Conservative candidate Fillon had won the Republican party leadership race in late November, and appeared set to handily defeat Le Pen in a second-round runoff. But Fillon's campaign has been severely hobbled by a corruption scandal, with newspapers reporting that he funneled more than $1 million in public funds to his wife and children for alleged fake jobs.
Many French voters have taken the nepotism scandal as further reason to turn away from the country's establishment politicians. Capitalizing on Fillon's woes is 39-year-old independent candidate Emanuel Macron, who has seen a rapid rise in popularity since entering the race in November. On Monday, two polls showed Macron on track to make it to the second round of voting and go on to easily beat Le Pen.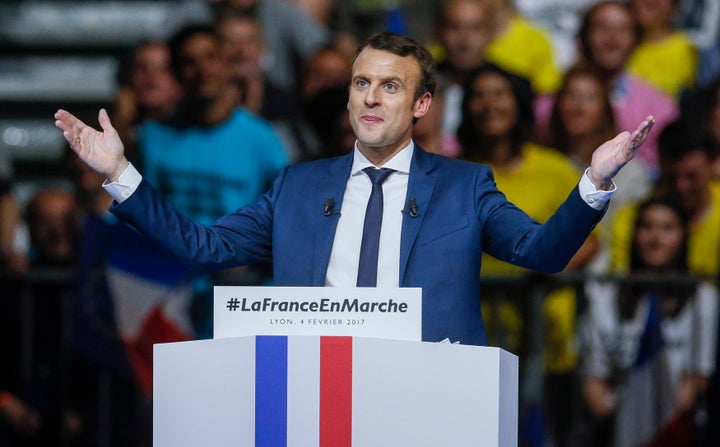 But Macron's front-runner status also makes him a prime target for attacks, including from Russian state-run media outlets. On Tuesday, he was forced to deny rumors that he was having a gay extramarital affair after conservative Member of Parliament Nicolas Dhuicq alleged that a "very wealthy gay lobby" backed Macron.  
Macron, a former economy minister, has fashioned himself as an outsider candidate attempting to draw people from across the political spectrum. His centrist campaign promotes a revitalization of France's economy, while claiming an anti-establishment stance that plays to the emotions of France's disgruntled electorate. 
While Macron has utilized some populist rhetoric in his campaign, Marine Le Pen has made it central to her political identity. Her slogan, "au nom de peuple," (in the name of the people), is characteristic of a campaign that has echoes of Trump while pressing her longstanding anti-European Union, anti-immigration views. 
Polls show Le Pen winning the first round of France's election, but losing soundly once fractured liberal and moderate conservative voters rally around a single candidate. Le Pen has tried to be defiant against these predictions, however, citing botched polls predicting losses by Trump and Brexit as evidence that she can win.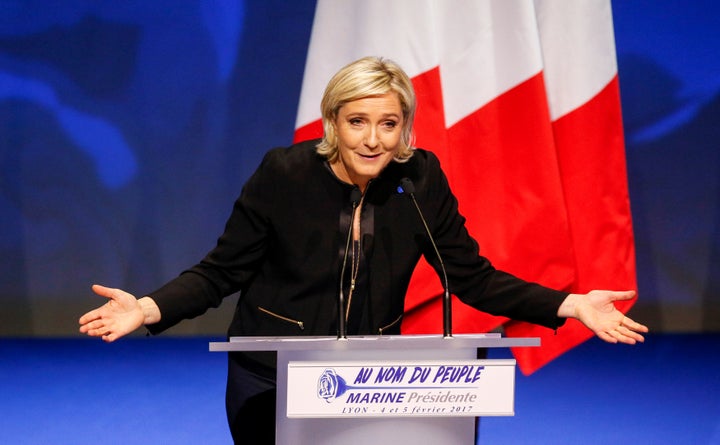 Le Pen's campaign hits many of the same notes as Trump's, including restoring lost manufacturing jobs and tightening national borders. Last week, she praised Trump's ban on immigration from seven majority-Muslim countries and called opposition to it "in bad faith." On Sunday, Le Pen launched her campaign with an hour-long speech against globalization, Islamists and other familiar targets. 
Lagging behind in polls is the ruling Socialist party candidate Benoit Hamon, who was selected to run after deeply unpopular President Francois Hollande opted not to seek a second term ― the first French leader to do so since the nation's fifth republic was created in 1958. Hamon has so far been a minor figure in the campaign, promoting experimental policies that include universal basic income, and taxes on industrial robots that may take jobs. 
Much of the momentum is behind Macron. The past few weeks have shown how things can drastically change, however, and with the elections first round scheduled for late April, there is still ample time for more scandals and volatility.
Calling all HuffPost superfans!
Sign up for membership to become a founding member and help shape HuffPost's next chapter