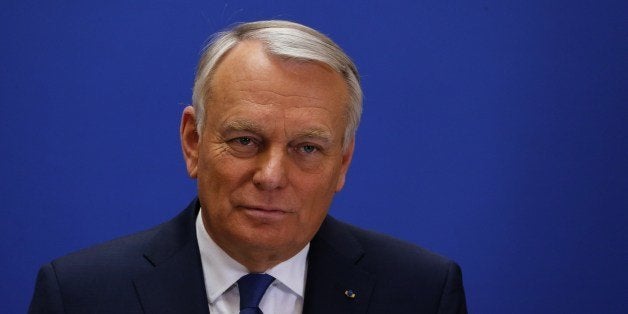 French Prime Minister Jean-Marc Ayrault handed in his resignation on Monday, France 24 reports.
Local elections held on Sunday dealt a blow to French socialists, as public sentiment has turned against President Francois Hollande and his party. Voters have criticized the government for failing to increase economic growth and reduce France's staggering unemployment rate of more than 10 percent.
President Hollande is scheduled to make a public address on the cabinet reshuffle at 8 p.m. local time (2 p.m EST) in Paris.
More from the Associated Press:
PARIS (AP) -- France's government resigned Monday and President Francois Hollande was expected to name a new prime minister, just 24 hours after his Socialists suffered heavy losses in nationwide municipal elections.

Disappointment with the Socialists' handling of the economy drove many voters to conservative or anti-immigrant far-right candidates in the elections Sunday and Hollande hopes the reshuffle will boost the government's popularity.

He was expected to announce the new prime minister Monday evening, after having met with outgoing Prime Minister Jean-Marc Ayrault.

One of Hollande's closest friends, Socialist Mayor of Dijon Francois Rebsamen, told RTL radio that popular Interior Minister Manuel Valls would be named prime minister. It could be several days before he announces his new Cabinet.

Ayrault conceded that the elections were "a defeat for the government." The administration has failed to fulfill its promises to cut France's more than 10 percent unemployment and boost growth, which was just 0.3 percent last year, according to figures released Monday.

Record-low voter turnout and the poor showing for Socialist candidates "really sends a message to Hollande that he has to change his Cabinet, he has to reshuffle," said Hall Gardner, professor of politics at the American University of Paris.

Changes are especially expected in the Finance Ministry, which has scared away investors with high and complex taxes and struggled to find solutions to chronic low growth and growing joblessness.

Hollande is expected to stick to a grand plan for a payroll tax cut aimed at creating jobs - even though it also involves unpopular spending cuts.

The biggest winners in Sunday's vote were candidates from the far right National Front, who won mayoral races in 12 towns and took 1,546 city and town council seats, the party said Monday. That's less than some Socialists had feared, but still a record-high number for the party, whose leader Marine Le Pen has tried to soften its xenophobic image and tapped into widespread discontent with mainstream politics.

Meanwhile, bad economic news keeps coming. The state statistics agency said Monday that the deficit shrank less than expected last year - prompting a rebuke from the EU economy commissioner - and debt continued to grow to 93.5 percent of GDP.

The French economy avoided sinking into a new recession, growing 0.3 percent in the fourth quarter, but overall prospects for growth are slow.
Popular in the Community