PARIS (AP) -- Masked youths clashed with police and set fires in cities across France on Tuesday as protests against a proposed hike in the retirement age took an increasingly radical turn. Hundreds of flights were canceled, long lines formed at gas stations and train service in many regions was cut in half. (Scroll down for photos, video) President Nicolas Sarkozy pledged to crack down on "troublemakers" and guarantee public order, raising the possibility of more confrontations with young rioters after a week of disruptive but largely nonviolent demonstrations.
Sarkozy also vowed to ensure that fuel was available to everyone. More than 1,000 gas stations are currently shuttered nationwide.
The protesters are trying to prevent the French parliament from approving a bill that would raise the retirement age from 60 to 62 to help prevent the pension system from going bankrupt. Many workers feel the change would be a first step in eroding France's social benefits - which include long vacations, contracts that make it hard for employers to lay off workers and a state-subsidized health care system - in favor of "American-style capitalism."
Sarkozy's conservative government points out that 62 is among the lowest retirement ages in the world, the French are living much longer and the pension system is losing money. The workers say the government could find pension savings elsewhere, such as by raising contributions from employers.
In Paris, huge crowds started marching from the Place d'Italie in the south toward the gilded-domed Invalides, where Napoleon is buried. The protest appeared peaceful, but law-enforcement officials were bracing for possible confrontations with youth. Police estimated the crowd at 60,000, down from 65,000 at a similar march last week.
At a high school in the Paris suburb of Nanterre, closed because of earlier violence, a few hundred youths started throwing stones from a bridge at nearly as many police, who responded with tear gas and barricaded the area. It was not immediately clear if there were injuries or arrests. Youths also knocked an Associated Press photographer off his motorbike and kicked and punched him as they rampaged down a street adjacent to the school. Another AP photographer was hit in the face by an empty glass bottle in Lyon, where protests turned violent and rioters smashed several store windows.
The violence recalled student protests in 2006 that forced the government to abandon a law making it easier for employers to hire and fire young people. Those protests started peacefully but degenerated into violence, with troublemakers smashing store windows and setting cars and garbage cans ablaze.
The specter of 2005 riots that spread through poor housing projects nationwide with large, disenfranchised immigrant populations was also present.
At the Place de la Republique in eastern Paris on Tuesday, young people pelted riot police with projectiles, while youth in the central city of Lyon torched garbage cans and cars as police riposted with clouds of tear gas.
It was the sixth national day of demonstrations over the planned pension reform since early September. Union leaders have vowed to keep up pressure until the government scraps the unpopular plan and opens negotiations.
See photos and watch videos of the French protests here: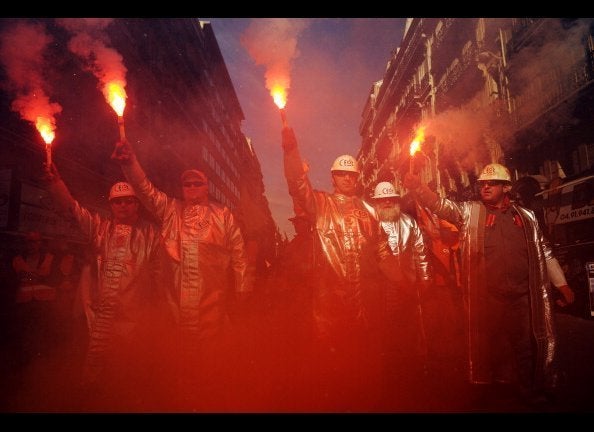 French Pension Protests 2010
Support HuffPost
The Stakes Have Never Been Higher
Related
Popular in the Community